We could all use a little inspiration right about now, and this new book certainly fits the bill.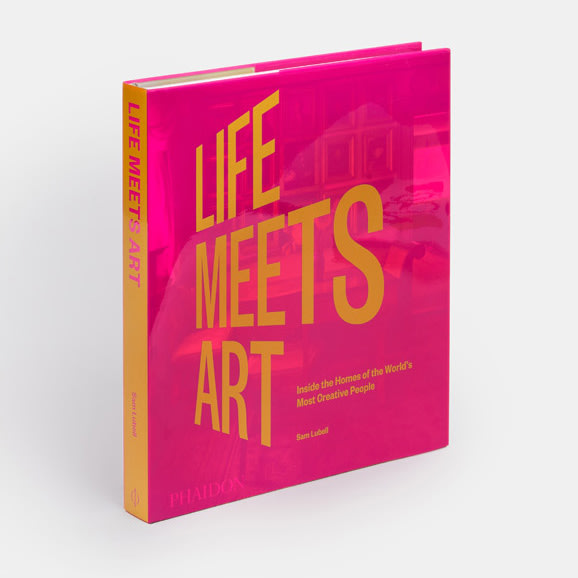 Life Meets Art takes readers around the globe, through time, and inside the homes of famous creative people. As part of the research process, author Sam Lubell visited many of the 250 homes featured in the book before the coronavirus hit, taking in the scent of the space, listening to its ambient sounds, and seeing how the light hit the walls.
The resulting selection leaves much to ogle at, and is a feast both for the eyes and imagination. Many of the homes have a style that mirrors the owner's professional aesthetic (leopard print abounds at Diane von Furstenberg's home, for instance). But Lubell says there were surprises too, and people's hidden talents emerged from the woodwork of their homes. Author Edith Wharton was a skilled designer, and in 1901 collaborated with architect Ogden Codman Jr. on her classical home in Lenox, Massachusetts. And it turns out the writer of Les Misérables, Victor Hugo, was also a furniture maker, and crafted eccentric new pieces out of disparate parts. No matter what the homes look like—from surreal to glamorous to traditional—Lubell says all of them are "a reflection of owners who were constantly starting trends, not following them."
Here are a few of the most eye-popping homes.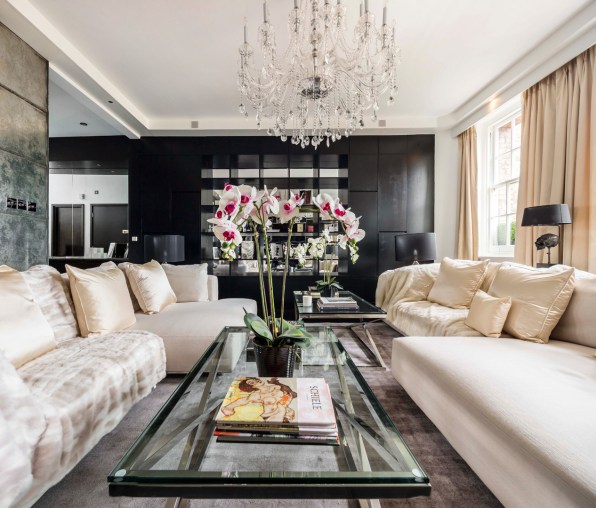 Alexander McQueen
The late fashion icon bought this two-floor penthouse, formerly the home of author PG Wodehouse, in London's Mayfair neighborhood in 2009. The designer was in the process of converting the space when he died in 2010. Design firm Paul Davies London has since made the interior a tribute to McQueen, featuring luxe champagne-colored seating and glittering chandeliers that are juxtaposed against black walls and a skull motif that will be familiar to fans. The private residence went up for sale in 2016.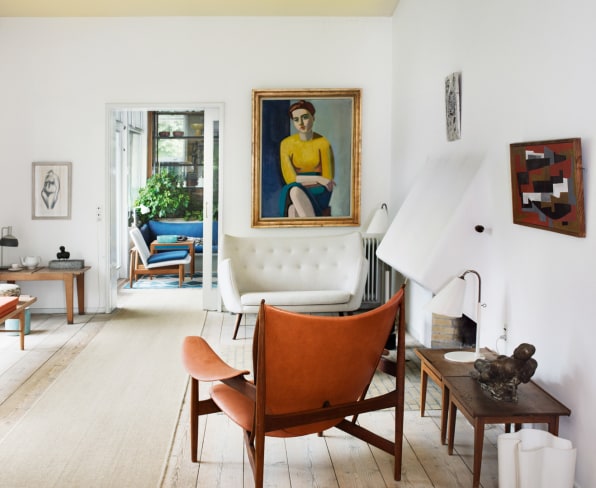 Finn Juhl
The 1942 home of the Danish architect, whom Lubell calls a "national treasure," is an airy, light-filled delight. Considered one of the pioneers of the Danish Modern movement, Juhl's former home has white walls and natural wood floors, which are the perfect backdrop for his own furniture, including the FJ 45 armchair and Chieftan lounger chair, in which the armrests and back are separated from the frame. Though the preserved space is currently closed to the public, you can take a virtual tour.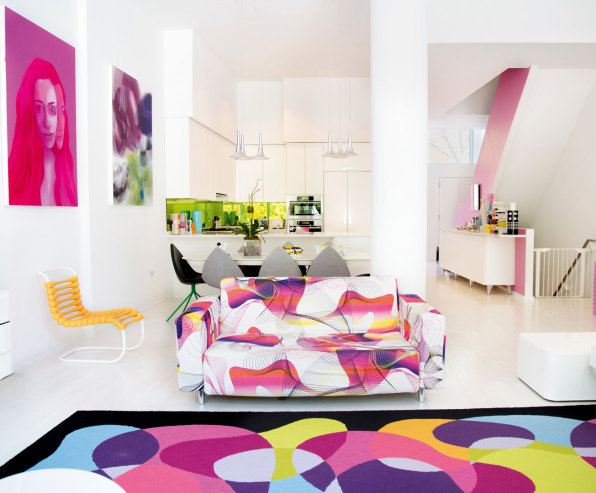 Karim Rashid
The industrial designer's townhouse in Manhattan's Hell's Kitchen is a sparkling white canvas built for splashes of color. Sky-high ceilings and stark white walls recede from focus, putting the emphasis on individual pieces: a Sit Kit Luca Boffi sofa, a mandarin orange Gufram Bounce Chair, and large carpet with overlapping, organic blots of fuchsia, purple, lavender, and lime green. Sorry, you can't see this one in person—it's a private residence.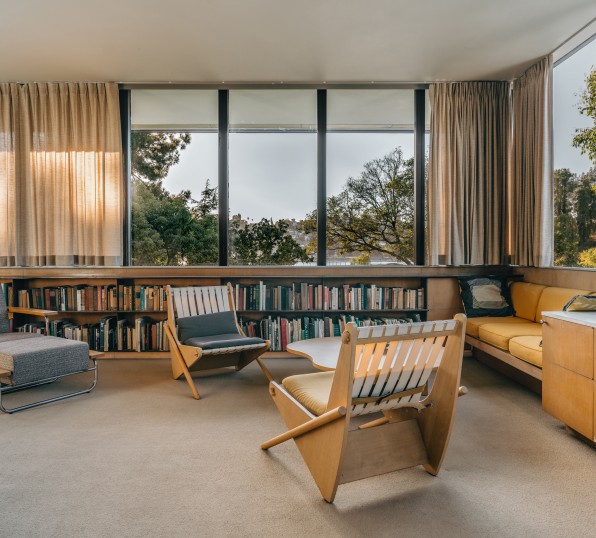 Richard Neutra
Lubell says visiting the former residence of this modernist architect is a must (though, unfortunately, it's temporarily closed to visitors). The VDL Research House was built in 1932 and named after philanthropist C.H. Van Der Leeuw, who provided Neutra with a loan to build it. It sits atop a hill near Los Angeles's Silver Lake reservoir and has some serious views. But there's much to be admired on its interior, too: a modular design considered ahead of its time; tall, windowed clerestories, glazed walls and dividers. After a 1963 fire, Neutra and his son redesigned the space with a more complex layout and to better account for sunlight, says Lubell.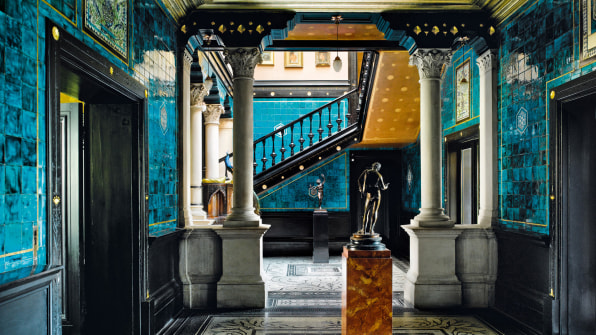 Lord Frederic Leighton
All those in favor of maximalism, this is the home for you. Nineteenth-century English painter Lord Frederic Leighton's 1864 London residence, designed by architect George Aitchison, extravagantly combines traditional British style with that of his travels across the Middle East. A two-story hall features a gold chandelier and arched, gold mosaic windows. In another room, corinthian columns contrast with jewel-toned, blue Moorish tiles, and in another, a gallery wall is treated in olive green silk below a massive polygonal skylight. The residence is open to the public.
Suzanne Valadon
Valadon's apartment and studio, in the Montmartre neighborhood of Paris, reveals the many layers to her life. Valadon started as a model for Auguste Renoir and Henri de Toulouse-Lautrec in the 1880s, went on to train with Edgar Degas, and eventually became a painter herself. But Lubell says she always fought for recognition. Some rooms, tight on space, reveal the hardships of her life. But her studio's tall windows and skylights make it bright and spacious. The space was restored in 2014 and is generally open to the public.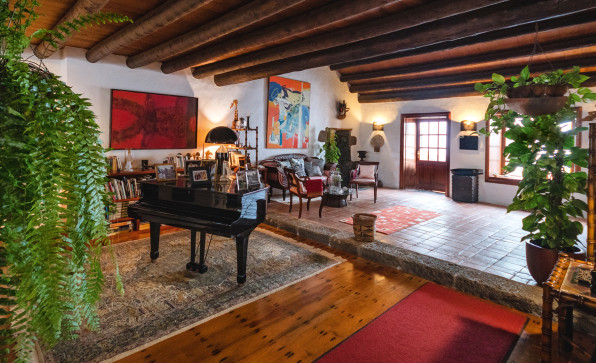 Cesar Manrique
The 1986 home of the Spanish sculptor and painter is light-filled and airy. Creamy white walls are punctuated by built-in stone shelving that houses ceramic pots of all sizes. A large, off-white sectional sits below a tall, natural ceiling with exposed timber beams, creating a "peaceful, traditional escape" on the volcanic island of Lanarote in the Canary Islands. The residence is generally open to the public.