Since 1989, Sean Hodgins's development company Century Group has owned about 500 empty acres of agricultural land in the Vancouver suburb of Tsawwassen, and what to do with it had been a matter of contention in the town for years.
Traditionally a farming community, Tsawwassen had seen suburban development grow up around the site, putting it into a sort of limbo. For many locals, the land was too agricultural to develop into edge-to-edge housing, but there was too much housing in the area for it to be used as a farm large enough to compete with industrialized agriculture.
So Hodgins and his company began looking for a middle way to give people what they said they wanted: to be connected with farming and food.
Their solution is a relatively new sort of suburban development, where farming and community are co-located and integrated: an agrihood. Called Southlands, the project is a New Urbanist-style development, with a village-like mixed-use, pedestrian-oriented design. It has room for 950 homes centered around a market square that connects to a 325-acre farm. The project is beginning to see its first stages of life, both on the farm and in town, where half of the first 75 homes are sold and residents are beginning to move in.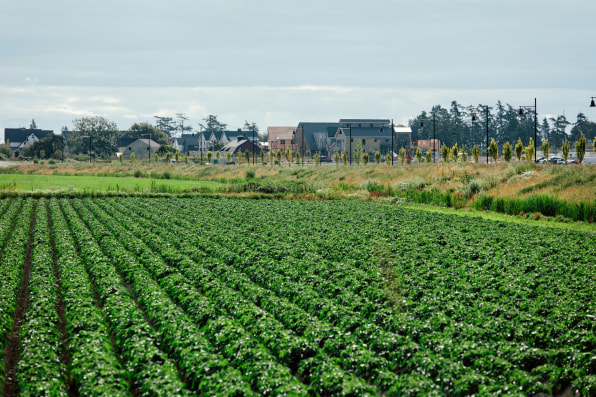 The project is building on a similar model used in a farming-centric community in Georgia called Serenbe, which is woven through with parks and farmland as a way of pushing back against the unsustainable farming practices of big agriculture and giving people a better sense of how food gets from the farm to their plate. Hodgins says Southlands is aiming to have the farm and the neighborhood support each other.
"To make smaller-scale farming viable, it really comes down to the economics of it. We can't be too theoretical about it," Hodgins says. The focus had to be "how we connect people to the farmers that are going to work this land so they can sell that farm produce and make it an experience for people." By bringing the farm and its customers together, Southlands is trying to create a small-scale and sustainable marketplace for this hyperlocal food.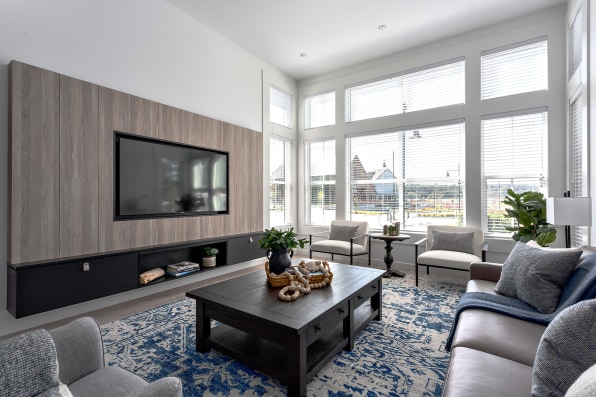 Some of the first residents will be Ashley Bell and Brock Ranta, a young couple originally from Tsawwassen who has been living in Vancouver for several years. When the pandemic broke out and they were spending a lot more time in their apartment, a bigger space in the suburbs became a lot more appealing.
"This project has been talked about in Tsawwassen for a really long time, and we've always been curious about it," says Bell. "We lived in the city and we both worked in the city so we didn't really have any plans to move back in the near future because our lives were here. But then COVID happened and Southlands was ready, so we went to have a look at it, and we both fell in love."
Southlands was originally master-planned in 2008 by the New Urbanist design firm now known as DPZ CoDesign, which is famous for designing the town of Seaside, Florida, where The Truman Show was filmed. Southlands has all the hallmarks of the design movement, from an emphasis on pedestrians to its orientation around a central square. "It's a very user-friendly set of principles. The urban design has tried to downplay the place of the automobile in the consciousness of the community," Hodgins says.
A more recent update was done by Portland-based ZGF Architects, known for their sustainable design and a Google office in the Spruce Goose Hangar near Los Angeles, a 2019 winner of Fast Company's Innovation by Design Awards. ZGF's first homes have a neo-traditional, vaguely Scandinavian look. They tuck the vehicle access in the back while giving over the front to ample porches—what Hodgins calls a semi-social, semi-private space "that is absolutely fundamental to the thinking of this project."
Also important was the connection to the farm. Even before the first homes were being built, Southlands developed its market square, including commercial space and a cafe, a work building for the farmers, and a plaza where there's a weekly farmers' market. On one side is the growing neighborhood; on the other is the farm.
"Rather than your typical market square, which would be surrounded on four sides with homes or shops, we realized that our market square was really the transition point between the agricultural lands and the community," Hodgins says. "It's where the dirty shoes and the clean shoes come together."
Serenbe, the agrihood pioneer in Georgia, has managed to lure in residents and businesses geared around food and wellness since its opening in 2004, though the neighborhood is undeniably affluent. It may be an indication of where Southlands is headed. But with only a few dozen of its first homes built, the viability of the Southlands model has yet to be fully tested.
Just the concept was good enough for Bell and Ranta. After living without a car in the city for the past decade, Bell says the pedestrian focus of the community was a major pull. They'll be moving into their new three-bedroom townhouse at the end of the month. "It just spoke to me. I looked at Brock and said, 'I know they probably spent a lot of money on marketing, but I'm completely buying into this,'" Bell says. "This is how I want to live my life."