Apple recently announced all its new iPhones, and it's clear that not much is changing in Cupertino's design this year. But check out this video of a new, magically expanding phone by Oppo—the fifth most popular mobile phone brand in the world.
Called the Oppo X 2021, it's a standard 6.7-inch smartphone that, with the press of a button on its side, can expand in your hand to a 7.4-inch tablet—stretching from a rectangle to a shape more like a square. As that happens, the interface almost seems to cross-fade from one configuration to the other; if you're watching a video, the interface simply stretches bigger.
OPPO X 2021 pic.twitter.com/dLUSQ2jwb0

— Ice universe (@UniverseIce) November 17, 2020
The effect looks unreal. It's as if someone is using pinch-to-zoom to expand a box in real life. But it's not magic or editing trickery. This new display is part of a very clear, evolving lineage of technology inside smartphones.
Over the past few years, modern displays in phones have evolved from LCDs to OLEDs, meaning a slightly different core technology is used to display information. That evolution comes with all sorts of benefits, like better contrast and lower power consumption. But it also comes with more experiments in form.
Without getting too in the weeds about these technologies (more background here), know that LCDs aren't inherently flexible, while OLEDs are essentially paper-thin ribbons that can bend and carry pixels. Major companies have experimented with curved and flexible OLED gadgets for a decade now.
However, building a device that actually holds up long-term while bending is extremely difficult. Bend an OLED display too sharply, and you  damage it along the fold. Companies have plowed ahead anyway: Samsung released the first folding Galaxy phone in 2019, and Motorola quickly followed with a folding Razr. I spent a day at Motorola learning how the company created a special hinge and a series of folding plates that moved in a very specific manner to allow you to open and close your phone without damaging the display. Despite these efforts, early Razrs had a lot of problems.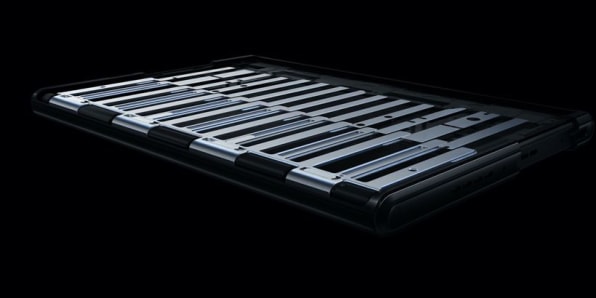 In any case, it's a very difficult engineering challenge to make a folding or bending OLED display, but the industry is quickly figuring it out. As that's happening, we get to see industrial forms pushed more aggressively, like in the Oppo X 2021. Here, instead of folding a display, the OLED is being unfurled like a carpet or scroll, according to Engadget. As the case expands, the extra display is pulled from inside the phone with the help of internal motors, and it rolls in over the front edges of the device. The center of the phone's rear casing actually thins out in this process, since it's no longer storing or protecting this hidden screen.
Is Oppo's approach inherently more durable than the folding displays we see from Samsung or Motorola? I can't see why it would be, though Oppo uses motors to expand its screen while its competitors don't. These motors are probably there to throttle the stresses put on the display as it expands.
One advantage to this approach that you might not see in video clips is that it's not binary: The display is not 6.7 inches or 7.4 inches—you can actually pause its expansion anywhere in between to stretch the display to the (theoretically) perfect size. From what we can tell, Oppo could make the base phone smaller or bigger, if it so chose.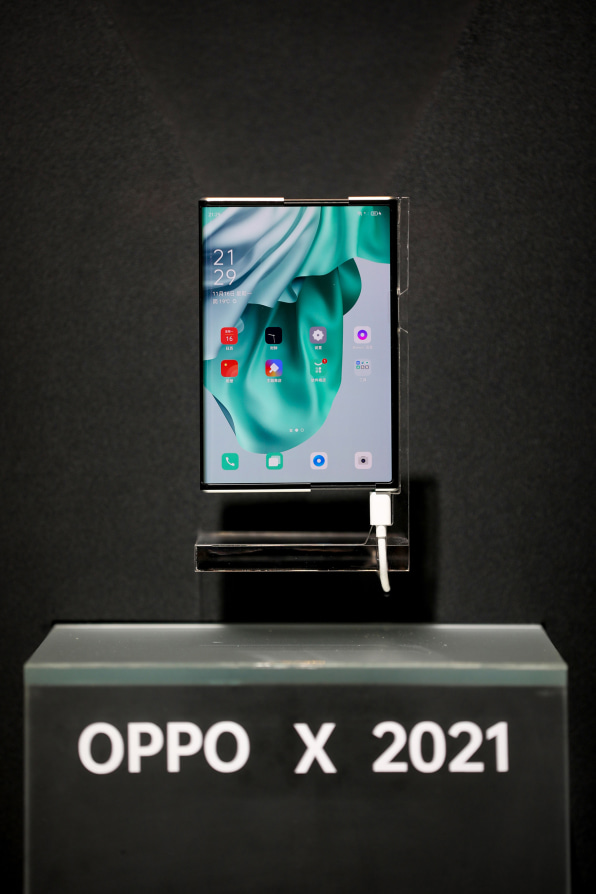 This phone isn't the next iPhone. It's not going to be the most popular phone any time soon. Why? For one, it's still just a concept. Second, it's not necessarily all that practical: Motorola has pointed to its own consumer research, which finds that people actually want a small phone that becomes a bigger phone—not a large phone that becomes a small tablet. Last, people are broke, and the technology industry has found a sweet spot in the new pragmatism of midrange devices. These cutting-edge, flexible OLED devices are still quite expensive—about double the price of a midrange phone.
That said, Oppo is onto something here in creating a display that can just become bigger, as if you're taking a piece of paper by its corners and stretching it. It's a UX fantasy come to life.