It's dangerous to make any predictions about COVID-19's long-term impact on the tech industry. But this much is clear: Normalcy isn't returning any time soon, and the new normalcy may be strikingly different from the old. Companies such as Google and Facebook keep pushing out the timeframe for reopening their offices, which (for now) has reached mid-2021. Facebook is letting staffers relocate far from hubs such as Silicon Valley and New York City if they choose; Mark Zuckerberg says that 50% of employees could end up working remotely.
Even among tech companies that have reassessed everything about how they operate, Dropbox's reaction to the pandemic has been dramatic. Last month, it announced that it was going virtual first, effective immediately. Working from home is now the official, permanent default experience, with "Dropbox Studios" physical spaces in San Francisco and the company's other major hubs available for in-person collaboration when necessary. Except for "core collaboration hours" designed to span multiple time zones, staffers will also be free to devise their own schedules rather than sticking to anything resembling a 9-5 day.
This departs from Dropbox's past philosophy when it came to collaboration, which has involved building ever-larger and more ambitious facilities dedicated to its work and culture, then filling them with people. In 2016, my former colleague John Brownlee wrote that its offices resembled "a warehouse of different classic film sets, where employees can choose the world they want to work in that day." That was before the company signed a deal for a new 736,000-square-foot  headquarters—the biggest office lease in San Francisco history.
I can report from personal experience that the free food Dropbox serves at its cafeteria is dazzling even by tech-industry standards. A few years ago, the company even caught flak for paying a reported $100,000 for a giant chrome panda bear to dress up its workplace.
From its start back in 2007, Dropbox has been about taking the physicality out of work.
And the only reason any of this might matter to those of us who don't work at Dropbox is because the company says that abandoning its old ways will help it make better products for those of us who use the service—600 million registered users in all, 14 million of whom are on paid plans.
From its start back in 2007—when all it did was let you store files in the cloud rather than sticking them on a thumb drive—Dropbox has been about taking the physicality out of work. It's "really tried to solve problems around geography and mobility, but in the technological sense," says Timothy Young, who joined the company as general manager for products in October 2019 and became its president last month.
In recent years, that vision has expanded well beyond online storage to encompass broader collaborative tools. Now the company is betting that going virtual will let it evolve its service for a world in which work is increasingly disassociated from requiring multiple people to be in one place at the same time.
"We've really tried to not just build products for the future, but really live that journey," says Young. "And we think that integration of the two—how we work and the products we build—is going to lead to better customer value and better customer outcomes."
From files to projects
Today, Dropbox is announcing a major round of feature updates—some still in beta—that are the result of work its staff has done since the company adopted work-from-home measures last spring. They include Dropbox Spaces 2.0, a new version of the collaborative environment the company introduced last fall—which itself built on some changes it introduced a few months before that.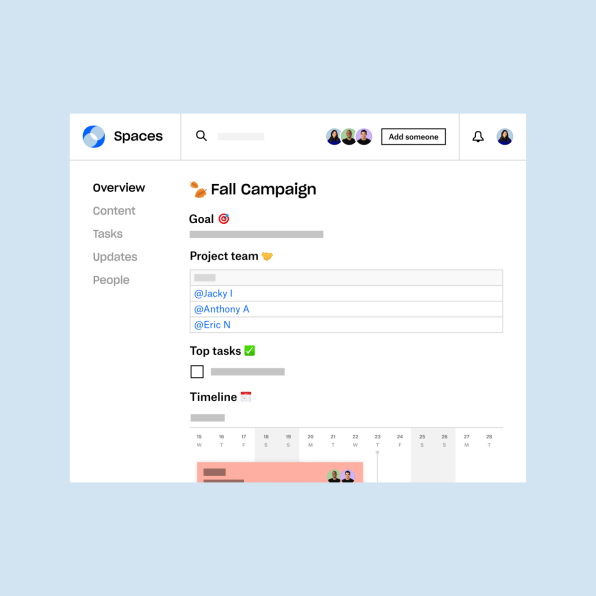 As you'd expect from Dropbox, a healthy percentage of Spaces involves letting coworkers share online files—including ones, such as Google Docs, that originate outside of Dropbox's own service. But it also includes tools for managing tasks, organizing joint efforts with timelines, and coordinating meetings.
In short, Spaces feels like a project management system that's deeply interwoven with the documents and information that people use to get work done. "We want it to be kind of that long-term memory for companies that is very content-centric," Young says. "We want to be able to help people streamline their workflows and prioritize their days."
Along with the Spaces update, Dropbox is also bringing its password manager and computer backup feature—which launched last summer for personal accounts—to business users. It's adding more third-party integrations to its App Center and upgrading its HelloSign document-signing feature. And it's giving companies a security dashboard that helps them keep tabs on potentially risky activity such as sharing files outside the organization.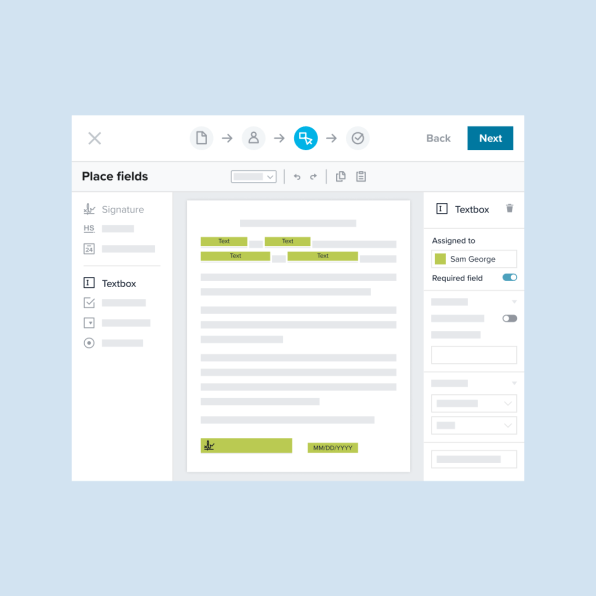 Young says that if there'd been no pandemic, the company's rollout of new features would have been strikingly different. "Having our product and engineering teams and design teams literally sit on Zoom all day with customers and just listening to the stories, getting feedback, understanding how they're working, what's not working, where the gaps are, has really, really changed our roadmap for this year."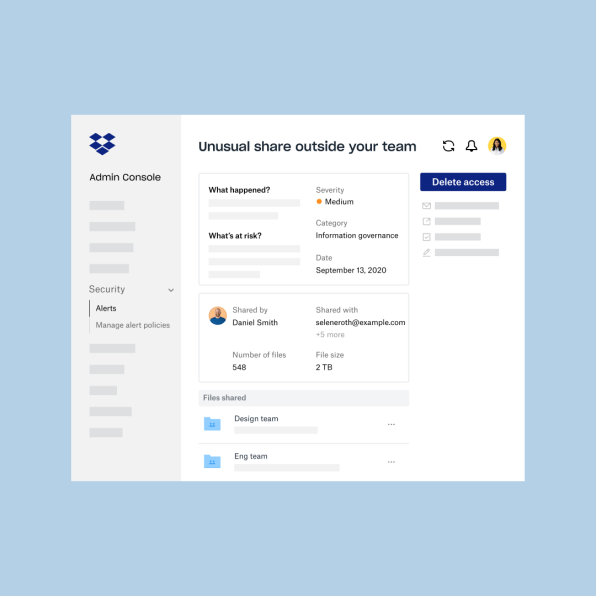 Talking to Young, I noted that past Dropbox expansions into new territory have tended to infuriate some of the company's loyal customers—those who cherish the simplicity and reliability of its file-syncing service and see the addition of broader collaboration as mucking up what made Dropbox appealing in the first place. For the record, I pay Dropbox for service myself, use it mostly for my own file storage, and haven't found its forays into other areas to have damaged my experience. But given how vocal the unhappy campers are, I asked Young if he worries about such complaints.
"We do have to strike that balance between our core historical experience and then how to thoughtfully provide new value to a widening set of customers," he told me. "Because as we've grown, the use cases have grown. The types of customers have grown. And that has only accelerated with the distributed work paradigm right now."
Dropbox is describing its own aggressive shift to that paradigm as going through a one-way door. Does Young think that most organizations will join it in the years to come, rather than returning to something resembling their pre-pandemic habits once they can do so safely? He says that he shies away from specific predictions, "but I think the direction is clear . . . The nature of work is changing. Our relationship with work as humans is changing." If Dropbox's bet on virtual-first work lives up to its expectations, its products could help drive that change rather than merely reflecting it.