Over the summer, I came across an online store that was promising big discounts on All-Clad cookware, but with a catch: You had to hand over an email address just to see what the deals were.
This would have given me pause if not for a secret weapon: I loaded up a service called Abine Blur and generated a free "masked email" address to use instead of my real one. While the masked email would still forward messages to my actual Gmail inbox, the store would never learn my real address, and I could cut off any future emails with one click.
I started using Abine Blur about five months ago, after hearing about it from one of my newsletter readers, and it's since become one of my most cherished privacy services. With masked email addresses, I don't have to worry about getting spammed just because I signed up for an app, made a donation, or subscribed to some retailer's newsletter in exchange for a coupon. I just tell Abine Blur to stop forwarding their emails, and our link is severed.
While the idea of avoiding spam through masked or secondary email addresses has been around for a long time, Blur stands out for being easy to use across multiple websites, each with their own separate addresses. It's a simple way to protect an important part of your online privacy, yet it seems to fly under the radar compared to flashier tools like ad blockers or VPNs.
Why masked email matters
The main reason to use masked email is obvious: Given the chance, too many companies will abuse the privilege of having your email address, sending endless marketing messages without your explicit permission.
The United States doesn't have a law like the European Union's General Data Protection Regulation, which requires opt-in consent for companies to email you. When you turn over your email address while signing up for a service or buying something online, that address becomes fair game for marketing. In the U.S., the Controlling the Assault of Non-Solicited Pornography and Marketing Act of 2003, known as the CAN-SPAM Act, does require marketers to include opt-out mechanisms in their emails, but those unsubscribe options can be hard to find. Besides, I've been on enough seemingly inescapable mailing lists to know that the law isn't always followed to the letter, and unsubscribing from one list won't help if a company has handed your email address to a third party.
Beyond just the immediate privacy violation of having your inbox invaded, handing out your email can also be a security risk. Just type your email address into the long-running security checkup site Have I Been Pwned, and you'll likely see that it's been involved in all kinds of security breaches. Scammers can then use your email and any corresponding personal information from the breach in phishing attempts, which try to trick you into turning over even more sensitive information such as passwords or bank account details.
In the same way that you'd change your password after a security breach, a masked email would let you change your email address as well. If an app or website that you use gets hacked, you can just switch to a different masked email and dispose of the old one, and scammers would have no way of contacting you.
How it works
Creating email addresses in Abine Blur is pretty easy. After setting up an account, just head to the masked email menu and select "New Masked Email." You can then specify what you're using the address for, which will help you easily disable emails from that site or service later.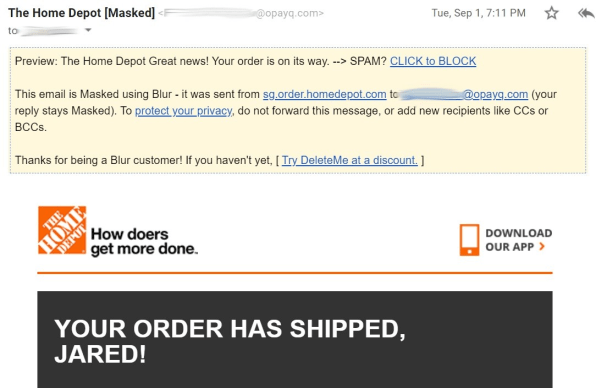 For each masked email, Abine uses a jumble of 12 random letters and numbers, along with one of several possible domain names, so you'll get an address like 9860nu90ed5n@opayq.com or i5qpqjmc7c22@blurme.net. You can then copy the email address and paste it into any sign-up form.
If that seems like too much trouble, Abine also has browser extensions for Chrome and Firefox. (The former is also compatible with other Chromium-based browsers, such as Microsoft Edge or Brave.) Once installed, the extension will automatically detect sign-up forms and offer to generate masked email addresses automatically. You can also generate and copy email addresses through Blur's iOS and Android apps.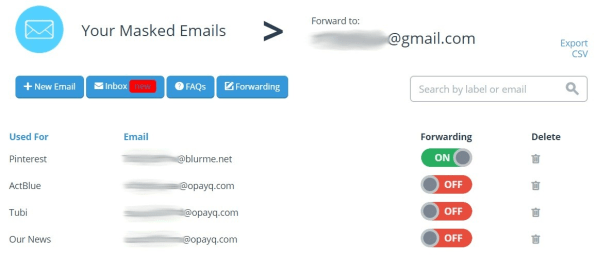 After setting up a masked email, any messages to that address will arrive in your inbox with a message from Blur at the top, with a "Block" button you can click to stop any future emails from arriving. Blur's website and apps also have a section for blocking and unblocking addresses or deleting your masked email addresses outright.
It's worth noting that Abine Blur offers other privacy tools, such as masked credit cards, masked phone numbers, and a password manager, but some of those features require a paid subscription starting at $39 per year. Personally, I just use the masked email feature, which is free and has no limits on the number of addresses you can create. (On that note, if you're using the browser extension, I suggest clicking on the extension button, heading to Settings > Settings for All Sites, and disabling any Blur features you don't use.)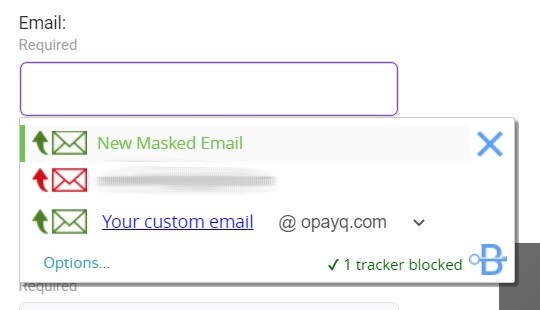 Abine Blur isn't the only service that can mask your email address. You can also generate temporary email addresses with services such as Maildrop or 10 Minute Mail, or rely on the time-worn practice of keeping a second email address for junk. In Gmail, you can also add dots or plus symbols to your username in email forms, then set up filtering rules so that emails to those modified addresses don't land in your inbox. Even Apple now offers masked email addresses with its Sign in With Apple feature, which you can use to create an account in some apps and services.
But compared to those methods, Abine Blur is simpler to use. I don't have to worry about checking a second inbox or wasting time with Gmail filters, and unlike Sign in With Apple, it works with virtually any app or website. (Some sites do block Abine's email domains, but I've yet to be thwarted by this myself.)
That ease of use makes me more likely to use the service in the first place. After months of doing so, I'm wondering how I went so long without it.