Vance Woolley, a resident of Saratoga Springs in the Utah Valley, was suddenly called to a family emergency in Texas right before Election Day. He'd planned to have his family's ballots Fed-Exed over (Utah largely votes by mail), but they didn't arrive by the time the morning of November 3 rolled in. He called Utah County's election office, and they swiftly offered them a simple contingency: They could vote using their smartphones.
Citizens in Utah, Colorado, West Virginia, and other spots around the country have previously used a mobile app, Voatz, to cast their ballots in statewide elections, but this marks the first time people have used the technology to vote in a presidential contest. For some groups of voters, it's the speediest and most reliable way of voting. And, though several experts have voiced significant security concerns, election administrators counter that mobile voting proves to be more time- and cost-effective for them, and that it's no riskier than voting in person or by mail. And they've moved forward with using it in specific cases.
"There are voters for whom mail doesn't work," says Nimit Sawhney, cofounder and CEO of Voatz, "and it's not a trivial group of people." The legality of voting electronically varies by state; for most, it's an option reserved for military members deployed overseas, and citizens living abroad—a group whose alternative voting methods are protected by a law called UOCAVA, the Uniformed and Overseas Citizens Absentee Voting Act. In states like Utah, it's electronic voting is also available to disabled voters—such as people with vision impairment and people with motor disabilities—who might have trouble filling out physical ballots. "I'm not going to go to someone and say, 'Oh, I'm sorry. You have arthritis. You can't hold a pen. You don't get to vote,'" says Amelia Power Gardner, county clerk for Utah County. Her county became one of three to allow certain residents to use Voatz to vote—along with Daggett County, also in Utah, and Jackson County, in Oregon.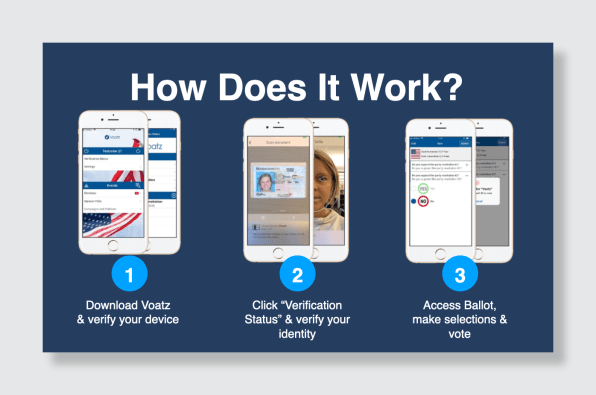 After submitting their ballot request as normal, voters who are eligible receive an email with a link to download the app. After downloading, each voter is biometrically identified: The individual takes a selfie, which is matched with whatever legal ID they upload. They also take a video to let the app know that they're real. They then input personal data, which must match with the data in the voter registration system. All the information is digitized and secured on the blockchain. After that verification, they get to access their mobile ballot. Technically, the user isn't even casting a vote by phone. Rather, they're marking a ballot by phone, Gardner clarifies. They fill in the bubble on screen and sign the form. The ballot is then stored on the blockchain until Election Day, when it's actually physically printed and counted with all the rest of the mail-in ballots, which allows election officials to more easily integrate the new system to the ballot counting infrastructure that already exists.
Woolley says the process was straightforward. Voatz sent him an in-app receipt notifying him that his ballot had been received and counted. "I got more [notifications] from Voatz than I ever got from my mail-in ballots," he says, adding that he would like to see mobile voting replace mail voting in the future. He also says the ID verifications seemed more trustworthy and allayed his fears about voter fraud. "I like the fact that I was identified," he says. "I couldn't vote four or five times."
Woolley doesn't fall under the UOCAVA category, but Utah's disability exception is applied liberally, Gardner says. The county has also been able to make accommodations for COVID-19. In Utah County, some of the people who voted by smartphone were those who tested positive on Election Day or the day before, made emergency calls, and were allowed to download the app. Likewise, the county almost used Voatz as a contingency for a natural disaster. The Sunday before the June primary, half the county was evacuated for a wildfire, and the Red Cross set up its evacuation point in the main polling location. Though the fires subsided on the Monday night, Voatz proved its importance in an emergency.
Though this was the first time in a presidential election, it was the fifth time Gardner has used Voatz. The app has also been used by the city of Denver for its municipal elections in 2019, and West Virginia used it for its primary in 2018—when someone attempted but failed to hack into the system. That raised concern about the app, part of the reason for which West Virginia didn't use Voatz this cycle, and which led Oregon Senator Ron Wyden to ask his home state to reconsider its use. Academic security experts have voiced harsh criticisms: One told Vanity Fair it was a "horrifically bad idea" due to the risk of voters' information being exposed, and another worried about "undetected changes" that could occur as the ballot is in transit. One called it "the Theranos of voting."
More substantial assessments have taken place, most notably by two MIT then-graduate students, Michael Specter and James Koppel, in February. In their paper, they said: "We find that Voatz has vulnerabilities that allow different kinds of adversaries to alter, stop, or expose a user's vote," adding privacy concerns due to the app's use of a third party for certain functionalities that lets them access voter information. Voatz responded by saying the researchers only profiled an Android version that was 27 versions old, and that the researchers never connected to the Voatz servers. Specter tells Fast Company in an email that he wasn't satisfied with the response. "I have no idea if or how any of the flaws we found are fixed," he says, "though providing a secure internet voting system is an active and unsolved area of research, so I would still very much doubt that it's trustworthy." Separately, Voatz commissioned security firm Trail of Bits to conduct an assessment, which found 79 security flaws of varying degrees of severity. Voatz published a report addressing each of those supposed flaws, which it said was in the interest of public transparency.
Sawhney, the CEO, says that it's easy for academic experts to criticize the app, but the Voatz engineers have to test it in real-world scenarios to gauge its true efficacy. "We focus on the practical side of security," he says, "which I think so far has served us really well." He says they commission regular audits, work in close contact with the Department of Homeland Security, and continually strive to strengthen detection capabilities to shut down threats so they cannot compromise voting.
Utah County's Gardner agrees. "There are people that look at elections in the vacuum of a utopia," she says. "And by people, I typically mean university researchers." She says security is of the highest importance to election officials—"What keeps [me] up at night? Security and long lines"—and that's why they launch pilot programs with limited groups before ever expanding the use. Even this cycle, only 887 people in her county, out of approximately 290,000, used mobile ballots. She says the MIT researchers agreed with her that email is a much less secure option, which is how deployed military currently vote in 29 states. As for privacy and the criticism of sharing personal ID information with a third party: "Hey, guess what, I give that to my print vendor [to send ballots to voters]," she says. "So, a lot of the things that they identified as being unacceptable to them are actually common practice to run an election."
For election officials, Gardner says, mobile voting is simply more cost-effective, especially for a small fraction of voters. By law, she has to provide special booths for disabled voters in each precinct, which this year translated to $130,000 spent for six voters. It also saves time, she says, since training election officials and voters on the app is much simpler. Voatz has a series of videos and tutorials to educate voters, including on accommodations such as voice commands for blind voters.
Gardner would now like to see its expanded use from the limited group to all people residing out of state, not just overseas; and to pilot it in a millennial-majority city to increase turnout among seasoned tech users. She anticipates a broader adoption by the 2028 or 2032 presidential election. That's in line with the goals of Voatz, which doesn't even necessarily want to replace regular voting, rather to offer more choices. Voatz is launching its first international pilot this month, as part of a pilot in Brazil overseen by the country's elections commission , which will test mobile voting (though none of the mobile votes will count toward the outcome).
While Sawhney says that the pandemic perhaps made election administrators less likely to adopt new, untested formats for 2020, because of time constraints, it's opened their eyes to the critical need for better voting alternatives. Gardner agrees: "This is a contingency plan that I think is actually irresponsible for us, as election officials, to not have," she says, "because we don't know if a wildfire is going to break out. We don't know if a volcano is going to erupt. We don't know if a hurricane is going to hit our house. And we don't know if a pandemic is going to come."
---
Correction: We've update this story to reflect that the Voatz use in Brazil's elections this month is just an experiment, and no votes will be tabulated through the technology. We regret the error.