Murals are usually decidedly low-tech art. But one going up on a wall in Fort Greene, Brooklyn, is part of what will eventually be a series of 10 augmented reality-enabled murals around the country that aims to highlight research by "badass ladies" in STEM.
The 27-foot-by-60-foot artwork, titled A Cluster of Enigmas, is the first in the series, collectively known as Findings. The mural project is the work of Amanda Phingbodhipakkiya, a multidisciplinary artist whose background in neuroscience and design has informed previous efforts such as a series of 3D-printed sculptures and a group of high-design posters, both of which highlight the work of women in STEM.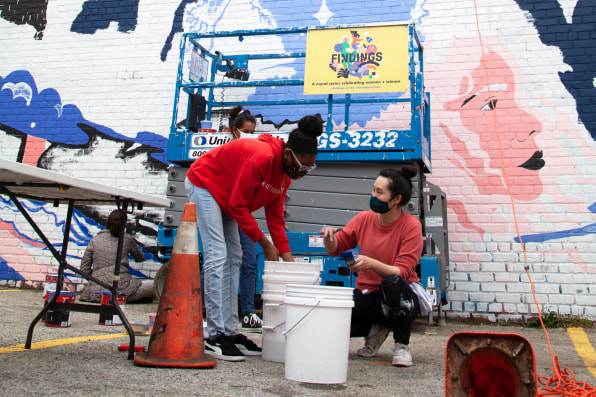 Each mural in the series is being created in collaboration with a scientific partner and will have its own scientific focus—things such as exoplanets, condensed-matter physics, dark matter, and climate science—that matches the broader goals of the Heising-Simons Foundation, which is funding Findings. A Cluster of Enigmas is based on research on brown dwarfs by Jackie Faherty, an astronomer at the American Museum of Natural History.
Brown dwarfs, Phingbodhipakkiya says, are known in astronomy circles as the "misfits of the galaxy." "They're not stars, they're not planets," she says. "They're somewhere in between."
So the mural features a number of women depicted as brown dwarfs—"bold and mysterious and irrepressible," Phingbodhipakkiya says. Among the figures is Josephine English, the first Black woman to open a private medical practice in New York City, sitting "among these cosmological entities . . .flanked by visionary space pioneers."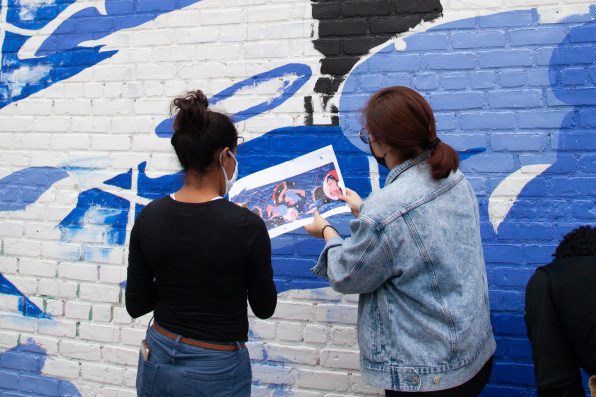 As Phingbodhipakkiya writes on the Findings website, "[I]t is only fitting that as a pioneer in her field, [English] sits among the stars. Openings appear in the sky, gateways to the stars, just as brown dwarfs are windows to the universe."
Findings is a tad more abstract than Phingbodhipakkiya's sculpture or posters work. It aims to express subtle metaphors between science and the lives of female scientists that haven't enjoyed the notoriety of male counterparts.
Phingbodhipakkiya says that Findings came to be when the Heising-Simons Foundation reached out to her about teaming up on a project, and she related a big idea she'd had to create a 10-mural series around the United States emphasizing women doing remarkable work in science.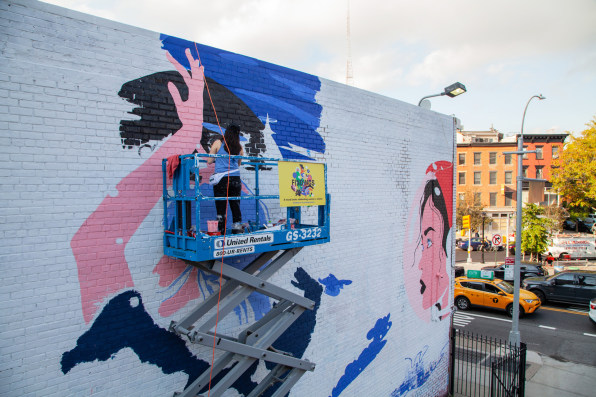 And doing a series of publicly available murals was important to her, she explains, because she wanted to move beyond the gated, exclusive aspects of some of her previous work. Plus, she admits, the COVID-19 pandemic necessitates creating artwork that people can experience without risking their health.
Art, augmented by AR
While some passersby may be happy to enjoy the painting solely based on what they see in front of them, Phingbodhipakkiya wants everyone to be able to learn about the stories behind the metaphor. That's where the project's AR elements come into play.
By using their phones to scan a QR code embedded in the mural, people will be able to download an app that explains the metaphor, as well as demonstrate the science behind it. For example, for A Cluster of Enigmas, the app features an animation of the relationship between brown dwarfs and stars and planets. For each mural, the app will also include concise details about the relevant science.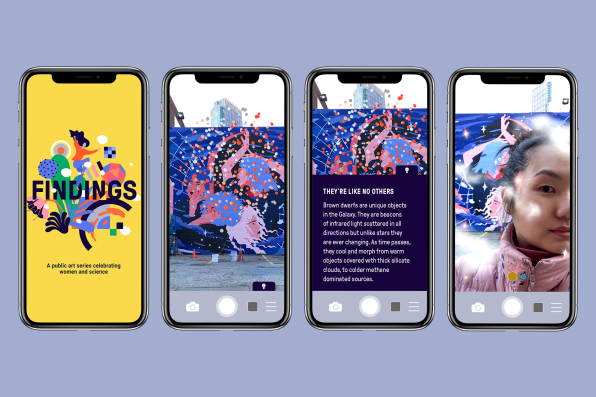 If you're standing in front of one of the murals, the app will display information about it, using geolocation services. Since no state will have more than one mural—Phingbodhipakkiya is planning the next few for Philadelphia; Washington, D.C.; Denver; Las Vegas; and Oakland, California—the app will always feature the closest mural. For now, that means everyone who uses it will learn about A Cluster of Enigmas.
Inspiring young women
Regardless of whether someone experiences the Findings murals in person or through the app, Phingbodhipakkiya hopes her new work will speak especially to young women who "will see the art, be curious about it, be inspired to dig deeper into the story of the scientist who is working on the subject matter, and then see someone who looks just like them."
In other words, she adds, she wants young women to see themselves represented in the art and picture science as a viable career.
Phingbodhipakkiya also hopes that her work will resonate with men, particularly those who come to understand that science has frequently pushed women to the side. "I think it's high time that we give them the spotlight," she says, "and I know men will be very excited to see these incredible figures, life-size, large, in the wild. I think they'll be excited to know more women scientists who are doing incredible bad-assed work that perhaps they didn't know about before."