But perhaps the biggest insight that Sacha Baron Cohen has gifted us with his skewering mockumentary starring himself as a hapless Kazakhstan native set loose in the American wilds in 2020 is that there's something else that is also still alive and well in this country, despite all the wrenches the year has thrown us: the blockbuster movie.
Only it looks very different than it traditionally has.
Borat 2, which has managed to create the virtual water-cooler moment of the season, united audiences almost from the minute it dropped on October 22 (and word of the controversial Giuliani scene leaked). It arrived with almost none of the bells and whistles that typically signal the arrival of a "big" movie. There was no teaser trailer dropped a year in advance, no billboard campaign papering cities for months before its release; no splashy press junket; no star-studded premiere. Even by the diminished standards of the COVID-19 era, there was little traditional-style ballyhoo.
The film wasn't even announced until late September, meaning that it had exactly four weeks to generate word of mouth. In Hollywood marketing terms, a four-week movie campaign is unheard of, ludicrous—or, as Borat would say, "Very nice—not!" Yet Amazon pulled it off by leaning on Baron Cohen's relentless energy and creative salesmanship. There were Borat stunts galore both online and IRL, which helped create a burning sense of immediacy and helped the film explode into the cultural consciousness, as opposed to being slowly fed to audiences by an IV-drip marketing campaign over the course of lumbering months. (Think Tenet.)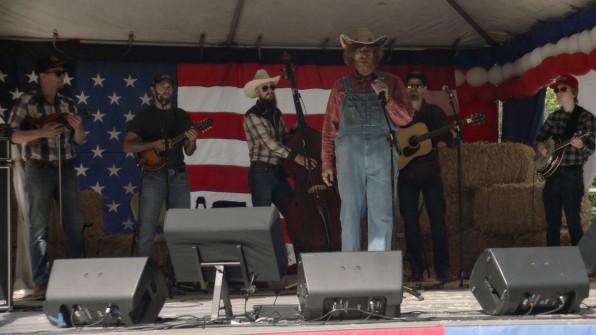 The election, of course, helped. Amazon—and Baron Cohen, who is incredibly hands-on with his productions and how they are marketed and released—brilliantly launched the film just two weeks before the most contentious and hand-wringing event of the year. This played into the Trump-satirizing premise of the film: having humiliated his nation with his first film, Borat is tasked with redeeming Kazakhstan's standing with the United States by delivering a monkey (Kazakhstan's Minister of Culture) to Trump. Showing even more strategic marketing precision, the film dropped on the same night as the final debate between Trump and Biden.
Hamilton, which is arguably the only other major example of a COVID-19-era blockbuster, played a similar card when Disney Plus released it over the Fourth of July weekend, playing up the political themes of the filmed musical and creating a sense that watching the film was the only thing to be doing over the holiday weekend, when the pandemic put a damper on traditional Independence Day activities.
The results speak for themselves. Although Amazon is being cagey about just how popular Borat 2 is, saying only that "tens of millions" streamed the film over its first weekend of release (it is not saying how much the film made in limited theatrical release), other metrics provide more insight. According to MarketCast, which tracks the volume of social media hits that streaming TV and movie titles receive, Borat 2 generated 1.1 million hits over a seven-day period leading up to and just following its release. The only streaming film this year to beat that is Hamilton, which generated 1.5 million social hits over a similar seven-day period. Numbers drop precipitously following those two films. Mulan, which Disney also released on Disney Plus last summer for an extra charge of $30, generated just 151,152 hits.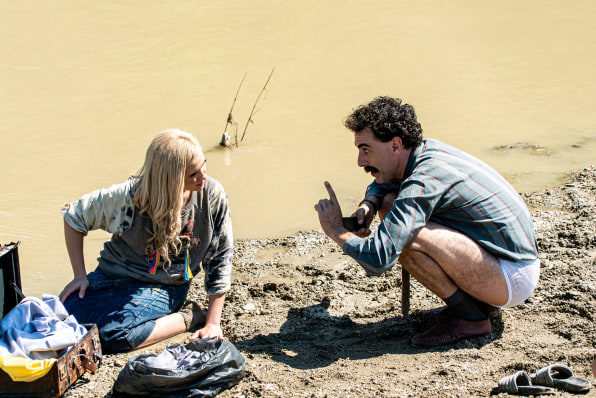 The newsy timeliness of Borat 2 wore on even after it came out, as the film generated more headlines. Giuliani responded to the film. Borat responded to Giuliani. The babysitter in the film, Jeanise Jones, whom Borat hires to watch his 15-year-old daughter (she's actually 24) went public saying she felt "betrayed" by Baron Cohen's stunt and that she wasn't properly compensated. Supporters of Jones set up a GoFundMe campaign to redeem her.
Not every film has this level of built-in timeliness, and not every film has an iconic showman like Baron Cohen championing it (or the must-see buzz of Hamilton), but as the future of theatrical releases looks more dire by the day—the country is seeing a massive COVID-19 spike as we head into winter—Hollywood can learn a few things from both films, which have in many ways adhered to the Beyoncé model of arriving in the world, i.e., Surprise!
(Hamilton, which was originally slated to be released theatrically but was moved to streaming because of the pandemic, was announced just two months before it hit Disney Plus.)
Surprise—and then execute, of course, by creating an event-like atmosphere. Not all traditional marketing techniques need to be tossed. Borat 2 still relied on old standbys such as TV advertising, promoted tweets, and stops at the Late Show. In fact, these pieces are arguably still critical to building awareness, lest you run into the Netflix effect, whereby titles emerge on the platform almost wordlessly and are then subsumed into the gargantuan library days later. (Was anyone aware that on the same weekend Borat dropped, Over the Moon debuted on Netflix—one of its biggest kids' animated films of the year?)
As Ben Carlson, SVP and general manager of film, television, and streaming at MarketCast, says: "Some of what Hamilton and Borat prove is that the old way of saying, Hey, we need to get behind a specific title and make it a moment that the world pays attention to, is still crucial. It's still an important part of entertainment marketing."