On Sunday, a coalition of progressive-leaning political groups hosted a fundraising event with performances by artists such as Patti LaBelle, Chaka Khan, Jason Mraz, and Herbie Hancock. In keeping with coronavirus precautions, the event—called Lift Every Voice—was online only, with performances prerecorded from artists' homes or studios to maximize production quality.
But thanks to the use of technology from a company called Hovercast, which has been working with Democratic organizations from the Bernie Sanders campaign to the Democratic Party of Wisconsin, the performance felt more like a Twitch live stream than yet another Zoom webinar. And most importantly, it was able to bring in close to $20,000 in donations.
"Since COVID happened, we've been helping these campaigns pivot to virtual events," says Hovercast cofounder and CEO Eli Stonberg. "We've been working with all sorts of folks to make something that goes well beyond a Zoom."
Hovercast, he says, takes inspiration from video gaming platforms such as Twitch—where Democratic representatives Alexandria Ocasio-Cortez and Ilhan Omar recently played the popular game Among Us as part of an effort to motivate young voters—to keep viewers feeling like their participation actually matters. "These lessons that essentially video games have been teaching us for 40 years apply to interactive live-streaming," he argues.
On Sunday, live audience chat appeared below the streaming broadcast, with highlights from the discussion appearing alongside the performances and speeches by politicians such as New Jersey Democratic senator Cory Booker. A donation meter designed to look like an unfurling musical score grew as viewers contributed to a political fund backing groups such as Color of Change, which supports racial justice, and Higher Heights, which supports Black women running for office. The first names and last initials of donors appeared onscreen throughout the evening.
Hovercast is part of a balancing act for political organizations that, like so many others, have had traditional in-person events fall by the wayside amid coronavirus precautions. Mobilize, a progressive and Democratic-leaning event and volunteering platform, saw virtual events go from about 25% of hosted activities before the virus outbreak to more than 95% around March. The percentage of online events is still hovering around 85%, according to data Mobilize shared with Fast Company.
That's a challenge for politicians and the groups that support them, who risk losing the energy of in-person meetups and rallies as they switch to Zoom calls and online broadcasts. They also have to balance allowing audience members from across the internet with the risk of disruptive trolling and harassment. But the shift has motivated the world of political campaigning to continue its push into the online realm.
"COVID basically pressed fast-forward on the world of virtual events by two to five years," says Stonberg.
To help event organizers build out how they want their streams to look, Hovercast provides a tool similar to iMovie or Adobe Premiere that enables organizers to place highlighted comments, fundraising updates, trivia questions and polls, and animated GIFs wherever they want them. In one recent Democratic Party of Wisconsin event called Laughing All the Way to the White House, special clips from comedian Chelsea Peretti were shown only when certain fundraising goals were hit.
Whatever the components are, the videos can then be streamed to Facebook, YouTube, Twitch, campaign websites, Zoom calls, and other popular platforms. Users can chat directly on the campaign or event's website.
And, to keep trolls and hatemongers at bay, Hovercast enables organizers to moderate these audience discussions. Moderators approve which messages actually pop up in the normal chat window, and pull highlights from live chat, social media, and text messages, which get displayed alongside videos.
"Obviously chat can be the wild, wild West, so we give the clients the ability to make sure that only what they want goes on-screen," says Hovercast cofounder and CTO Jeff Greco.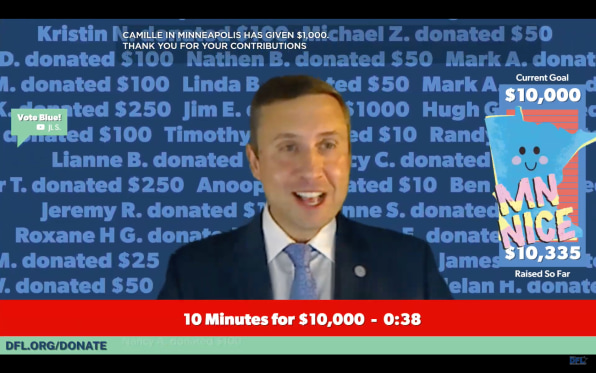 The company says the technology keeps audiences engaged and donating: After onetime Democratic hopeful Andrew Yang started using Hovercast, events with similar speeches started raking in about four times as much in contributions, Stonberg says. And a Hovercast-enabled webcast of a pre-pandemic Sanders rally in New Hampshire featuring an appearance by Ocasio-Cortez and a musical performance by the Strokes pulled in more than $75,000, maxing out on-screen donation meters.
Other candidates, such as financier and philanthropist Tom Steyer, have used the platform for purposes other than bringing in donations, Stonberg says. Steyer, for instance, was more interested in netting mailing list signups and volunteers for his campaign for the Democratic nomination.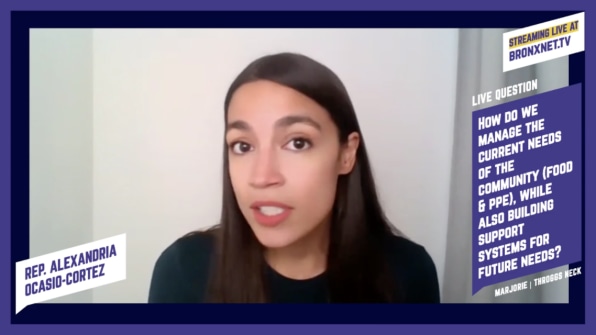 The Hovercast founders previously made music videos for bands such as Foster the People and Portugal the Man and got invested in interactive live streaming after working on a marketing project called the Old Spice Nature Adventure, where audiences on Twitch told an actor stationed in the woods what to do. The gaming-inspired technology is often targeted to Gen Z and millennial audiences—one of the organizations participating in the "Lift Every Voice" fundraiser was Ctrl Z, a group that promotes youth turnout.
"They expect and like to engage with their content," Stonberg says. "They're fluent with Twitch, and they understand what it's like to chat while you watch."
But the cofounders emphasize that the platform isn't necessarily limited to younger people, although Stonberg acknowledges audiences less familiar with interactive platforms might need a bit more explicit directions on-screen about how to use all of the tools available. On Sunday, for instance, the platform supported a cast-member reunion for the 1970s and '80s TV show Happy Days in support of the Democratic Party of Wisconsin, where the show was set. A fundraising meter resembled a classic midcentury diner milkshake glass filling up.
Such joy seeing @hwinkler4real @RealRonHoward @most_don & #AnsonWilliams reunited for the #HappyDaysReunion,1 of my fav shows of all time.????nerd in me loved that #LowellGanz was part of this.@joshgad great job as Mr. C.!Do wish @JohnStamos filled in as Chachi though. Next time!???? pic.twitter.com/Lmjd4N0p5y

— Abby (@absalist) October 26, 2020
After pandemic restrictions lift and candidates return to giving stump speeches in actual diners, ballrooms, and arenas, Stonberg anticipates tools such as Hovercast will be used in more hybrid events such as the New Hampshire Sanders rally, with at-home audiences potentially influencing what transpires within in-person events. It's a sentiment echoed by Mobilize CEO and cofounder Alfred Johnson, who wrote in an email to Fast Company that he doesn't see virtual campaign appearances going anywhere.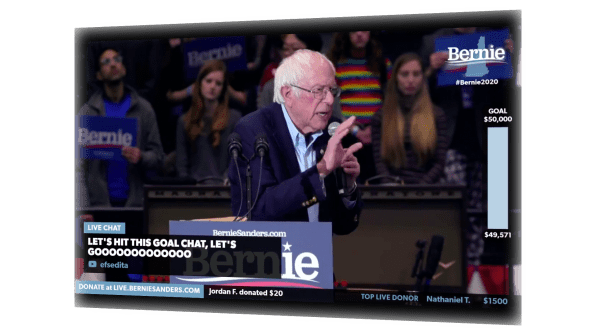 "In the future, campaigns will seamlessly integrate virtual actions, in-person actions, and donations into a single unified experience for campaign supporters," he predicts. "The internet has changed campaigning in much the same way it changed industries like retail—and the pandemic was a major catalyst for that."