In March, as people responded to COVID-19 lockdowns by stocking up for the cooped-up quarantine period ahead, they encountered shortages of hand sanitizer, disinfectant wipes, and, of course, toilet paper. In many cases, the prices of these goods skyrocketed. In one well-documented case, two Tennessee brothers stockpiled 17,700 bottles of sanitizer, selling some of them for up to $80 on Amazon.
Seven months later, prices and supplies of those items have mostly stabilized, but as the winter ushers in cold temperatures and a potential "second wave" of the coronavirus, buyers are starting to contend with price hikes and shortages on a different class of items. As individuals and the hospitality industry find ways to socialize and keep businesses running outdoors, they're having to "winterize" their properties with indispensable items to ensure warmth and safety. And the market is responding.
"As it gets colder outside, shoppers are looking for ways to extend the use of their outdoor spaces, with fire pits, outdoor heaters, outdoor lights, canopies, and even hot tubs," says Jonathan Johnson, CEO of internet retailer Overstock.com in an email. The company says that, in the March 1 to October 1 period, sales of patio heaters spiked compared to the same period in 2019, particularly in the Northeast region, by 1150%, in the Southwest, by 816%, and in the West, by 734%. Wayfair Professional, the trade arm of the online furniture store, "has worked with dozens of restaurants to place bulk patio heater orders," says Charlie Reichenbach, general manager of hospitality, and has had an uptick in sales from hotels and property management companies.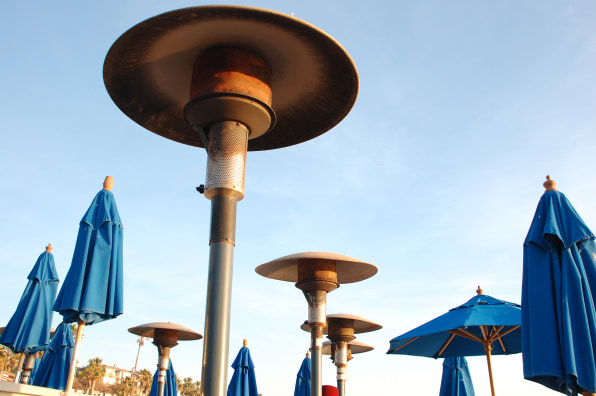 According to Andrew Rigie, executive director of the New York City Hospitality Alliance, 10,500 of the city's approximately 25,000 eating and drinking establishments have been offering outdoor dining. Many will continue to do so in the winter but need to stock up on items to keep guests warm and sheltered. "These things all cost money when restaurants have little to no money," he says. "Many have built up significant debt." He says several of the restaurants that the association represents have had difficulty finding heat lamps, and that the cost has increased. And they're running a risk of going into more debt, when it's unclear how effective the new apparatus will be in keeping customers happy enough to return through the winter.
Ilili, a Lebanese restaurant in the NoMad neighborhood of Manhattan, has been offering outdoor dining, with 80 seats in front of the eatery. While those have "allowed us to survive and . . . not hemorrhage anymore," says Philippe Massoud, its CEO and executive chef, he's concerned about the winter. Massoud purchased eight liquid propane heat lamps, for $250 each on Amazon, where he says they usually sell for $150. "There is price gouging going on, there's no question about it," he says. (Propane heaters are Amazon's current second- and third-ranked bestsellers under its Outdoor Heating and Cooling category, priced at $262.00 and $229.99.)
To add to the obstacles of short supply and price hikes, the city's tight safety regulations mean Massoud hasn't yet been able to operate the heaters. Because of the inflammatory properties of propane, New York has traditionally prohibited restaurants from using propane heaters, but it recently announced an emergency exception. Eateries can now use heaters fueled by one-pound containers of propane, but the more effective, larger ones are fueled by 20-pound tanks. For safety reasons, those tanks cannot be stored on dining premises, and rather must be kept in Fire Department-approved storage facilities. Some restaurants have worked out a nightly fuel delivery and collection system, but that's logistically difficult. "So, I'm sitting on $2,000 worth of outdoor heaters that, as it stands right now, I cannot use," Massoud says.
There is price gouging going on, there's no question about it."
Restaurants are also being forced to rethink their outdoor dining layouts, and Massoud's current plywood enclosure isn't sturdy enough for the winter. "All you need is one blizzard, and you're finished," he says. In order to qualify as outdoor dining—and not be limited to the 25% capacity restriction for indoor dining—tents and canopies must keep two sides open, and Massoud thinks storms would simply blow them away.
Still, Camping Yurts, a family business based in Summer Lake, Oregon, that designs and manufactures portable yurts, has experienced soaring sales. "It's been phenomenal," says owner Richard Waters. "We've probably tripled our output this year, and probably could have done a lot more, had we the ability to do it." Supplies of his yurts, popular for being lightweight and free of tripping hazards such as guy ropes or poles, are completely backed up until January, due to requests mainly from restaurants, in cities such as New York and Chicago, and ski resorts such as Colorado's Breckenridge and Steamboat Springs. "We've almost done a year's worth of work in the last three months," he says. (Fast Company contacted multiple heat lamp and fire pit companies but did not get a response, presumably because they are so swamped filling orders.)
Derek Baziotis, president of the Spokane chapter of the Washington Hospitality Association, who owns a breakfast and lunch restaurant, also worries about the winter. "The deal with Spokane is you get all four seasons, and you can get all four of them in one day," he says. For patrons of his restaurant, Bene's, the unpredictable winter weather is a dealbreaker. "I'm not sure if you would like to go out at nine in the morning and eat breakfast outside in the snow, but I know a lot of people in Spokane don't want to." So, he's decided not to invest in any new equipment—but he knows that some of the association's other bars and breweries have procured heaters and fire pits.
I'm not sure if you would like to go out at nine in the morning and eat breakfast outside in the snow, but I know a lot of people in Spokane don't want to."
Amazon's best-selling Outdoor Heating item is a 22-inch fire pit. Ace Hardware has experienced a 60% increase in the sale of outdoor heating products over last year, says Jessica Rau, director of PR; its most popular items include wood-burning and gas-burning fire pits. Etsy reports a 182% increase in searches for fire pits and accessories during the past three months, compared to that period last year, says Hannah Album, senior manager of consumer communications, as well as 164% for outdoor blankets and 144% for outdoor lights. (Given the search surges, Etsy expects that "S'mores-making and marshmallow-roasting will become popular winter activities this year.")
For restaurants, though, there is "no perfect solution," says Rigie, of the NYC Hospitality Alliance. Restaurants are having to experiment through trial and error, guarding against wind by putting up plastic tarps or building makeshift walls with plexiglass windows. Some are asking diners to "BYOB" (bring your own blanket), and one even purchased "post-marathon foil blankets." Via a new partnership with Doordash, the alliance is sending $5,000 winterization grants totaling $500,000 to some restaurants, for them to spend on such heating and safety items.
Massoud, the New York restaurateur, would like the city to ensure at least two years of continued outdoor dining, so that owners don't have to depend on quick fixes and can invest in new products that would pay off in the long run. "Right now, we're all doing Band-Aids left, right, and center," he says. If given the go-ahead, he says he could have a robust and durable enclosure of aluminum and glass built in four weeks. "They've been drip-drip-drip-feeding us information," he says. "You can't run a business like that. You need to have visibility that allows you to really plan what's the best way of spending your money."