Halloween is a big deal for Hulu.
Last year, over six billion minutes of Halloween-themed programming was watched on the streaming platform. And—less surprising, but still worth noting—more people stream horror content in October than any other month of the year.
Which is why every year around this time the company stages a "Huluween" event tied to the platform's vast collection of scream fare, including classics such as The Addams Family, Children of the Corn, and Hannibal, as well as newer titles such as Parasite and A Quiet Place. Hulu is also dropping its own new originals this month, such as Helstrom, a series based on the Marvel Comics characters Daimon and Satana Hellstrom, and Bad Hair, Justin Simien's horror-comedy film starring Kelly Rowland and Lena Waithe, about a woman's hair weave that takes on a life of its own.
So what was Hulu to do this October, when COVID-19 has put the world in some form of lockdown and cities such as Los Angeles have effectively canceled Halloween, banning trick-or-treating and large social gatherings?
Beyond a desire to drum up excitement for Hulu programming, it's not a bad time for any streamer to make a splash given how competitive the environment has become. Over the last year alone, HBO Max, Apple TV Plus, Disney Plus, and Peacock have all entered the streaming fray, causing companies to work harder than ever to stand out with fresh programming and other stunts—HBO Max is pouring millions into producing a new cut of Zack Snyder's Justice League—to entice subscribers.
For Hulu, the Halloween dilemma meant getting creative.
The company had to figure out how to generate excitement, connect with fans, and showcase its horror programming all while keeping people six feet apart and abiding by other pandemic-inspired safety protocols and guidelines. "We know that Halloween looks really different for a lot of people this year," says Ryan Crosby, VP of Hulu marketing. "Trick-or-treating has been canceled. Haunted houses and going to see scary movies—all of that is much different because of the pandemic. We wanted to provide viewers with a fun way to get in the holiday spirit while being mindful of their safety."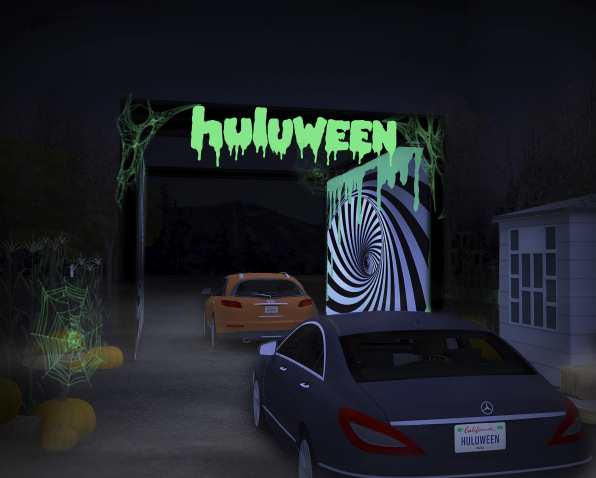 After months of planning, Hulu's solution came to life on Thursday night, as hundreds of cars lined up to enter a parking lot at the Rose Bowl in Pasadena for "Huluween," a four-night, drive-in movie event that is expected to draw 2,900 guests.
If the drive-in's first night is any indication, the company has managed to pull off a festive and fun COVID-19 Halloween. Even though the final presidential debate was airing and many Angelenos were glued to their screens at home, cars packed into the screening slash premiere of Bad Hair.
Upon entering the lot, cars slowly inched along a "haunted drive-through forest," where characters from Hulu horror movies and TV shows lurked in the bushes (Edward Scissorhands, Twisty the Clown from American Horror Story, and the masked killer in the Scream series). Smoke and eerie lights completed the effect, and drivers could tune into a haunting soundtrack on an FM radio station in their car. There was also a photo op where, from the safety of your vehicle, you could pose for a superimposed photo inspired by the Bad Hair movie poster—a hand reaching down menacingly from a head of hair.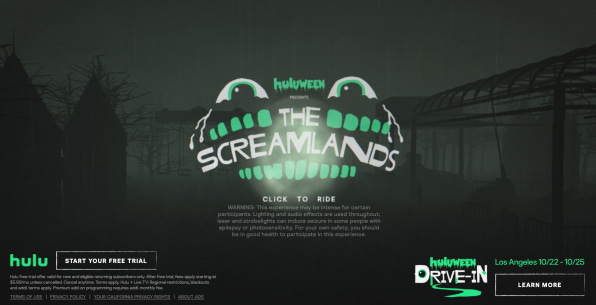 Cars were then directed to socially-distanced parking spots—literally several feet away from each other—where guests settled in with their Huluween snack boxes (popcorn and Halloween candy, natch) and waited for the screening to begin as DJ D-Nice spun tracks. Guests were instructed to remain in their cars, but if it was necessary to leave for a restroom or other break, masks were mandated. All the check-in points were contact-less.
Hulu has also created a virtual event for those who can't make the drive-in screenings. The Screamlands is a 360-degree online experience where fans can enter cheekily-titled rooms such as the Bad Hair Hellway and Huluween Hall.
Crosby says the goal isn't necessarily to drive up Hulu subscriptions or watch time but to generate word of mouth and inspire brand love. "We're very focused on the viewer," he says. "So anything we can do to make their experience fun and engaging" is worth doing. "Something like this doesn't necessarily directly correlate to increased viewing on the platform, but it can drive more interest and engagement when people hear about it."
But, of course, a few new Hulu subscribers wouldn't be frightful at all.