Zoom is sending a message that it isn't just for business anymore with a couple of big announcements today, including a platform for third-party apps—appropriately called "Zapps"—and a service called OnZoom for hosting paid live events.
Although Zoom already ties into third-party services through its App Marketplace, those integrations are more about making Zoom available inside other apps—for example, by starting conference calls directly through Slack. The new Zapps flip things around, so that other apps can run inside of Zoom's desktop software.
With Dropbox, for instance, users will be able to share and collaborate on files from inside the video chat window. Chorus will surface client relationship info during video calls. SurveyMonkey will provide live polls and quizzes. Asana will let users create and edit tasks.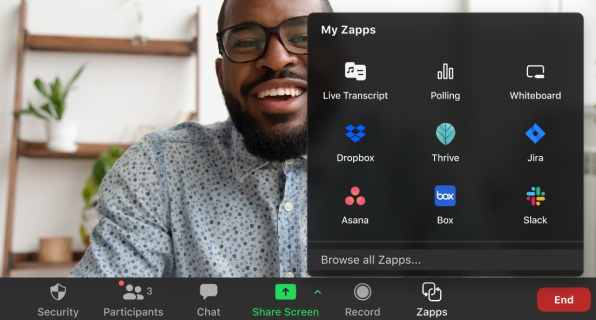 But Zoom is also looking beyond business uses for Zapps. The educational game service Kahoot will allow teachers to conduct interactive lessons directly through Zoom, while the live exercise service Exer Studio will display fitness and workout data in a sidebar next to the video chat window.
For now, Zoom is offering 35 Zapps, which are available to both free and paid users, but the company says any developer can submit a Zapp for approval in the store.
Zoom's other big announcement today is OnZoom, which provides a native way to monetize events on the platform. A marketplace will let users browse for thing like cooking classes, fitness courses, or live concerts, and Zoom will sell digital "tickets" that users can pay for through PayPal or with a credit card.
While Zoom says it's not taking a cut of the ticket sales for now, hosting an OnZoom event does require a paid subscription. Those start at $15 per month for up to 100 participants, while pricier plans allow for up to 1,000 participants.
Taken together, the two announcements seem like Zoom's most substantial attempt yet at catering to nonbusiness uses for its platform. While the company admitted that people were refashioning its service for personal use back in April as the coronavirus pandemic began, Zapps and OnZoom are new products that seem designed to facilitate more personal use. Browsing for cooking classes on Zoom is not a purely enterprise use of the software, nor is joining a fitness class in with an app like Exer Studio.
Those are also the kind of uses that are only possible because of Zoom's network effects. The company says it now hosts well over 300 million daily meeting participants on the platform and is hitting three trillion meeting minutes on an annual basis. Because practically everyone you know is on Zoom, it could become an attractive platform for app developers and for people who want to use it as a virtual event venue—one that might be harder for rivals like Microsoft Teams and Google Meet to replicate.
Ross Mayfield, Zoom's product lead for integrations, suggested as much during a press briefing on Tuesday.
"We're going to see the rise of Zoom startups, and apps for collaborative, social experiences we've just begun to imagine," he said.