I thought Apple, with its marketing prowess, would finally make me understand the importance of having 5G on my phone. But after watching its press event for the first 5G iPhones on Tuesday, I remain unconvinced and unlikely to upgrade from my iPhone 11.
Apple announced four new iPhone 12 models at its launch, each of which contains a Qualcomm 5G modem. The company said that the phones are capable of reaching download speeds of 4 gigabits per second, and 200 Mbps for uploads. But it also said that users can expect to approach those speeds only in some urban centers where mmWave 5G—the fastest flavor of the technology—is plentiful. The gulf is wide between those speeds and the 1 Gbps download speeds Apple says most users should expect when they're on mmWave 5G. (The more widely available sub-6 version of the technology is much slower still—more akin to a fast LTE connection.)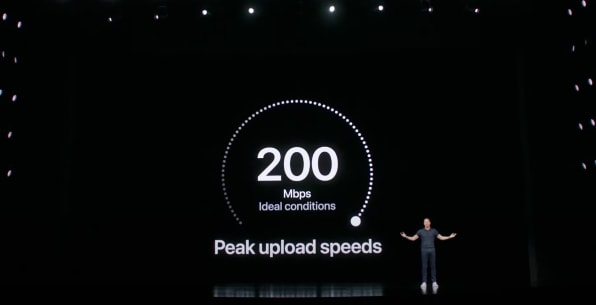 In general the wireless carriers have failed to get people outside tech circles jazzed up about 5G service. It didn't help that AT&T began labeling its 4G service as 5G E (E for "Evolution"), a label that showed up on the screens of millions of iPhones.
No wonder then that many, many iPhone owners assumed their existing device already supports 5G. Global Wireless Solutions released survey results last week showing that almost half of U.S. iPhone owners think their existing iPhone already supports 5G (none do). The survey also found that a quarter of wireless customers don't know why they need 5G, and 38% of them aren't willing to pay more for it.
The wireless carriers' marketing machines are nowhere near as crafty as Apple's. Going into Tuesday's event I thought it might be Apple that takes the lead in selling 5G to the people.
"For so many people this all becomes real for people with the iPhone," Tim Cook said of the wonders of 5G at the beginning the presentation.
But Apple didn't press the case. I saw two 5G consumer use cases—one for gamers and one for hard-core football fans.
Riot Games executive producer Michael Chow demonstrated the new iOS version of his company's League of Legends: Wild Rift game running on iPhone 12, with the help of the new A14 Bionic chip and 5G. Indeed, the game looked fast and smooth but it was unclear how much of that was due to a 5G connection.
Verizon, whose CEO, Hans Vestberg, got some stage time during Apple's event, has been covering NFL stadiums with 5G service. The company has the idea that football fans will want to stream multiple video feeds of the game on their smartphones so that they can see every play from multiple angles in real time, and see informational data and graphics about the players on the field. Some subset of consumers may see this as a must-have. I personally don't remember what sitting among crowds of thousands of people is like, but I'm pretty sure I would rather just watch the game than have my nose in my phone.
I like movies, but I didn't hear Apple talking about how quickly a whole movie can come down the 5G pipe to my phone, or how crystal clear it might look on the display. Nor did I see Apple demoing some brand-new cloud-based application, like live teleconferencing in augmented reality, that requires 5G to work right.
The waiting game
I still believe that 5G will unleash all kinds of cool things in healthcare, and self-driving cars, and AR headsets powered by lightning-fast connections to hardware in the cloud. But it's less easy to get excited about it on a smartphone, iPhone or not. I didn't come away believing there's good reason to rush out and buy a new iPhone 12, at least not for the faster connection speeds. I simply don't yet see what I need all that speed for, and I suspect I'm not alone.
Apple realizes that—at least right now—5G by itself isn't enough to get people to upgrade from an older iPhone to a newer one. Judging by the way it allotted the airtime during its infomercial on Tuesday, the company probably sees 5G as part of a bundle of upgrades and features that might entice people to buy an iPhone 12. I'm sure Apple will sell big numbers of them, but 5G won't exactly be the marquee feature driving the sales.
Still, it's both inevitable and important that Apple would introduce 5G in its phones. Who knows what effect it will eventually have on the imaginations of developers? After all, it'll ultimately be killer apps—not marketing—that make 5G a must-have for consumers.