In the onslaught of this election year, it's likely that you've come across a fair share of political buttons. But there's no way you've seen as many as Christen Carter and Ted Hake, coauthors of Button Power: 125 Years of Saying It With Buttons.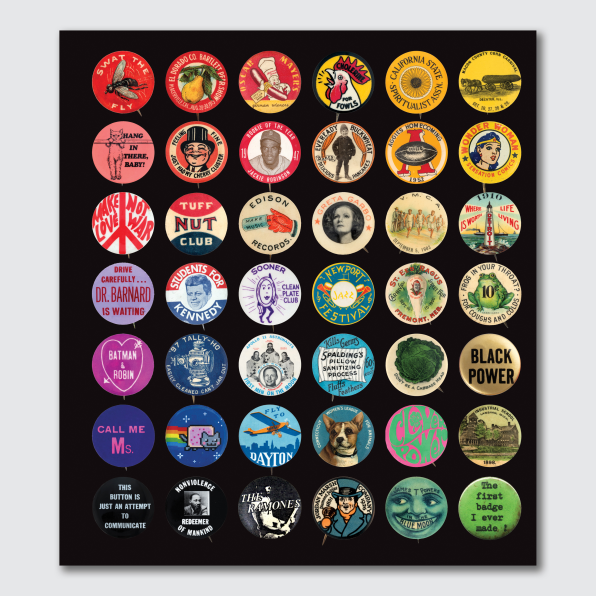 Carter is the cofounder of Busy Beaver Button Co. and Button Museum in Chicago, while Hake founded Hake's Americana and Collectibles in York, Pennsylvania, and was an appraiser on PBS's Antiques Roadshow. The pair reviewed 10,000 pin-back buttons spanning from their invention in 1896 to 2019, eventually whittling them down to 1,500. In the process, they learned that good button design tracks pretty closely with effective advertising: it should be quickly readable, attention grabbing, and start a conversation.
But while the principles of design haven't changed much, the buttons themselves are a window into the past. Advertisers and organizations made sure moments big and small—from the Apollo 11 landing to the first on-screen movie kiss—often included a take-home memento in the form of a button. Buttons are "little objects [that] can take you back in time and give you a surprisingly detailed view of the world at that particular moment," says Hake, who began collecting buttons in 1960. Here are a few cultural milestones in bite-size form.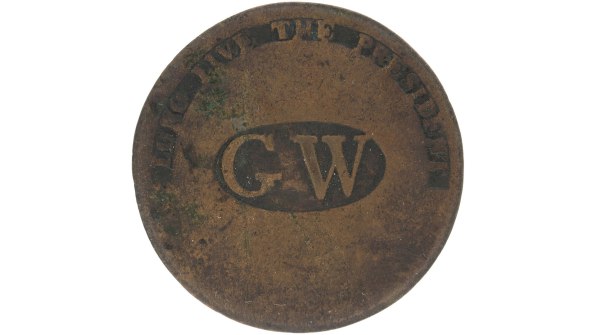 The OG button: In politics
Buttons were first used in the political sphere, when a brass sew-on button that read "Long Live the President" was created after George Washington's inauguration. (While not a pin-back button, it served a similar purpose.) Buttons have flourished as a quippy way to take political sides ever since.
There were buttons both for and against Franklin D. Roosevelt's contentious run for a third presidential term in 1940, with one reading "Better a Third Termer Than a Third Rater." An opposing button showed Uncle Sam giving a thumbs-down with the words "No Third Term."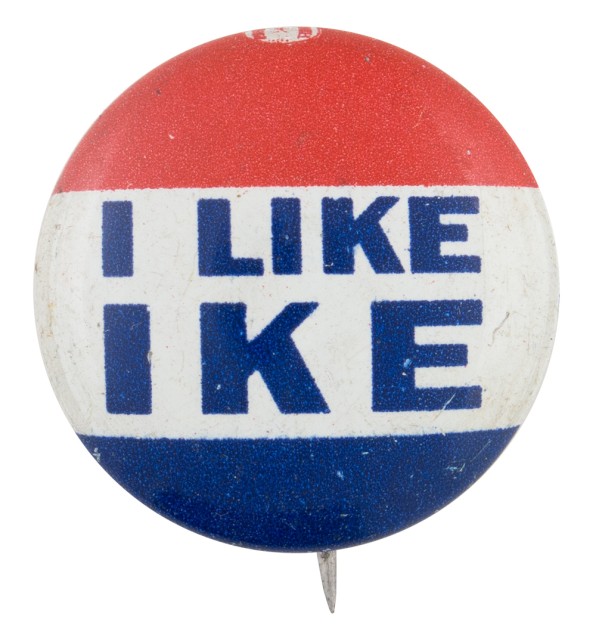 The buttons' usefulness is exemplified with one of the most well-known political slogans of the last century, "I Like Ike," which is said to have been coined long before his presidential run by a button maker in New York. In 1952, the Eisenhower campaign splashed the memorable motto across millions of buttons in varying sizes and designs.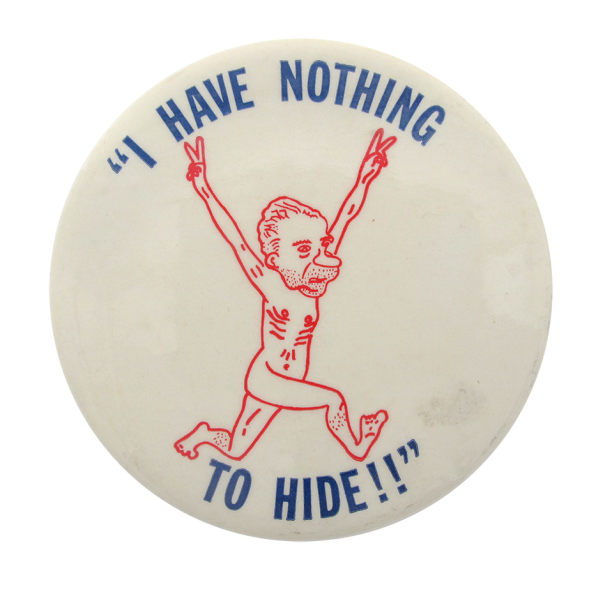 Another great example is a '70s era anti-Nixon pin that reads "I Nothing to Hide" with an illustration of Nixon streaking and holding up two Vs for victory. While a bad time for Nixon, the Busy Beaver Museum notes that the early '70s were a good time for streaking.
Advertising
By the turn of the 20th century, advertisers caught onto the button's success in politics, and began giving away commemorative buttons at major events that captured the "zeitgeist of invention and industry," says Carter. Most people didn't even have access to color materials aside from on trading cards, adds Hake, making it a total novelty at the time.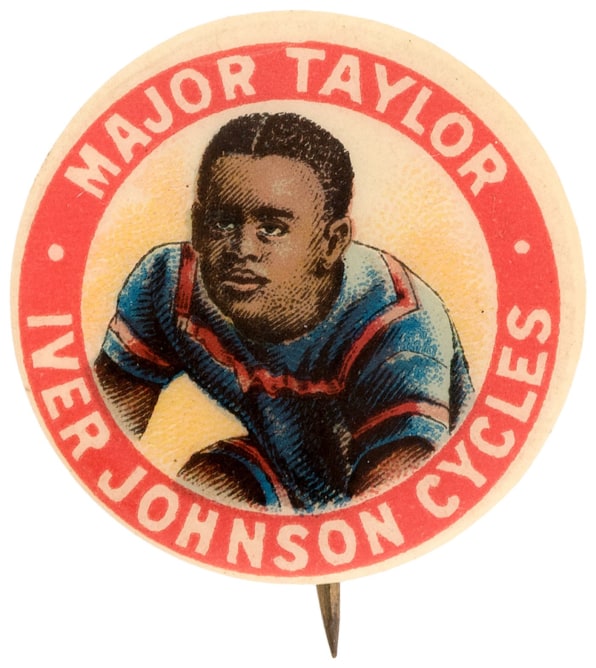 One such example is this 1901 button depicting Major Taylor, a Black cycling superstar sponsored by Iver Johnson Cycles.  He was the first Black athlete to be depicted on a button, according to Hake. Meanwhile, gum company Pepsin Gum celebrated the first kiss in a movie, aptly called The Kiss, with a commemorative button in 1900. A slightly creepy black-and-white button marked the first lightbulb, beckoning consumers to "Be-light-ed by Electricity."
Buttons like these were mostly collectible items at the time, according to Carter. "It was really special to own a piece of printed material at that time, especially since they didn't have as many advertising images around like we do today," she says.
Capturing the cultural zeitgeist
By the 1960s, buttons were everywhere. They commemorated major scientific events, such as the first American to orbit the Earth; pop culture, like Tommy Smalls, a DJ known as Dr. Jive who ushered in early rock and roll; and the counterculture. Hake's favorite is a button made by the 1964 Free Speech Movement after its first event in Berkeley, California, which he says "kicked off a decade of revolution."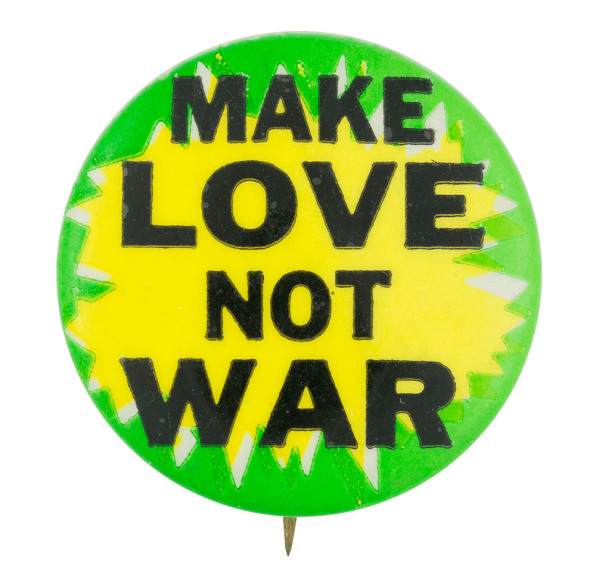 Other buttons capture pithy phrases we're familiar with today. Underground Uplift Unlimited in New York City's East Village  created some of the most well-known '60s buttons, according to Hake. They had slogans like "Make Love, Not War," "Draft Beer, Not Students," and "Push this Button to Turn Me On."
Today, button makers are looking for new ways to grab attention, such as matte finishes that won't reflect on screens. But no matter what they say or sell, each button itself becomes an artifact representing a moment of change—as Carter describes them, "little celebrations in time."