Animal Crossing: New Horizons. Super Smash Bros. Ultimate. The Legend of Zelda: Breath of the Wild. Pokémon Sword/Shield. Super Mario Odyssey. These are the critically acclaimed, best-selling games for Nintendo's red-hot Nintendo Switch console. Many of them are franchises that you probably know, even if you aren't a big gamer. Characters like Link and Pikachu are cultural totems à la Mickey Mouse in the 1950s.
But it might surprise you that there's still one Switch game that has outsold them all: Mario Kart 8 Deluxe. This racing game, which mixes technical driving with wonky weapons like squid ink and banana peels, has sold nearly 27 million copies since it launched in 2017.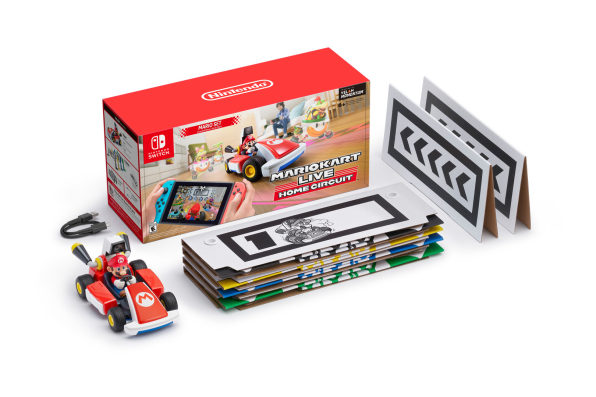 There's just something universal about the zany racing experience of Mario Kart—it's the one video game my whole family can sit down to play together and enjoy. But that hasn't stopped Nintendo from flipping the script with its new title, Mario Kart Live: Home Circuit, developed over three years alongside the help of the mixed-reality startup Velan Studios. The latest edition in the series isn't just a video game. It's an actual remote-control kart. Fit with a camera, you drive it around your house like a drone, turning your floor into a racecourse populated with virtual competitors and all the familiar Mario Kart tropes like heat-seeking turtle shells and Bowser's pesky offspring.
I tested the game with my family over a long weekend. Whereas most mixed-reality experiences feel like technical demos, Mario Kart Live is an incredibly entertaining mix of what's happening on the screen and on the floor. But its real appeal is how it will make you appreciate the disorder of your own home.
Setting up and playing the game
You unpack the kart out of the box, along with four cardboard gates that you can set up around your room. When you load the game, your Switch connects to the car via Wi-Fi. And what happens next is perhaps one of the most magical experiences I've had playing games.
On your screen, you see the kart, sitting at floor level. Your home's own bookcases and doorways lumber over you with the scale of skyscrapers. It's like stepping into Honey I Shrunk the Kids. As Mario sits in your living room, he turns his head toward you and knocks on the screen, breaking the fourth wall of the game.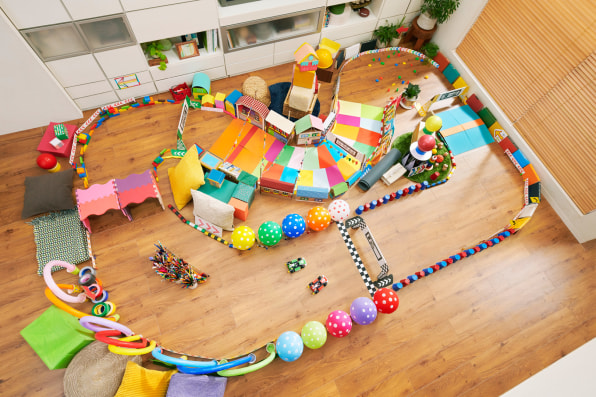 When you first hit the gas, that kart zoooooms. You have a low, wide-angle perspective, which makes it feel like Mario is driving 100 mph across your floor. But when you glance up at the actual vehicle, it's cruising at a comedically toddler-toy pace. The illusion on screen is superb, though yes, if you think too hard, you will realize you're driving quite slow. (There are faster speeds that will truly zip around your room, incidentally, which you unlock as you play more.)
To build a track, you set those aforementioned gates wherever you'd like in your room. A glowing start point appears in front of gate one, and your wheels are coated in paint. In a perfect UI metaphor, you paint the shape of your track by driving through the gates. That can be a simple oval, or a complex figure eight. You can make just about any track you want, so long as you get those gates involved.
To kick off a race, you just pull up to gate one again. This is when Nintendo's characters and iconography appear on your floor. Bowser's children show up to race you. The gates transform from cardboard into architecture with elements like metal frames and green pipes. Holographic item boxes spin in place, piranha plants get ready to pounce, and pixelated goombas fill the course. And when the light goes green, it's sheer madness, just like every Mario Kart game that's come before.
When you're hit with a shell, your kart will actually slow. When you run over a boost mushroom, your kart will actually speed up. Equipping the Chain Chomp basically puts Mario on a leash as he's yanked across the course through enemies. It feels fantastic. A desert setting has strong winds, which will force your vehicle off course if you don't constantly compensate by steering into the wind. And a mirror mode gate can flip the racecourse altogether, as if your entire room is being reflected in a mirror. Left is right, and right is left. Mirror mode in regular Mario Kart games is a challenge to your reflexes that breaks you out of your muscle memory. Mirror mode in Mario Kart Live is a complete mind melter, blurring the divide between fantasy and reality.
Making space for domestic disorder
Aside from the on-screen gameplay, I enjoyed the domestic disorder of driving a remote-controlled kart inside my home. When I crash for the first time into a gate, it slides like ice on my cork flooring, messing up my course. Nintendo suggests weighing the gates down with books and soup cans. On one hand, that's an underwhelming tip for a $100 game. Imagine Apple telling people to dig through their pantry to prop up their MacBook. And yet, improvisation is completely the charm of the game. Each household item enhances the mise-en-scène that you signed up for.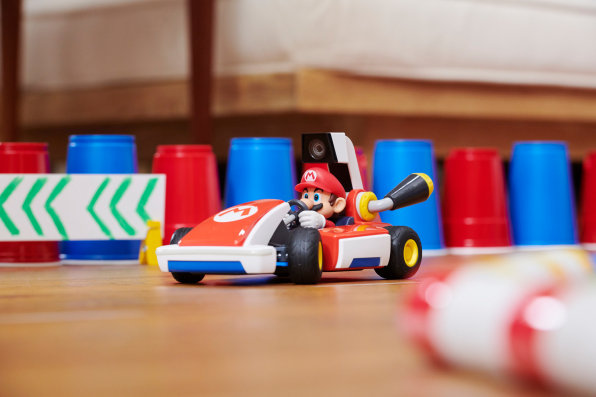 Now my gates are propped with soy milk and peanut butter. The rogue feet of my family members cutting through the room appear on my screen like giants I have to avoid. My 2-year-old daughter opts not to play, but readily sprints to the course to fix a lopsided gate or straighten the crashed kart, like a member of the pit crew. My 6-year-old son prefers free driving around the basement even more than actual racing. Of course he does—the kart is a perfect spy tool for exploring the hidden world under our couches and cabinets (though this land of dust bunnies and loose hairs can, and will, clog up the wheels). Even after some surgical work with scissors, my kart no longer rolls or steers quite as well as it did out of the box. Vacuum first!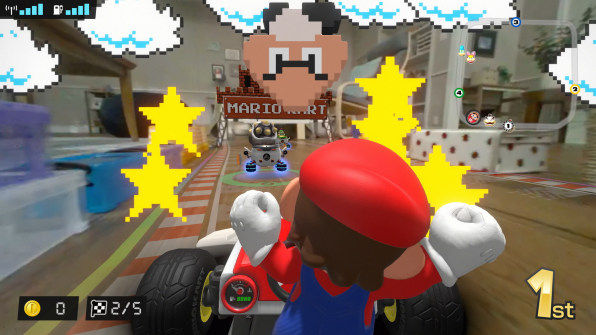 While Nintendo won't comment on this point, it seems inevitable that we'll see more official accessories released for Mario Kart Live. I imagine pipe tunnels you can drive through as shortcuts, and perhaps even small ramps to drive over. A few $20 add-ons to a hit game could make Mario Kart Live yet another money-printing machine for Nintendo.
After spending a weekend playing Mario Kart Live, I've decided it's not really about the toy. It's actually a machine that's built to turn your whole home into a toy. And as many of us are hunkering down, prepping for a long winter, I couldn't imagine a more apt gift than something that helps you celebrate the cramped chaos of home.