Psst: Come close. I have a teensy little confession to make.
A feature story I wrote for Fast Company this week had an unfortunate little error in it. The story—an in-depth exploration of Google's new Workspace brand for its productivity apps and all the visual and functional changes that accompany it—referred to the very product at its focus by the wrong name. Um, and it technically did it twice.
At the time of its publication early Tuesday morning, the article's subhead text, directly beneath the headline of the story, mistakenly called the newly christened product Workplace instead of Workspace. And the same mistake appeared within the story's URL, too. (Both have since been corrected.)
Those errors were thankfully not mine personally, but I can't claim full exoneration. During my conversations with Google ahead of the story's publication, I once referred to Workspace as Workplace in an email, only to be swiftly corrected (rightfully so) by the company's communications representative.
I hate making mistakes and tend to be pretty tough on myself in general—but you know what? Today, I'm feeling a bit better about the blunders. And I have Google itself to thank.
In two separate Workspace-related blog posts published on Wednesday, Google made the very same slip of the tongue and referred to its own new brand as—wait for it—Workplace. The first faux pas came in the company's official (and presumably name-change-pending) G Suite Updates blog and had a single Workplace slip-up at its end: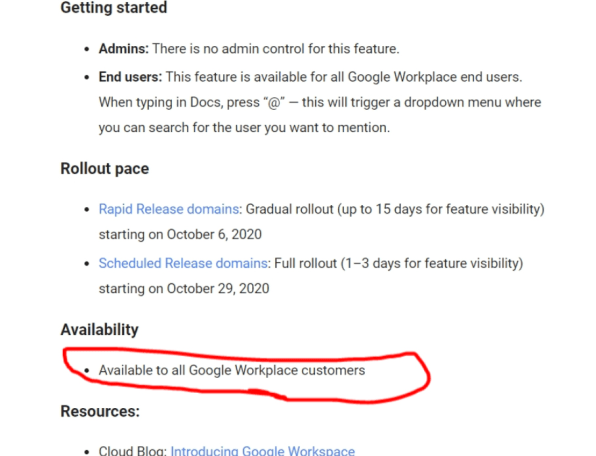 That post has since been corrected. As of this writing, however, the second Google gaffe is still online in a story on the main blog.google website entitled "How we keep you safe online every day." That story has just a single mention of Workspace within it, and it uses the Workplace name instead.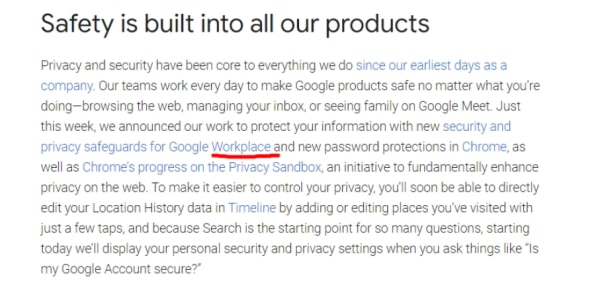 All of this made me curious, so I decided to dig a little deeper. And sure enough, it turns out plenty of other publications have been making the same error. My comrades over at PCWorld evidently used Workplace in the headline of a story about the announcement—something they've since corrected, as noted toward the bottom of the article's page. If you look closely, though, there's still one Workplace mention lingering within the story's body (at least, as of this moment).
Similar Workspace-Workplace switcheroos can be found at other equally respected outlets, including Axios and the investment-focused Motley Fool as well as at Tech Republic (though the Tech Republic crew has since fixed its boo-boo). And let me be clear: I'm not mentioning these names to shame anyone or knock these sites in any way for the mistakes—heck, we made the same exact error here!—but rather to illustrate how common this confusion between Workspace and Workplace seems to be.
So what in the world is going on? Why is everyone and their mother making this same misstep? With the authority of someone associated with three (!) prominent instances of the error, I suspect that more than anything, it's simply that workspace and workplace are incredibly similar words both in sound and in meaning. In fact, if you ask Dictionary.com what the words mean, you'll find that workplace is "a person's place of employment" while workspace is a "space used or required for one's work, as in an office or home." Right.
Understandable befuddlement aside, workplace also seems to be the far more common word of the two. Merriam-Webster doesn't even consider "workspace" a word at all, for one, while the impressive-sounding Corpus of Contemporary American English—which indexes the usage of hundreds of millions of words across all forms of media in order to track trends in language—lists "workplace" with a frequency level of 13,260 and "workspace" with a level that's a mere fraction of that, at a score of 741.
If you still aren't convinced of the cause for confusion, consider this: Google's own Workspace website talks about accessing "your workplace apps" in the "Workspace side panel" and "getting the most out of Google Workspace in your workplace," while the section about customer success stories has six instances of the word "workplace" as of this moment. The whole thing is starting to feel like an Abbott and Costello routine gone awry. Is it any wonder no one can keep this straight?!
For now, what we can say is this: Workspace and workplace are awfully similar words that are all too easy to mix up, and it's not hard to imagine Google revisiting the name yet again at some point if the confusion continues.
In the meantime, prepare yourself for plenty more Workspace-Workplace slipups—even if your workspace is in the workplace of Google.