A common trope people tend to deploy while recommending podcasts is referring to a show or a specific episode as "required listening."
For some high school and college students, that cliché proved literal in the case of Politically Re-Active—the podcast hosted by comedians W. Kamau Bell and Hari Kondabolu, which returns today after a three-year absence.
According to Kondabolu, multiple teachers and professors have assigned the show's August 2016 gerrymandering episode on their curriculums. It's a testament to Politically Re-Active's singular penchant for providing crucial context in an entertaining, data-rich package. Despite achieving mandatory listening status in some classrooms, however, the creators elected to stop making the show in the fall of 2017, when they felt it was no longer "necessary."
The two friends had only planned on doing one season to begin with, after a series of long phone calls in 2015 already seemed to resemble unrecorded podcasts. They officially launched the show in order to cover a historic upcoming election, one they assumed would end with Hillary Clinton becoming the first female president. As progressive standup comics who foresaw a positive domino effect stemming from that outcome, they were excited about it.
When the election turned out differently, with Donald Trump taking the reins of America and going off-roading, so to speak, Bell and Kondabolu decided to do a second season. They saw it as a means to analyze the aftermath of this unexpected turn, and help their similarly bewildered listeners make sense of the moment—with the help of high-wattage guests such as Hassan Minhaj and Roxane Gay. By the end of that second season, with Bell's CNN show, United Shades of America, on the path to multiple Emmy wins, and with Kondabolu releasing a lauded documentary and filming a Netflix special, the heavily produced podcast began to feel like extra work in their lives and careers that they did not need.
What they hadn't considered, however, was just how much their listeners needed it.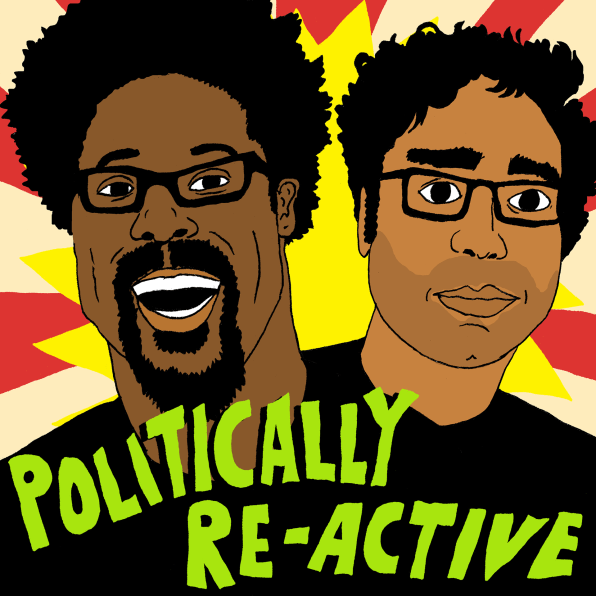 Over the course of the ensuing years, fans continued to approach both comics after their shows and ask when Politically Re-Active was coming back. It was an inescapable persistence. They missed the obvious camaraderie and friendship between the two comics in the chat segments up top. They missed the way the hosts filtered facts about social justice and mass political movements through their own personal perspectives, with a lot of heart. And they missed hearing humorous dissections of progressive issues without the snark that usually accompanies them on other podcasts.
The hosts kind of missed all that too.
With another historically consequential election looming, they began talking about a potential reboot in 2019. Certainly, a number of alarming events had happened in recent years that made them wish they'd had a podcast to go long on.
The only major impediment was that they were too busy, and too frequently in transit, to give the show the attention it required. "The reason why the podcast was so good was the amount of research and work we put into it," Kondabolu told Fast Company over the phone recently. "The things that are considered bells and whistles? The cutaway segments in the middle of an interview? They're hard to put in! It just seems like you're adding a little garnish to something, but it takes a lot of work."
Indeed, compared with the breezy, banter-driven podcasts that are typical of those created by two comedian pals, Politically Re-Active was a heavy lift. And with Kondabolu adjusting to his life as a new father since the last season concluded, it was going to be difficult to find room within his touring schedule for creating an informative-yet-funny podcast.
Then came the pandemic.
"Once COVID happened, it became more realistic," Kondabolu says. "Everything's shut down. We're at home more. Also, it just felt like people suddenly have more time for listening to podcasts. The bandwidth people have is a lot greater as a result of people working from home, and you can be watching your kids and have them on in the background. Like there is a demand. So we felt like this was the opening."
It wasn't just the conditions COVID-19 created that made the comics want to bring back their paused podcast. It was what the response to the coronavirus confirmed about the current leadership and the importance of this particular election.
Of course, even though the podcast was started and resurrected in election seasons, Kondabolu understands that elections are only one piece of the sociopolitical puzzle.
"The election isn't the end in itself," the host says. "It's the means to the end, or even just a step along the way toward it. But when we talk about institutional racism, when we talk about women controlling their own bodies, when we're talking about LGBTQ rights—that work, to me, is always going to be there. The election might be every two to four years, but democracy is a constant process."
As for how long the show might stick around after the election, Kondabolu isn't sure. All he has is the sense that, no matter the result, listeners might need it.
If Trump wins again, Kondabolu and Bell will find ways to promote the movements doing the necessary work to achieve progressive goals. And if the winner is Biden, who was neither host's preferred candidate, they will be ready to help hold him accountable for his campaign promises—and more.
As Kondabolu puts it, "I feel confident that whatever happens, we'll have something to talk about."