Rapper Michael "Killer Mike" Render has long been an advocate for supporting Black-owned businesses and circulating money within Black-owned banks. Back in 2016, he spearheaded a call to action for financial empowerment that led to other influential rappers moving their money to Black-owned banks, with everyday citizens following suit in droves.
And now Render is taking his mission one step further with Greenwood, a mission-driven digital bank he's cofounded alongside Andrew J. Young, civil rights activist and former Atlanta mayor, and Ryan Glover, the founder and president of Bounce TV.
Named after the historic neighborhood in Tulsa, Oklahoma, that was dubbed Black Wall Street in the early 1900s, Greenwood's mission is to give equitable financial services to Black and Latinx communities while also giving back with charitable initiatives. Eventually, Render hopes Greenwood becomes a valuable addition to the money circulation within marginalized communities.
"I'm a product of Black banking—there's never been a time in my life I did not have a Black bank account," Render says. "I've been very open and forthcoming in telling people keep your major account, especially if you travel and that makes you comfortable, but make sure your secondary, if not your primary account, is [at] a Black financial institution because it strengthens those institutions. Those institutions will be there for us."
Among the key factors in systemic oppression are the barriers that restrict people of color from gaining and maintaining wealth. And it should come as no surprise that major banking institutions play a significant role in fortifying those restrictions. A report from think tank New America found that banks charge communities of color more for opening basic checking accounts, and racial biases from bank tellers lead to discretionary charges. A 2016 study found that Black mortgage applicants were denied at more than twice the rate of white applicants. And all four major banking institutions—JP Morgan Chase, Wells Fargo, Citigroup, and Bank of America—have settled recent lawsuits involving everything from predatory lending to redlining.
In order for marginalized groups to attain socioeconomic parity, there have to be banking options that are not only fair, but that keep money circulating within communities of color—all of which was front of mind for Render and his team.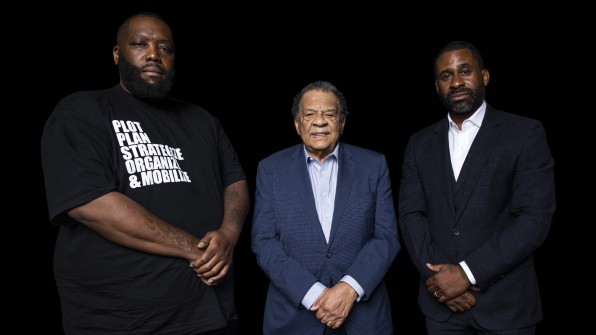 Greenwood is a neobank, which means that it's a digital-only financial institution. Neobanking is becoming increasingly popular: In the U.S. and Europe, there are currently more than two dozen neobanks that have collectively raised more than $6 billion in venture funding.
Due to their streamlined banking options and lack of brick-and-mortar locations, neobanks tend to have fewer or no fees attached to their services—and Greenwood is no different. At launch, it will offer savings and spending accounts, debit cards, Apple and Android pay, peer-to-peer money transfers, mobile deposits, and ATM accessibility, with no hidden fees.
"The alternative has been check cashing places in our communities, as they've become banking deserts," Render says of the fact that major banking institutions disproportionately open more branches in white neighborhoods. "Black and working-class and Latino people—poor people—ain't stupid. They know they're getting scammed, but they don't have an alternative since traditional banks have turned many of them down, or charged them more for checking accounts."
Currently, Greenwood isn't offering loans but Reese Giddins, its president and chief technology officer, says it's definitely on the company's road map.
"We talk about it all the time: the need for capital inside the community," says Giddins, who was formerly the global SVP of mobile platform and product at Bank of America and head of mobile product at TD Bank. "We need to get back to figuring out how we build generational wealth and empower our people."
Render says Greenwood's target customers range from anyone opening their first account to middle-class people who've been banking for years. And while Greenwood's focus is on Black and Latinx communities, its services are open to all.
"We're not discriminating," Render says. "Where I really think we're going to catch traction is with young people. Young people want to be able to bank by convenience. And they want to feel like there's a social justice component aspect. Young people don't want to just make money and keep the money. They want to know their money is circulating, turning, and helping."
For every customer sign-up, Greenwood will provide five free meals to a family in need through the food waste management company Goodr. Every debit card purchase will have a round-up-the-change feature with the choice to give to the United Negro College Fund, Goodr, or the NAACP. And every month, Greenwood will provide a $10,000 grant to a Black or Latinx small-business owner who is a Greenwood customer.
"That's one of the true differentiators [from other neobanks]," Giddins says. "We want to be able to do some good while we're here. That's really our mission."
Adds Render, "The spirit of Greenwood and what we're carrying forward is going to be able to take the same prosperity or potential for prosperity that Greenwood [in Tulsa] originally showed the world could happen."