Next-day delivery is great, to be sure, but have you ever experienced the thrill of next-day delivery without shelling out $119 per year for Amazon Prime or add-on fees from local delivery services? It's exhilarating.
Here are a handful of stores where you can get your basics ordered overnight—without paying extra for the privilege.
Staples
A now-favorite in the Aamoth household, we rediscovered Staples's next-day delivery in the early days of the pandemic when Amazon was sold out of everything.
There's no shortage of stuff that applies for next-day delivery and, even better, there's no minimum purchase. Plus, the site carries more than you might think: It's not just pencils and calculators. We now put in a giant order of seltzer and sparkling water about once a month.
Hot tip: There's almost always a "$20 off any $100 purchase" coupon code floating around, so check your favorite coupon site—or just Google "Staples coupon codes" and see what pops up.
Apple
Apple offers free next-day shipping on Macs, iPads, iPhones, Apple TV, and the Apple Watch—and then free two-day shipping "on almost everything else."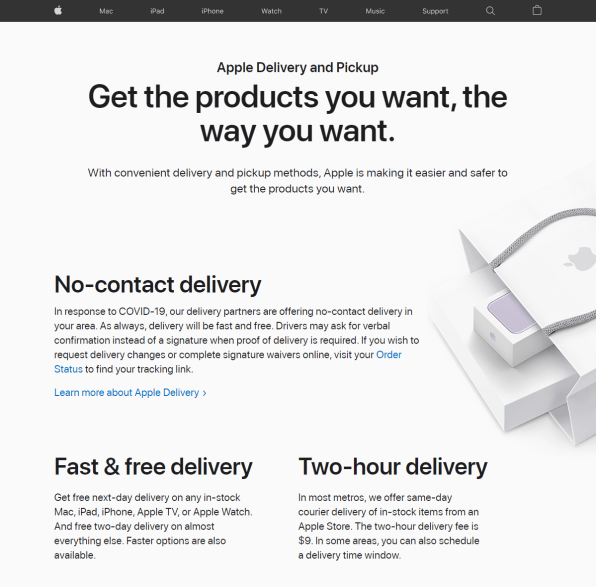 And if you're really hankering for your newly purchased gadgets, Apple offers two-hour courier delivery for a reasonable $9 in most metro areas with some areas even letting you schedule a precise time window for delivery.
Walmart
Not content to watch Amazon dominate retail, Walmart is offering next-day delivery for orders that meet a $35 minimum threshold. Not everything is eligible, and you'll need to live in one of Walmart's delivery areas, but if you see a "NextDay eligible" badge on a product you're perusing on Walmart's site, you're in luck.
If you can't manage to hit the $35 mark, you can still get next-day delivery for $6.
Best Buy
Electronics superstore Best Buy offers many items for next-day delivery, provided you check out before 1 p.m. local time. There's no minimum to hit, but lightning-fast shipping is only available for certain products—mostly lighter-weight stuff and accessories.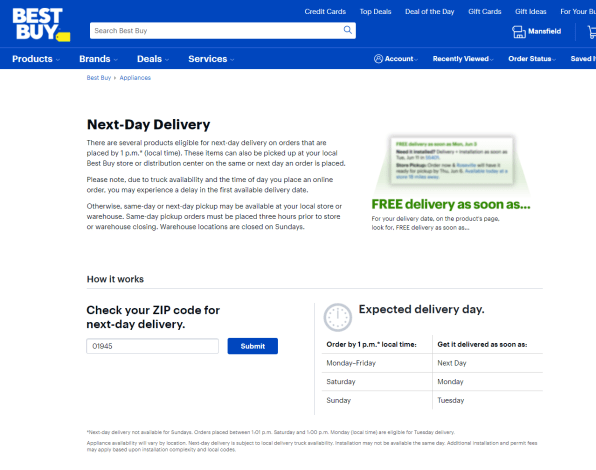 Note that Best Buy doesn't do Sunday deliveries, so orders placed on Saturday or Sunday won't find their way to you until Monday or Tuesday, respectively.
AutoZone
Need some car parts? AutoZone can get them to you tomorrow.
The store offers next-day delivery on more than 100,000 parts in more than 90 markets as long as you hit a minimum order of $35. Anything less will carry an additional $5 fee for next-day delivery.