Lately, it's seemed like Samsung has seen its major new phones as luxury goods—and has priced them accordingly. This year's Galaxy S line starts at $1,000 with the Galaxy S20 and goes way, way up to $1,400 with the Galaxy S20 Ultra. The Galaxy Note 20 and Galaxy Note 20 Ultra range between $1,000 and $1,450. You could also pay $1,380 for a Galaxy Z Flip or $2,000 for a Galaxy Z Fold2.  I'm not even going to mention the $3,300 Galaxy Z Fold2 Thom Browne limited edition (whoops, I just did!).
Now, it's true that there are plenty of ways to get a deal on a theoretically pricey Samsung phone, especially if you're trading in your old phone and are willing to sign a service contract. And the company does offer cheaper, less fancy models. But it's lacked something roughly akin to Apple's iPhone 11: A smartphone that doesn't lack pizzazz and packs plenty of flagship-style features but starts at a relatively accessible price such as . . . oh, let's say $699.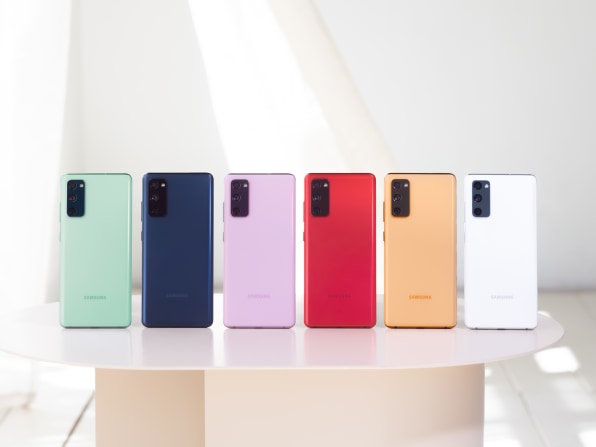 The new Galaxy S20 FE, available starting on October 2, is that phone. The FE stands for "Fan Edition"—Samsung is pitching it as offering fan-favorite features and launched it today at a "Galaxy Unpacked for Every Fan" virtual event. It follows the iPhone 11 model quite closely. It uses a midrange-size screen (6.5 inches), comes in lots of colors, and packs most of the key features of its higher-end counterparts—but pulls back a bit on camera technology. (It also has a flat screen rather than the curved-edge one that's a signature Samsung touch.)
You can get an S20 FE in six "Cloud" color variants: Cloud Red, Cloud Orange, Cloud Lavender, Cloud Mint, Cloud Navy, and Cloud White. It has three cameras on the back—wide, ultrawide, and telephoto—but the telephoto model offers only 8 MP of resolution versus the Galaxy S20's high-end 64 MP sensor. Then again, the S20 FE's selfie camera is 32 MP,  beating the S20's 10 MP. (Maybe Samsung fans like to take photos of themselves.)
Like all of Samsung's high-profile new phones, the Galaxy S20 FE is a 5G model, supporting both the sub6 and mmWave versions of the technology. It also comes with a healthy 128 GB of storage, with the option to add more via its MicroSD slot.
The iPhone 11 is not a 5G phone, and the $699 version only has 64 GB of storage; 128 GB costs an extra $50. But the Galaxy S20 FE will really compete against Apple's soon-to-be-announced iPhone 12. Once all is known, it will be interesting to see how Samsung and Apple's lineups stack up.