In June, Sophia Amoruso stepped down as CEO of Girlboss, the media company she founded after her book (by the same name) sold half a million copies. It was an unexpected move both for the company, which had just been acquired by media investment firm Attention Capital, and for the Girlboss herself.
"We had big plans," Amoruso told me. "It's not like I got on Craigslist and sold something. It was: I'm finding a long-term partner to build this with me." Girlboss had locked in a $10 million brand partnership deal that Amoruso claims would have put the company well over its financial goals for the year. Then the pandemic hit.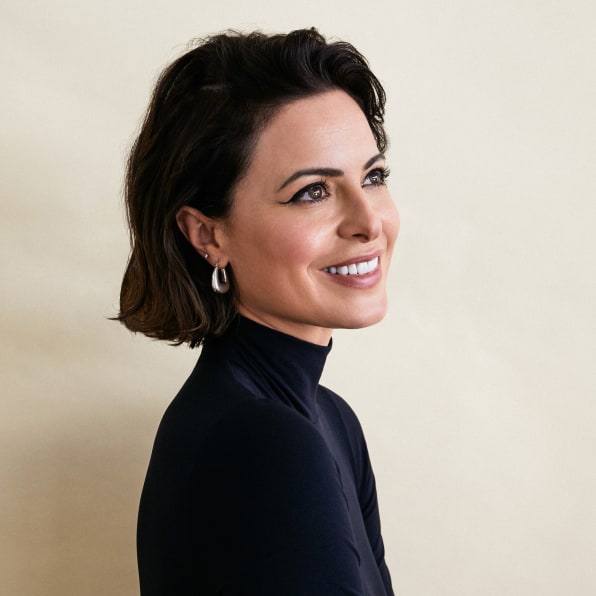 "Our ability to do events vanished overnight," she says. "Our revenue went to zero. We tried to pivot; we continued pitching brands [but] brands really pulled their dollars for a while. We couldn't sell conference tickets." Girlboss kept on a five-person skeleton crew to oversee digital content, namely a weekly newsletter and social media. "I exited the business because I wouldn't have been able to take a salary," Amoruso says. "For me, it [was] like, 'Oh, shit. Now what?'"
Just three months later, Amoruso is already on to her next project: an eight-week entrepreneurship course for would-be Girlbosses (and other founders) that she's very literally calling "Business Class." The course is broken up into seven modules—or "flights," in Business Class parlance—each propelled by a heavy dose of aviation puns. ("We've reached cruising altitude!") The first module encourages participants to name their Jet Fuel ("in other words, things we're great at," the course explains), while another helps participants pinpoint the Perfect Passenger (who their customer is, of course).
The course includes more than 200 pages of worksheets and exercises, supplemented with weekly Zoom calls with Amoruso and essential legal documents. (Also included: a prenup agreement, courtesy of her divorce attorney.) The course participants will be able to connect with each other directly through an accompanying app called The Lounge.
"It's dense," Amoruso says of the course, which costs $2,000. "It's not fluffy [or] inspirational. I'm not going to insult your intelligence. I'm going to give you everything that I know, that I've learned from doing it right and also from doing it wrong." (Amoruso says Business Class is comparable in price to other entrepreneurship courses, like Marie Forleo's B-School and Amy Porterfield's Digital Course Academy.)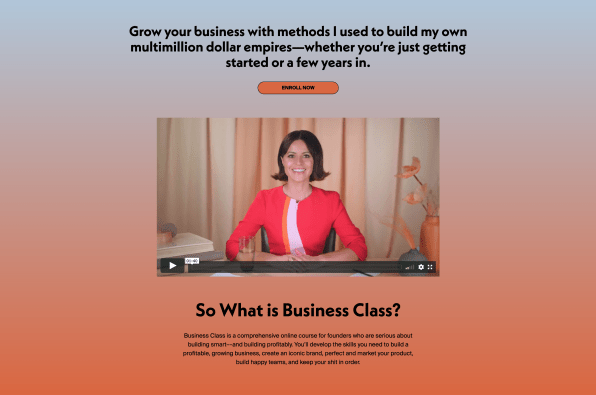 Since the course is tailored to founders who are bootstrapping, much like Amoruso did when she started Nasty Gal, the target audience is either someone who wants to build on an existing small business—a creative or Shopify store owner—or someone who wants to refine their idea before taking the leap.
"I didn't do that the first time and I totally shot from the hip," Amoruso says. "And I've learned the hard way that you really should have a plan. There are things that every founder should understand, especially for hiring people. Leadership and management is a big part of the course as well." In addition to a section on team culture, Business Class includes a bonus module on unconscious bias and building an inclusive culture.
When I note the proliferation of business influencers and MasterClass courses available to entrepreneurs, Amoruso posits that she is uniquely positioned to lead this course because she has "been in trenches that not a lot of people have been in." In the years since Amoruso wrote Girlboss, her name has become synonymous with the term—for better and for worse, as it has become shorthand in some circles for a particular brand of corporate feminism.
Her recent departure from Girlboss happened to follow a spate of resignations from prominent female CEOs, from The Wing's Audrey Gelman to Tyler Haney of Outdoor Voices, largely driven by reports of a toxic work culture. Amoruso herself was the target of similar allegations while at the helm of Nasty Gal, and employees who were laid off sued the company over claims of pregnancy and disability discrimination. (Amoruso says the allegations brought against Nasty Gal "in terms of truth, really run the gamut." Nasty Gal previously called the lawsuits "frivolous and without merit" and claimed the layoffs were part of a restructuring.)

[Video: Galen Pehrson]
From a business perspective, too, things took a turn. By 2012, Nasty Gal was an e-commerce darling with $30 million in revenue; the business was profitable, according to Amoruso, and drew multiple rounds of venture capital funding. Then, she resigned as CEO in 2015, and by the following year, Nasty Gal had filed for Chapter 11 bankruptcy. (Looking back, Amoruso believes Nasty Gal was never meant to be a venture-backed business, which is part of the reason she is focused on bootstrapping in Business Class—and why she doesn't intend to fundraise anytime soon.)
Amoruso says her experience with culture issues at Nasty Gal has proven instructive. "Even if what I'm being held accountable to isn't completely true, it offers me an opportunity to examine myself and do better," she says. "There's no room in my life to think that anything that's happened to me has been unfair because I signed up for it, and I put myself on the cover of a book." With Girlboss, she says, she had a chance to do things over—to apply those lessons. "I've not just learned intellectually, how things work and don't work," she says. "I actually applied it with my second business. I'm incredibly proud of the culture I built at Girlboss."
Amoruso sees Business Class as a more altruistic endeavor than her previous ventures. She's pledging to offer 100 scholarships for Business Class, which will be awarded by the organizations Digitalundivided and Out Leadership. The idea is to both subsidize the course for people who might not be able to afford it and reach underrepresented founders—Black and Latinx women, as well as members of the LGBTQ community—who aren't in Amoruso's network.
"I'm doing this with a lot of integrity, probably more than anything that I've ever done, because I'm not doing it as an opportunist," she says. "I'm doing it as someone who really believes that I'm going to help a lot of people with this." She pauses, then quickly adds, "Also, I have a mortgage, and I'm unemployed. Forbes was wrong."
Correction: A previous version of this article stated that Nasty Gal's revenue was $100 million, not $30 million, in 2012.