Enormous piles of unsold clothes are languishing in warehouses across the United States. When the lockdowns began in March, many people lost interest in buying fashionable clothes, saddling brands with millions of dollars of inventory.
That wasn't a problem for designer Misha Nonoo. Three years ago, she pivoted her eponymous brand to on-demand manufacturing in factories in Peru and China that only start sewing a garment after a customer places an order. So when many women stopped buying dresses in favor of sweatpants, Nonoo was able to adapt, without wasting product. "My business model allows me to pause my operation from one day to the next," she says. "I haven't had to worry about putting unsold product on sale, or figuring out how to offload it."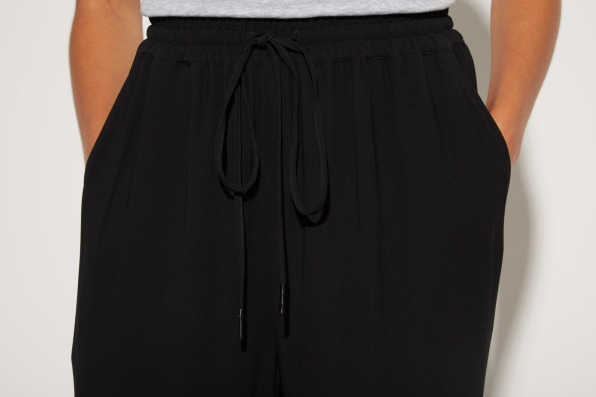 COVID-19 has exposed how tenuous and fragile the business of fashion has become. Iconic department stores such as Neiman Marcus and Lord & Taylor have declared bankruptcy. Mall brands, including Brooks Brothers and J.Crew, are dying. Creative business models that once seemed niche and not exactly scalable are now a much more promising lifeline for the fashion industry. Thakoon, for instance, has pivoted from designing for the runway to launching a direct-to-consumer brand focused on elevated women's basics. On-demand manufacturing could be another strategy that helps fashion companies survive in 2020 and beyond.
From Runway to Made-To-Order
Nonoo began her career in 2011 as a runway designer who manufactured clothes the traditional way, placing bets on which items in her collection would be popular, then placing large orders at factories. But she quickly came to the conclusion that the traditional approach to running a fashion business was both financially and environmentally unsustainable. So in 2017, she shifted to this new business model and also transitioned to making classic pieces at more affordable price points, such as $70 shirts and $245 dresses. It was a wise switch, because it has allowed her to stay afloat through the pandemic, while many other retailers have been pummeled, with new bankruptcies announced every day. Nonoo says that while sales are softer than she had forecast for this year, they are on par with last year's.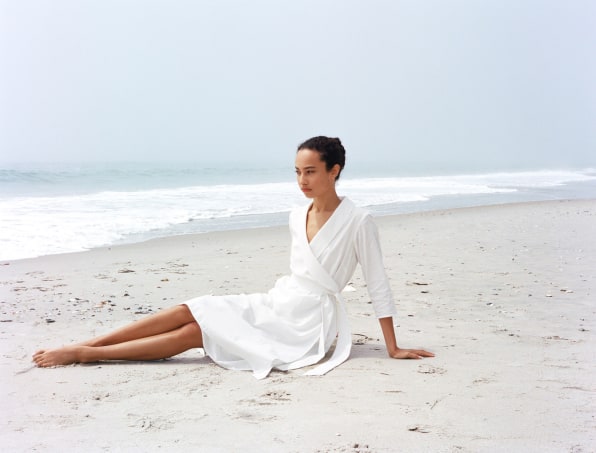 An Industry Where Waste Is Baked In
Making clothes on demand is relatively rare in the fashion industry, although there has been growing interest in the approach over the past couple of years. McKinsey's 2019 State of Fashion report predicted that made-to-order production would become mainstream in the fashion industry by 2025, because it would allow brands to reduce their overstock and allow them to more quickly adapt to consumer demand. The report made the case that smaller brands such as Misha Nonoo were demonstrating how effective on-demand manufacturing could be and that they would lead the way for mass-market players to follow suit.  We're already starting to see this at work. Startups such as Ministry of Supply and Rapha make a few pieces of their collection on 3D printing machines after a customer places an order, while Adidas and Zara are just beginning to experiment with on-demand technology.
The pandemic may accelerate this trend, since it has thrown into relief how much waste traditional fashion manufacturing generates. Most brands create an entire season's worth of clothing all at once, making calculated guesses about which items will be popular. They then sell as much as they can at full price, before discounting the rest or selling it to outlets. The remaining, unsold merchandise is thrown out to be incinerated or landfilled. In a normal year, an estimated 30% of goods go unsold; this year, those losses are expected to be dramatically higher. The Wall Street Journal reports that Ralph Lauren has $160 million worth of inventory that is likely to be sold off for less than the company paid for it; Urban Outfitters has $43 million, and Columbia Sportwear has $9.3 million.
When Nonoo got started in the fashion industry, the sheer scale of this waste was astounding to her. As a runway designer, she sold her collections through department stores and discovered that selling 75% of the garments she produced was considered a great success. Most brands sold far less than this. This meant that more than a quarter of the products that were made ended up heavily discounted or thrown out. "The waste is just baked into the system," Nonoo says. "You're placing a bet on what people are going to want six to nine months from now, and you have to invest cash up front producing that inventory. Financial waste, and environmental waste, is just considered the cost of doing business."
Convincing Factory Owners To Play Ball
The on-demand model has a catch: The manufacturers have to buy in.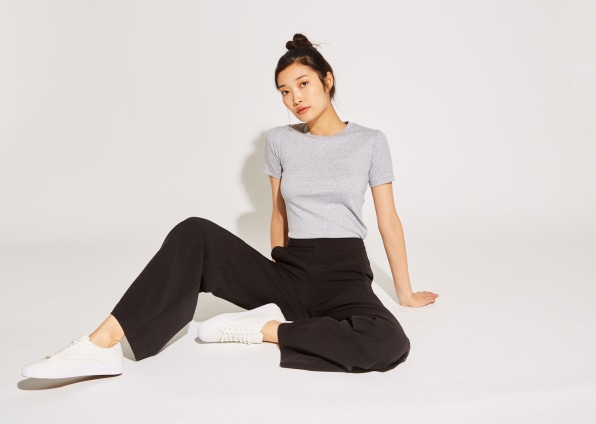 Nonoo says it wasn't easy to convince factories to partner with her to make clothes on demand. She scoured the globe, trying to sell factory owners on her vision, but many rejected her. Apparel factories are used to receiving large sums of cash up front to make big orders. This new approach seemed riskier to them. "It was the tenth factory I spoke to that said yes," Nonoo recalls.
To make the business model work, Nonoo can't design trendy, seasonal collections, since it would take factories and seamstresses too long to learn how to make every piece, then make it only when a customer places an order. Instead, she only designs core pieces that are versatile and classic. These items will be sold for years and will only be retired when there is no longer any demand for them. Every year, she adds only a few key pieces that are designed to complement other items in the collection.
These days, Nonoo has partnerships with factories in Peru and China that make products when a customer places an order, then sends those items directly to the customer so that clothes arrive within two weeks. To take some of the risk out of the equation, Nonoo commits to a certain number of orders every month. She might commit to purchasing 300 cashmere sweaters from the Peruvian factory, which will each be made on demand. If more orders come in, the factory stands to make more money; if fewer orders come in, Nonoo will compensate them anyway. And while the model is ultimately more lucrative for Nonoo, because there is no waste, it's true that the cost per item is higher than making pieces at scale. "Our margin is a little lower," she says. "But we're also not spending any money on items that won't sell."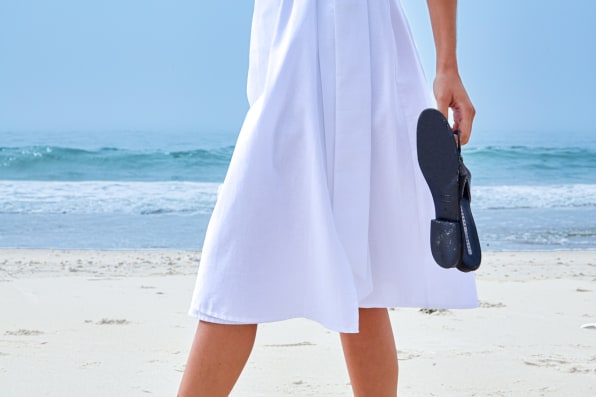 Nonoo believes that her approach is more relevant to the fashion industry than ever, but she also recognizes that it is very hard to fundamentally rewire your supply chain. Doing so means revamping everything from how you design the garments in the first place to finding factory partners that are willing to change the way they work. Nonoo acknowledges that while it was hard work making this pivot, it was far easier for her to do it as a smaller brand than it would be for larger industry players. "I shifted the entire business," she says. "It was a heavy lift, and I think this is why so many brands are reticent to do it."
For fast-fashion brands, making products on demand might be appealing because it will allow them to rapidly respond to the latest trends while avoiding wasted inventory and markdowns. According to an industry report, brands such as Zara and H&M have been exploring manufacturing models that will allow them to make designs in small batches. But it's possible that consumers are beginning to lose interest in trendy looks. Fast-fashion brands have been on the decline for several years, while brands focused on seasonless basics such as Everlane and Patagonia have been thriving. When Nonoo relaunched her business in 2017, she was surprised by how many women were eager to shift away from trendy looks to buying classic pieces that they could wear over and over again. She believes the pandemic may accelerate this shift. "People are waking up to the fact that they've worn the same seven things in their wardrobe day in and day out," says Nonoo. "It makes you really rethink your relationship to what is necessary and what you spend your money on."
At the same time, department stores, which helped propel fashion trends by buying runway looks, have been hit particularly hard by the pandemic, and many have declared bankruptcy. For years, department stores held a lot of power in the industry, as they could make or break a brand simply by placing an order. But they were also responsible for the churn in the fashion industry, demanding new looks every season to give customers a reason to come into the store. While it's tragic that iconic retailers such as Barney's and Neiman Marcus are going under, it also creates new opportunities for brands to do things differently. "Department stores wanted to buy trendy pieces every season," she says. "But it all came down to the fact that these businesses were just trying to convince you to buy more, more, more. But we're now realizing we don't need more: We probably need 10 items to wear day in and day out, year after year. As long as they are well made and you can mend them, that's all you really need."