After teams participating in the NBA's playoffs in Orlando refused to play their games in protest recently over the police shooting of Jacob Blake in Kenosha, Wisconsin, the NBA and its players union struck a deal to resume the competition that aims to increase voter turnout this November. During the general election, NBA arenas will turn into safe in-person voting locations.
The deal, made after the players solicited advice from former President Barack Obama, will allow team representatives in cities where the league franchise "owns and controls the arena property" to convert the spaces to handle voting. A few teams, including the Washington Wizards, the Detroit Pistons, and the Charlotte Hornets, had already committed earlier this summer to make their arenas available. The post-protest deal has spurred several other teams to join in the offer, including the Los Angeles Clippers, the New York Knicks, and the Dallas Mavericks.
So how does a pro basketball stadium with seating for upwards of 20,000 people transform into an important-but-banal voting precinct?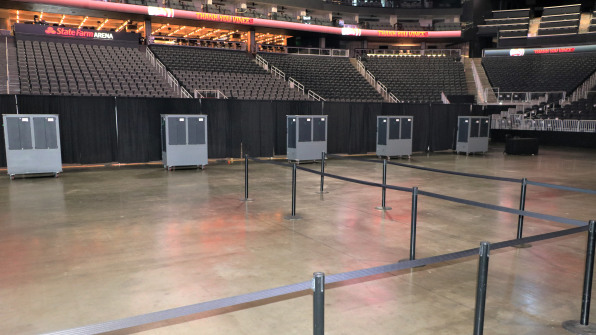 One of the teams offering its arena up for use, the Atlanta Hawks, already has some experience converting its space for voting. In June, the team announced it would be making its home court, State Farm Arena in downtown Atlanta, a voting site for Georgia's primary runoff election in August. Early voting began there on July 20, three weeks before Election Day. It was the largest voting precinct in Georgia history.
"There was a lot of excitement around it because we've never had a voting space like this before. Usually we're in libraries," says Richard Barron, director of the Fulton County Department of Registration and Elections. "All the Fulton County libraries have been renovated and they're nice spaces, but when you're going into a big arena like this, there's this atmosphere about being in there."
During early primary voting in July, 100 voting booths and machines lined the edge of the covered basketball court's floor, while the large overhead video screen displayed graphics reading, "Thank you for voting at State Farm Arena."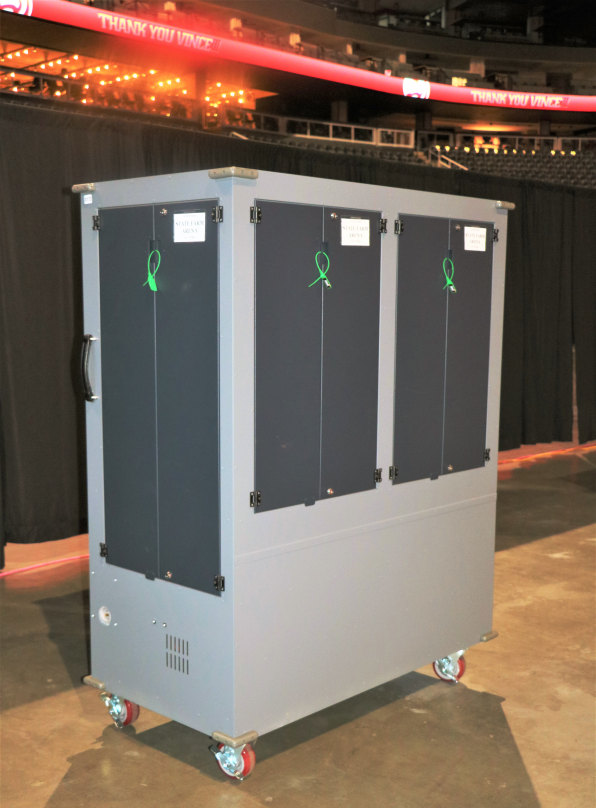 "The scoreboard's lit up, there's all of this 'thank you for voting [messaging].' All of the lights in the arena are on, and they're all focused on voting. So it's a production there," Barron says.
His office worked with officials from the Hawks to determine where voting booths could be set up, and how people could access the site and keep safe distance from each other and workers. "They map out where all of the voting station carriers are going and where people will cue up to check in to vote," he says. "They know how that arena works. They know the best flow from each of the doors."
The primary runoff was a practice run for the general election, when turnout is expected to be higher. The arena will be open to all Fulton County residents for early voting, between October 12-30, but not on Election Day, as voters are assigned to specific precincts on that day to manage flows. Barron says there will be 300 voting booths for the general election, and the Hawks are planning to entice voters to come in early by having players make appearances during voting hours. The arena is adjacent to a MARTA train station, which will be free during the early voting period, as will the arena's parking lot.
The team has also offered up its practice facility for the county to use to process absentee mail-in ballot, which Barron expects to be voluminous. For the primary runoff in August, he says more people cast ballots by mail than in the 2016 presidential election. "That's how much the landscape has changed in Georgia with regard to how people are voting," he says.
Even so, he expects the arena to be a powerful draw in the weeks leading up to Election Day. The deal made between the NBA and its players union specifically targets arenas owned by the franchises like the Hawks. But even publicly owned arenas are planning to participate as well, including the arenas of the Cleveland Cavaliers and the San Antonio Spurs. Barron says others should consider participating. As long as these stadiums remain closed to sports, concerts, and other events, they may as well play a role in the country's democratic process. "If you've got an arena in your county," Barron says, "make use of it."