In May, when the United States reached the grim milestone of 100,000 confirmed deaths from COVID-19, The New York Times turned its front page into a powerful memorial, a list of every American coronavirus fatality to date: name, age, hometown, and a personal detail. Topped by a banner headline, the gray page was as solemn as a tombstone.
It was the latest example of how the Times, the winner of Fast Company's 2020 Innovation by Design General Excellence category, is reimagining its most valuable real estate to help readers make sense of these confusing and scary times. "We cannot just tell those stories with stories," says The New York Times executive editor Dean Baquet. "We need for people to pick up the front page and understand that they are in the middle of something truly remarkable."
Here, Baquet discusses how design can amplify the truth at a time when even basic facts are under siege, why print isn't dead, and why design is key to solving journalism's biggest problems.
Fast Company: Several of your front pages this year broke with conventional newspaper design. One featured a chart of the U.S. unemployment rate that extended above and below the fold, another mapped coronavirus fatalities across the country with New York City's death toll spiking through the Times's logo, and another was dedicated entirely to names of the dead.
Dean Baquet: We're in just a remarkable moment. I've never seen anything like it in my career. The combination of a virus that has killed historic numbers of Americans, civic unrest that is unlike anything we've seen since the 1960s, an economic yo-yo that pushes the economy to the verge of collapse, and the most divisive presidential election in modern American history. When we do things like the [unemployment] graphic that essentially became the lead of the paper, or all the names on the front page—that's design telling a story that you can't tell in just the 1,200-word traditional newspaper story.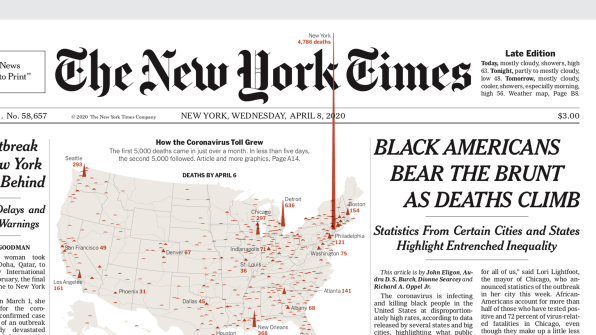 FC: How do these front pages fit into the paper's larger mission, to report the truth, when we have a president who is disdainful of facts that are inconvenient to him?
DB: Everything The New York Times does should stand as testament to our belief in the truth. Print is arguably the most powerful testament because it's permanent.
FC: Most print papers are shrinking. Why make the investment?
DB: Print is still a big part of our business. But it's not just that. The goal is to give people something different. It's unfortunate that a lot of local news organizations are struggling to put out powerful print papers, but we fortunately have the resources to do it. And we're going to keep doing it as long as we can.
FC: How does design factor into the Times's coverage?
DB: Either Steve Duenes [deputy managing editor who oversees the graphics department] or Tom Bodkin [design director] is in most of the key meetings. And I throw questions to Steve. I'll say, "How do we cover a president who has a daily press briefing and he's not always telling the truth? Give me some ideas." Some of that is going to be a design solution.
FC: How has your understanding of design evolved over the years?
DB: There was a time when editors didn't fully understand the value of designers. They thought designers were the people who made a little room on the page so that pages would look great. As a young editor, I had that ailment myself. I learned to think otherwise when I was the managing editor of the Los Angeles Times. The editor, the late John Carroll, saw me meddling too much with the designers, and he pulled me aside one day and said, "You should let them make you look good."
FC: Do you see design becoming more or less prominent at the Times?
DB: More prominent. Design is part of the answer to every problem facing journalism. With newspapers, we've known how to build a print paper that displays our best stuff so that people could very easily find it. It's not as easy with the phone. And who knows what comes after the phone? Design is going to be more important as technology evolves and we try to figure out ways to build a news report where people can find our best work. Design is going to be struggling with that forever.
See more honorees from the 2020 Innovation by Design Awards here.
WATCH: 7 innovative designs helping us through the pandemic