They may not be iconic or prominent or particularly memorable, but streetlights are an ubiquitous piece of the urban landscape.
In Los Angeles alone, there are 223,000 of them. So when the administration of Mayor Eric Garcetti started thinking about how it could improve and distribute design around the city, its streetlights were an opportunity hiding in plain sight.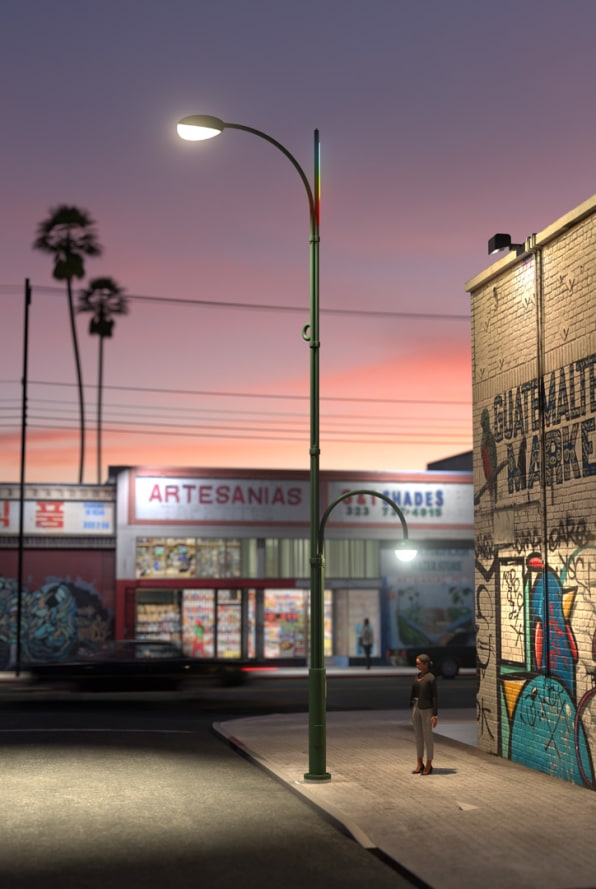 "This is one of the few designed objects that the city produces that touches every corner of the city and every neighborhood," says Christopher Hawthorne, the city's chief design officer. Formerly the architecture critic for the Los Angeles Times, Hawthorne says that while some of the wealthier neighborhoods around the city have unique and well-designed streetlights, the vast majority are forgettable. "We have this great history of streetlight design in L.A. that the city is still known for but we sort of lost the thread of innovative streetlight design in the postwar period and started producing these utilitarian streetlights that really could exist anywhere."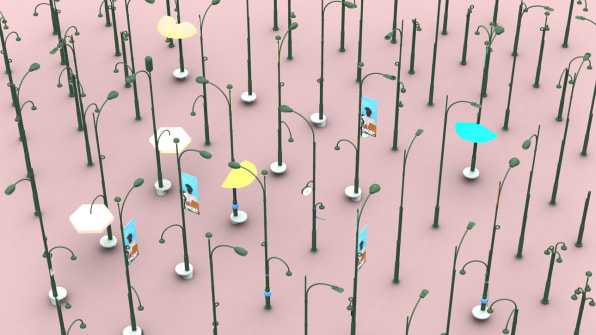 Last November, the city launched L.A. Lights the Way, an open design competition to reimagine how those streetlights could better represent the city. "Los Angeles is a city of dreamers and doers, a place that is the creative capital of the world. And our next generation of streetlights should be as brave and bold as ourselves, as an expression of the future," Garcetti said at the time. Sponsored by the mayor's office and the city Bureau of Street Lighting, the competition brief called for streetlights that also include light fixtures explicitly designed to illuminate sidewalks, space for a text-based "cultural placard," a narrow three-foot long LED strip to communicate events and signal emergencies, and hardware to hold shade sails to add much needed shading in parts of the city lacking adequate street trees.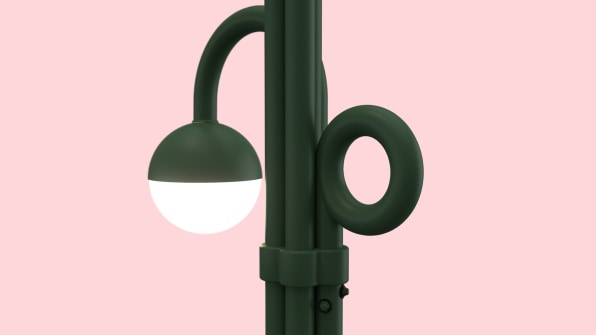 Selected from entries by 110 registered design teams, the winning design is Superbloom, a cluster of green pipes that rise to various heights before curving out to hold light fixtures and other elements. Able to be augmented with features like benches, electric vehicle charging stations, umbrellas, and solar panels, the design can morph into thousands of different heights and configurations depending on the specific place and its requirements.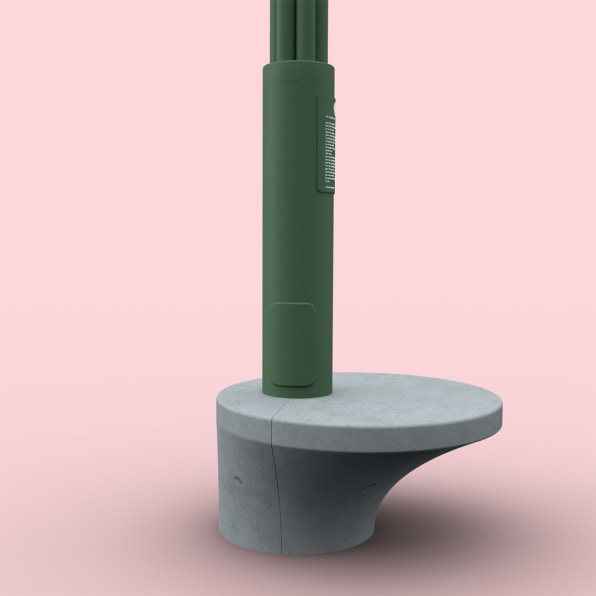 Created by L.A.-based design collaborative Project Room, the streetlight is less a design than a system, according to lead designer Joakim Dahlqvist. "Contemporary streetlights are very sculptural but also very monolithic, and I think this design is much more of a kit of parts, using very standardized components," he says. "It's just pipes and the collar that holds them together."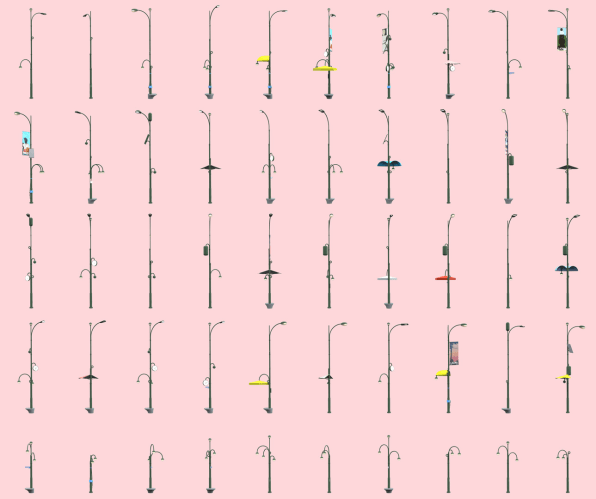 The goal was to be future-looking without imposing some aggressive idea of what that future should be, says co-designer Sandy Yum. "Especially for a city like Los Angeles where there's just so many varying neighborhoods and different scales everywhere, having something like what you'd see in Blade Runner is not the city," Yum says. "These parts that come in and out when needed, where needed seemed like the right direction to go."
A jury of officials from city agencies including the Bureau of Street Lighting and the Department of Cultural Affairs as well as architect Frederick Fisher and City of Santa Monica Urban Designer Alan Loomis selected Superbloom for its design potential but also for considering the practicalities of being built and installed. In addition to guidance that it and the other three competition finalists received from New York-based structural engineer Guy Nordenson, Project Room partnered with structural consultants to ensure it could be built. With the city replacing between 1,000 and 2,000 streetlights every year, the design has to be ready to scale up immediately.
Now that Superbloom has been selected as the city's standard streetlight, it will move into a prototyping phase to get a full-size version built, tested, and refined, followed by an open bidding process to find a manufacturer. The new streetlights will be funded out of the city budget, and Project Room is being awarded a $70,000 prize for its winning design.
"The winning team really has the prospect of seeing 10,000 or more of these installed over the course of a decade," Hawthorne says. "It's hard to think of another city-designed object that we produce in those numbers."
The competition is one of Hawthorne's first major initiatives to take shape since moving to City Hall in early 2018 and the position itself is part of a broader push by Garcetti's office to broaden L.A.'s design ambitions and expand its focus on the public realm. With the county investing heavily in public transportation and the city preparing to host the 2028 Summer Olympics, L.A.'s public spaces and civic infrastructure are likely to see increased attention in the coming years.
The jury, of which Hawthorne was a part, reviewed the submissions blind and didn't learn the identity of the designers until a winner was chosen. He was gratified to find out it was a local team and says the design has an unmistakable L.A. sensibility. "It really reflects a city that doesn't have a single identity and is able to recast itself in certain ways," he says.