If you think back to last year's Samsung Galaxy Fold phone, two facts are likely to spring to mind. One was that it was the first folding-screen smartphone announced by a major manufacturer, putting a tablet-like 7.3″ display into a device you could fold in half and stick in a pocket.
The second notable thing about the Fold was that several of the earliest reviewers instantly had trouble with it: Debris was able to sneak in via the hinge, and some testers mistakenly thought that they were supposed to remove the top protective layer from the screen. That caused Samsung to delay the phone's release by months while it performed an emergency reengineering.
Now Samsung is announcing the first true upgrade to the original Galaxy Fold, which it's calling the Galaxy Z Fold2 5G. Teased at last month's Galaxy Note20 launch and arriving on September 18, it's an evolutionary update that won't appeal to a meaningfully broader market than the original. For one thing, its imposing list price of $1,999 is $19 higher than that of last year's Fold, even before you get to the fact that wireless Galaxy Buds are no longer included. (5G, which was optional with the first Fold, is now standard.)
Still, quite a lot is new this time around. Maybe Samsung should have gotten some of these things right in the first place with its 2019 phone. But if you'd made a list of ways the first Galaxy Fold could have been better, chances are that it would have included a number of points that Samsung has addressed with the Galaxy Z Fold2.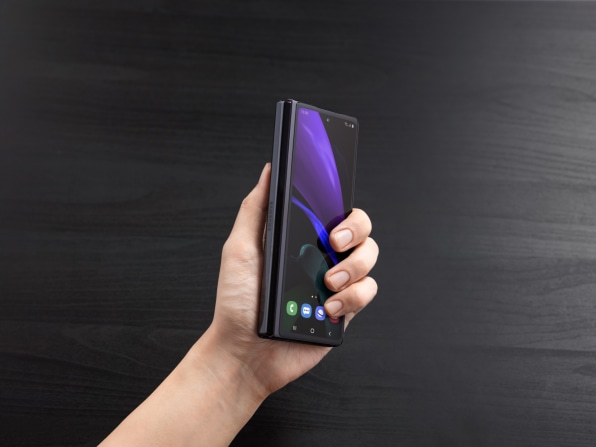 That starts with the small, non-folding screen on the outside of the device. On the original Fold, this display was an oddly shrunken 4.6″, surrounded by vast expanses of bezel. The Fold2 increases that to a 6.2″ display that comes far closer to filling the entire front, which should make for a much better experience when you're using the phone folded up, as if it were a more conventional smartphone.
When you unfold the Fold2, the inside screen is now a wider 7.6″ vs. the earlier model's 7.3″, which ought to make for a more tablet-like experience, especially if you're using multiple apps at once. (The Fold2 supports up to three apps onscreen at once, and—like Microsoft's two-screened Surface Duo—use drag-and-drop in apps that support it and pair apps so they'll launch simultaneously.) The ungainly giant-size camera notch on the first Fold is gone, replaced by a minimalist "hole punch" camera cutout as on other current Samsung phones. And like the Galaxy Z Flip, the Fold2 uses "thin glass" with a plastic layer rather than the all-plastic screen of the first Fold.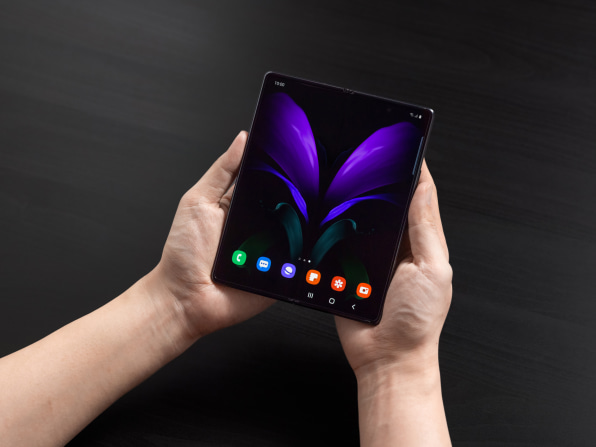 Then there's the hinge, which proved so troublesome on the original Fold. The new model's innards incorporate an improved version of the "sweeper" Samsung built into the Flip's hinge, designed to help keep dirt from sneaking in and messing up the works. Also inherited from the Flip's hinge is "Flex" mode, which lets you unfold the screen at a laptop-like angle and keep it there—handy for typing into productivity apps, making video calls with the phone sitting on a desk, and other tasks.
The Fold2 doesn't match the highest-end camera features of other recent Samsung flagship phones, such as a 64MP sensor and 10x optical zoom. But it still packs  five cameras—one each for the small and large displays, and ultra-wide, wide-angle, and telephoto cameras on the back. It also improves on the first Fold in terms of offering photographic features designed with this particular form factor in mind. For instance, "Capture View" mode lets you see both the camera viewfinder and photos you've already taken simultaneously on the large screen. And you can shoot with both the small and large screens acting as viewfinders at once, so people you're photographing can see what they're going to look like.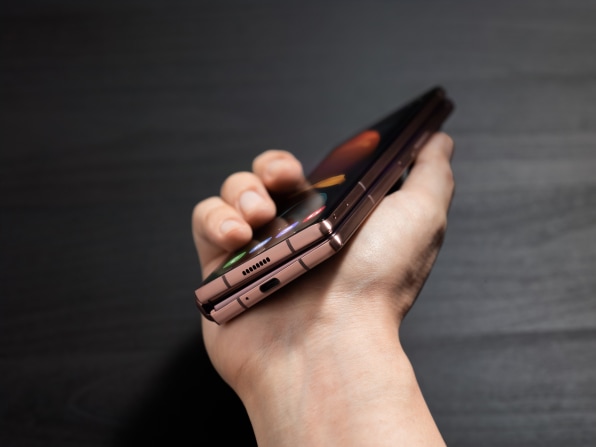 Beyond the price tag, it's still easy to find ways in which the Galaxy Z Fold2 suffers in comparison to garden-variety smartphones, from its chunky profile (16.8mm at the hinge when closed) to the lack of water resistance. But when it comes to the overarching question "Why would you want to own a folding phone?" both the hardware and software offer more and clearer answers than with the first Fold.
Still about exclusivity
When Samsung announced the first Galaxy Fold back in February 2019, there was nothing else on the market like it. Eighteen months later, it still hasn't been flooded with direct competition. Other manufacturers that have adopted folding-screen tech have built it into phones that aren't that much like the Fold line, such as Motorola's Razr.
Samsung seems content to make the case for the Galaxy Z Fold2 based on uniqueness as well as utility.
At first blush, the Galaxy Z Fold2 competes with Microsoft's $1,399 dual-screen Surface Duo. Both pack tablet-like real estate into a pocket-size device. But the design trade-offs that Samsung and Microsoft made are more different than alike: The Duo is far thinner than the Fold2, a feat Microsoft achieved by including only a single camera and skipping the secondary screen, NFC for mobile payments, and wireless charging. By contrast, Samsung didn't skimp on the features folks might expect a $2,000 phone to offer.
For now, the company seems content to make the case for the Galaxy Z Fold2 based on uniqueness as well as utility. In a quirky move, it's ramped up the air of exclusivity by bundling a FounderCard membership. That gives people who buy the device access to stuff that has nothing to do with phones, such as a meal cooked at their home by a Michelin-rated chef and access to country-club golf courses.
When I asked Samsung Electronics VP Drew Blackard about who he expected to be interested in the Fold2 and why, he acknowledged that the company thinks that the people who buy the device will do so in part to own something that almost nobody else has. "It's still on the early-adopter curve where you see that first-generation user being the one that is willing . . . to try something new," he says. "And they're interested almost in the newness, in and of itself."
What comes after that early-adopter phase? Blackard says that Samsung still sees a future in which folding-screen phones evolve into something a sizable number of people might want, at prices they can justify. "That's something we're going to push towards," he says. "The bigger question is more of time frame." You don't have to be a prospect to buy a $2,000 folding phone yourself to hope that Samsung keeps at it—even if it takes a Fold3, Fold4, and beyond.