Like many commercial areas around the world, the 82nd Street Partnership in Queens has been struggling through the pandemic. As a predominantly immigrant neighborhood on the lower end of the socioeconomic spectrum, the district's 200 member businesses have been grappling with conditions that have disproportionately exacerbated the impacts of COVID-19.
"If you talk to people in the neighborhood, everyone knows someone who has either been sick or died from COVID," says Leslie Ramos, executive director of the 82nd Street Partnership. On one single corner, three business owners died.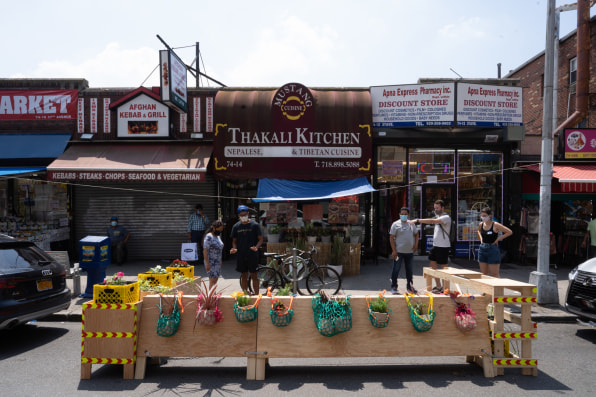 So when Ramos was approached during the peak of the outbreak about a new program to help underresourced neighborhoods hit hard by the pandemic, she immediately signed up. The program, which was created by nonprofits the Van Alen Institute and the Urban Design Forum, is called Neighborhoods Now. It pairs community organizations such as the 82nd Street Partnership with teams of architects and designers who work pro bono to help local businesses reopen and weather the current economic storm.
"We are having people not just losing money but being pushed farther down into the economic difficulties they've been struggling with their entire lives," Ramos says. "So I felt like this allowed us to have a little bit of equity and equality for these businesses and their ability to survive."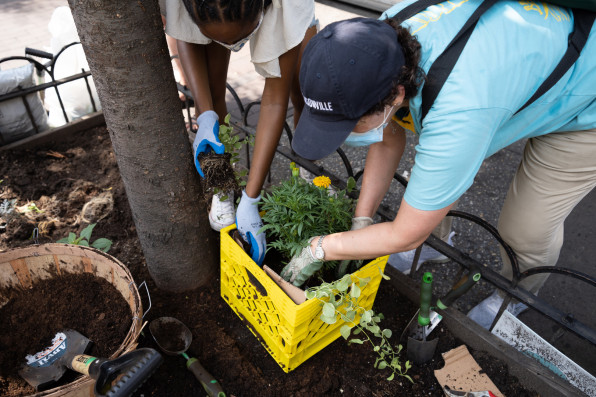 Neighborhoods Now launched in May in five hard-hit neighborhoods across New York City. Each was paired with a team of designers from dozens of firms who've volunteered to help, including Arup, COOKFOX, Henning Larsen, KPF, and Moody Nolan. They've been collaborating directly with community groups to design ways to help businesses reopen, including everything from outdoor restaurant seating to multilingual signage about mask requirements to workshops on how to get loans from the government's Paycheck Protection Program.
The goal of the program is to rethink how local organizations and governments serve the unique needs of different communities in times of struggle, says Deborah Marton, executive director of the Van Alen Institute. "When you have a crisis like we've had with the pandemic and frankly like we've had other times, like with [Hurricane] Sandy, underresourced communities need a different kind of support. And the traditional way that the city provides support, like putting stuff on websites that you can download to help yourself, it just doesn't work in underresourced communities," she says.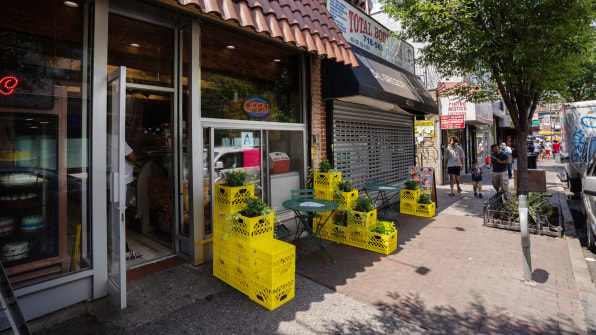 Some of the solutions have been seemingly straightforward but underscore how financial and language barriers can be a challenge. For the businesses in the 82nd Street Partnership, Ramos says many were worried about reopening or moving seating into the streets. "Some businesses were able to get up and running and create beautiful outdoor seating areas, but we have a lot that didn't even know where to start," she says. "They were afraid of the consequences, if there would be fines, or they didn't have the creativity or the time to pull together the people and the resources needed to do this type of work."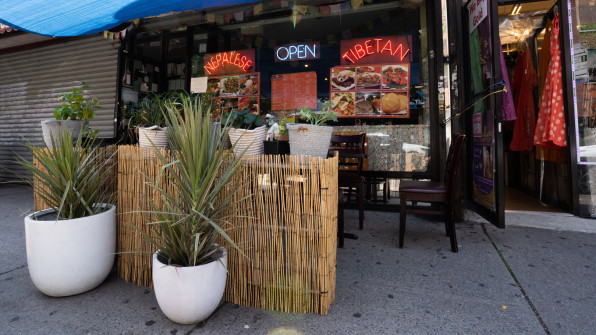 This is where the Neighborhoods Now program stepped in. Jing Liu is the principal of the architecture firm SO-IL, which, along with ARO, LTL, MOS, nARCHITECTS, and WORKac, is working with the 82nd Street Partnership in Jackson Heights. She says the designers' first focus was to help these businesses create and get permitting approved for the kinds of street barriers and outdoor seating that have helped many businesses around the city remain operational. "Most of the barriers you see in New York City, they're done by the owners themselves. And we learned right away that most of these business owners don't have the financial ability to invest in that," Liu says. "The design criteria became really, really clear as we were working with the community that they needed to be fast, they needed to be cheap, easily storable, and easily moveable." With leftover construction materials such as plywood donated to the project, restaurants and small retailers now have the physical infrastructure to serve customers outside.
Design solutions are only part of the project. In another participating neighborhood, Kingsbridge in the Bronx, the community's biggest need was help navigating the process of applying for relief loans. The design team called in the help of a local law firm, Fried Frank, to lead a financial literacy workshop in a neighborhood plaza. The lawyers have also helped draft short-term leases that property owners can use to easily rent out their spaces for pop-up businesses.
"It's not just about design. It's about law, finance, engineering, product design," says Dan McPhee, executive director of the Urban Design Forum. "I think a lot of the greatest challenges are yet to come. What do we do in cold weather? How can we support cultural organizations and nightlife, which haven't reopened yet? Is there any way to bring back the tourism industry that's so essential to a lot of New York's economy? These are all questions we're going to have to continue to navigate over the next few months."
The pro bono design work will continue, and the project plans to release a guidebook that lays out how some of these interventions can be replicated in other neighborhoods. The Van Alen Institute estimates that in-kind services rendered so far total roughly $1.3 million, and fundraising is ongoing.
Ramos says the initial interventions from Liu and her collaborators have helped several restaurants reopen and more than double their revenue—assistance they wouldn't have had access to otherwise. "I could never, never afford this team of experts. I can't even afford to hire one expert," she says. "We're talking about creating equity around the city. It's not only the big commercial districts that can come back—it is also the neighborhood areas that can come back."