As the fall semester kicks off, many parents are trying to figure out how to work from home while also managing their kids' virtual classes. It's a tall order. To make life a little more tolerable for the whole family, it's a good time to rethink your space and look for ways to reorganize.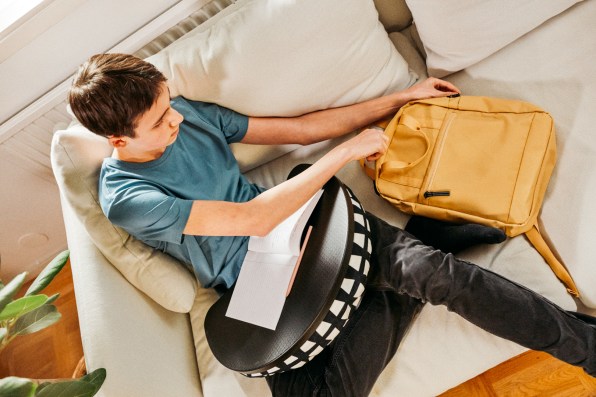 Fortunately, this doesn't have to break the bank. We reached out to Kaci Malloy, Ikea's senior sales leader for children's products, for some simple hacks. Malloy's job involves learning about kids' psychology, behavior, and development, then designing spaces that allow them to work and play—even more important during the pandemic. "There's no one-size-fits-all solution," she says. "Every home, family, and school setup is different. There's not a right or wrong answer, so pick ideas that work for you."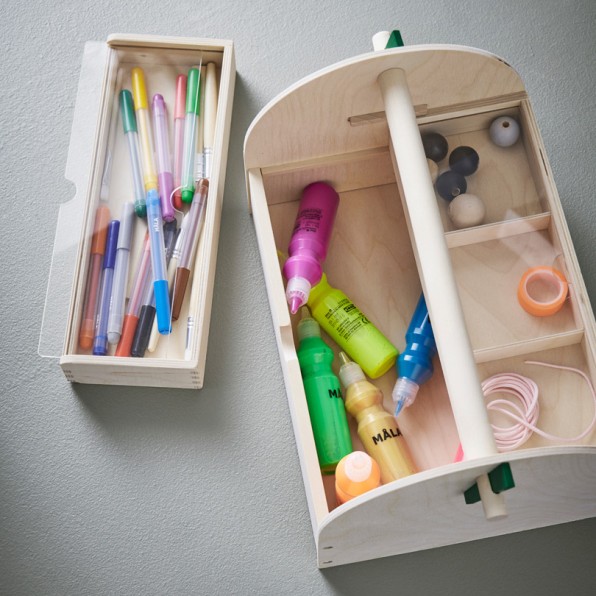 Not every kid needs their own desk
Many parents feel pressure to buy desks for their children, but that can be hard if money or space is tight. Malloy says kids don't necessarily need a desk to thrive academically. In fact, some may actually do better working from the kitchen table, and it's okay to changes things up throughout the day. Younger kids, for instance, might work at the dining room table while parents make lunch or on the floor while the parents work at their desk.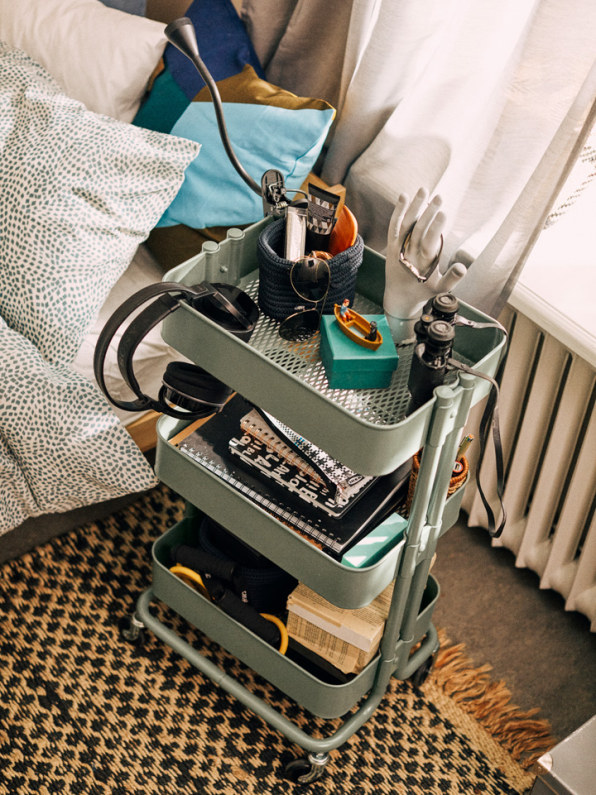 Kids will need a way to move their supplies around throughout the day. Malloy recommends the RÅSKOG utility cart ($29.99), originally designed for the kitchen, which she says many parents have already repurposed for school. The LUSTIGT caddy ($17.99) also lets kids carry anything they need around the house. To make it feel more like their own, kids can decorate their "homework cart" with stickers. "It's very important for kids to feel involved with creating their learning environment," says Malloy. "That's what happens in their classroom: They often get to decorate their cubby or desk. It gives them a bit of independence."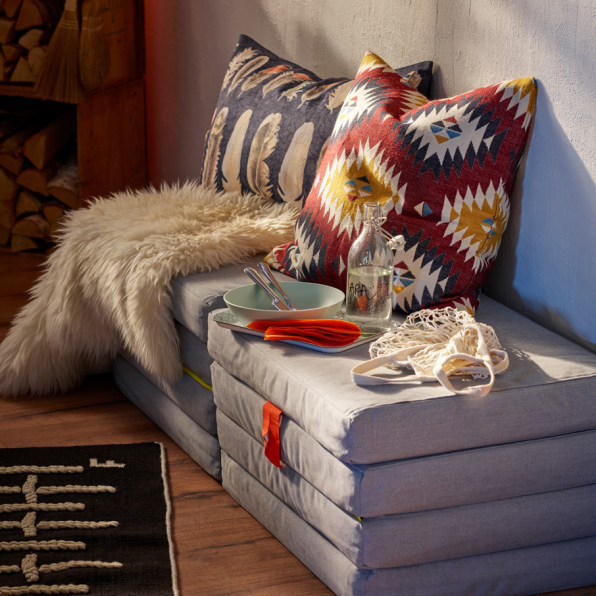 Malloy also recommends getting a folding mattress like the SLÄKT ($109) or PLUFSIG gym mat ($29) so that kids can read or work in unconventional spaces. Schools often have bean bags or padded areas, and this can mimic that experience. You could even pair it with a laptop support cushion like the BYLLAN ($17.99) so kids can do Zoom calls or homework on the floor. "Then you can fold it up at the end of the day and put it away," says Malloy.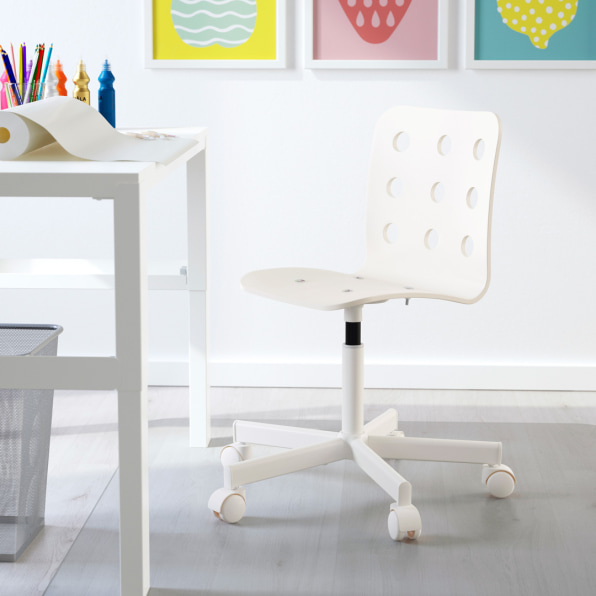 Encourage kids' fidgeting
Kids, like adults, actually focus better when they're able to fidget. So, as unintuitive as it is, it makes sense to create a setup that facilitates their impulse to move, rather than represses it. A swivel chair does the trick: The JULES ($34.99) and VIMUND ($69.99) chairs are designed for children and can be adjusted as they grow. But you don't necessarily need a whole new chair. You could put a step stool under a regular chair, which provides support and lets them tap their feet while they're working. "A little bit of physical engagement helps their brain engage," Malloy says. She notes that pillows also go a long way in making dining room chairs more kid-friendly.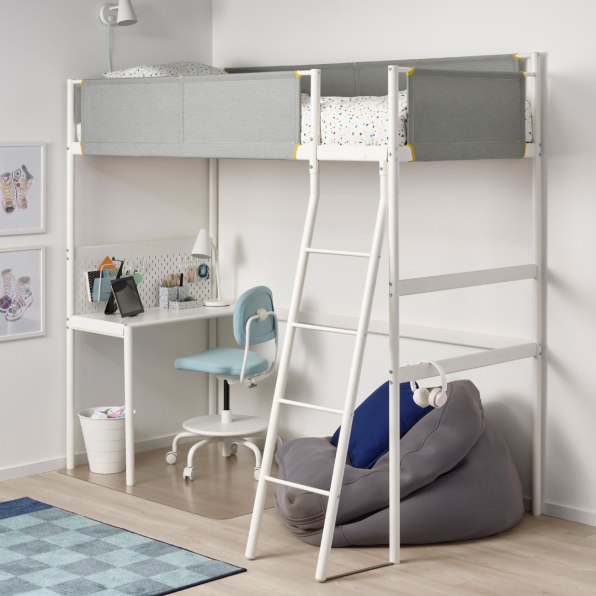 Older kids need independence
While younger kids might enjoy the extra time with parents, older ones would generally prefer to be with friends. While that's not necessarily possible during a pandemic, parents can help teens create a space that gives them some measure of independence.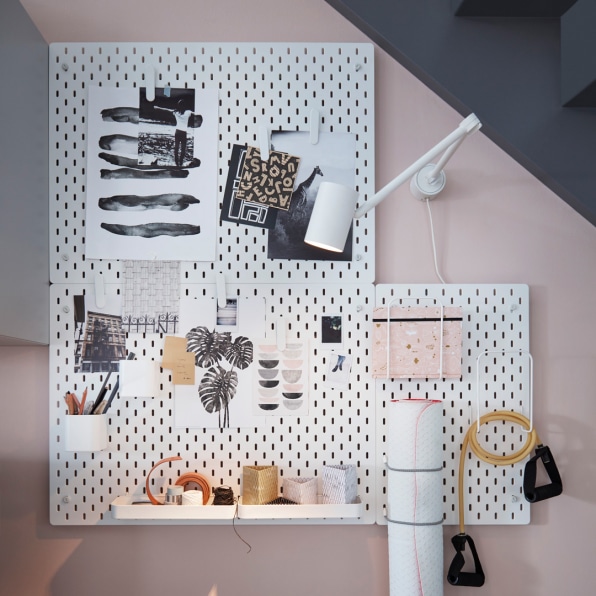 One popular solution is a loft bed, like the VITVAL ($179) and the matching pegboard ($50). These help create a personalized workspace under the bed that feels more private, even if they're sharing a room. "They have to be driving the setup or else they aren't going to engage with it," says Malloy. "And they might not say it, but they are hyper-aware of what their friends and classmates are seeing in the Zoom calls. So they need to curate the space behind them."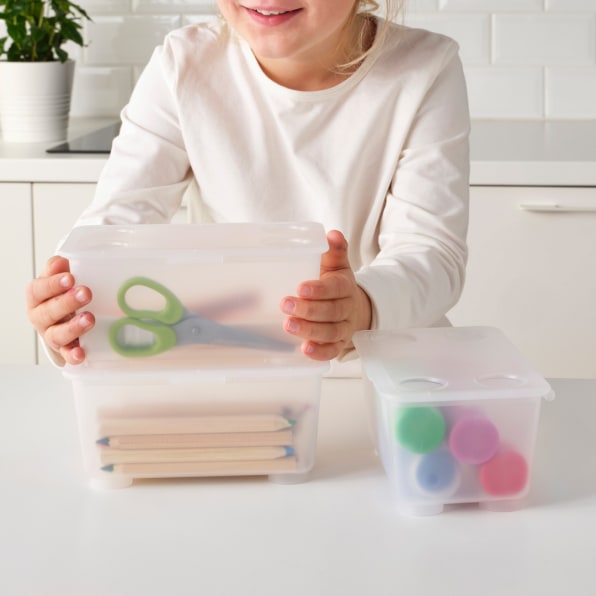 Separate work from play
One of the problems with blending home and school spaces is that kids don't have an easy way to switch off when they're done with their work. Malloy says anything that allows kids to keep their schoolwork out of sight at the end of the day can be helpful. Simple solutions include the GLIS box that comes with a clear lid ($2.99 for a three pack), while a more elaborate solution is the SLÄKT box ($69.00). That has wheels so kids can store their things in the drawer and then slide it out of sight. Cleverly, the box can also become a table if a child is sitting on the floor. "Anything you can do to quickly put a lid on work is good," says Malloy. "So you can quickly transition into family time."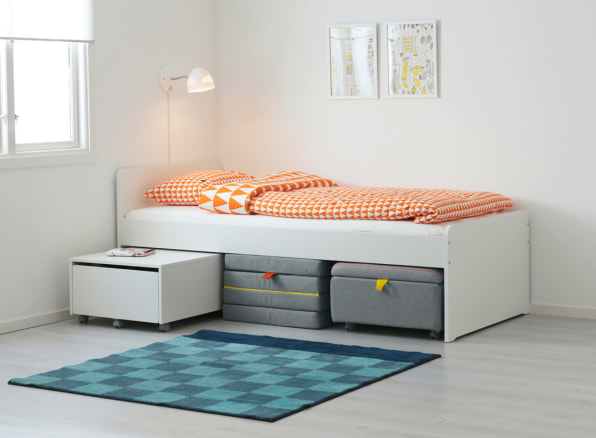 Encourage play at home
It's a stressful time, and Malloy says one important antidote is to create more play at home. This doesn't necessarily mean dressing up or playing tag: Young kids, in particular, love mimicking adults. Try to find ways to bring kids into everyday tasks; for instance pulling up a step stool like the TROGEN ($19.99) lets your kids help you "cook" dinner. To make it even more fun, consider buying a kids' cookbook. (Ikea makes one for $6.99) "Now is a good time to remember that to a child, anything can be play," says Malloy.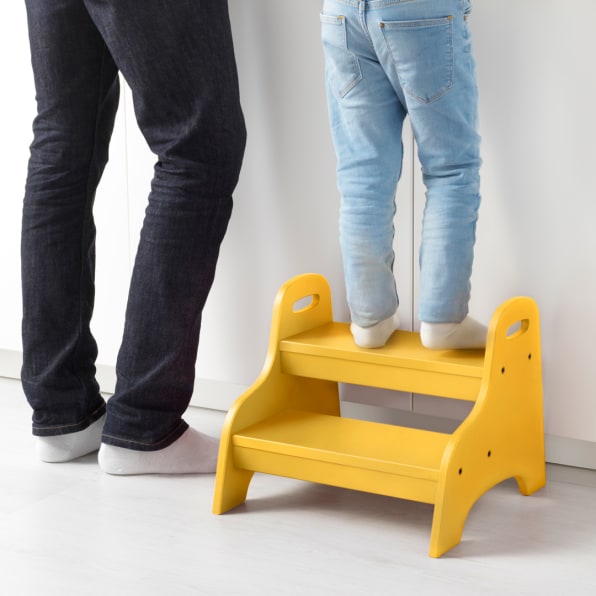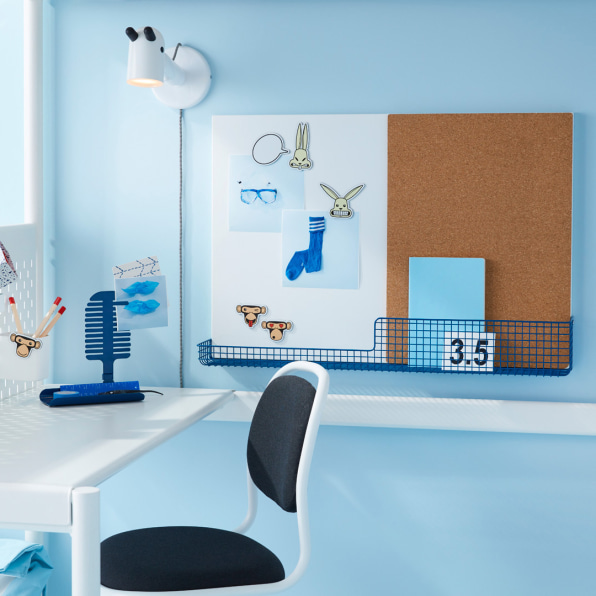 But there are plenty of other things you can do to make everyday life more like a game. You could set up a whiteboard like the MÖJLIGHET ($34.99) in a common area to play games, draw pictures, or write notes. Ikea also makes a quirky wheel game called LUSTIGT ($24.99), which can be used to make daily chores a little more exciting.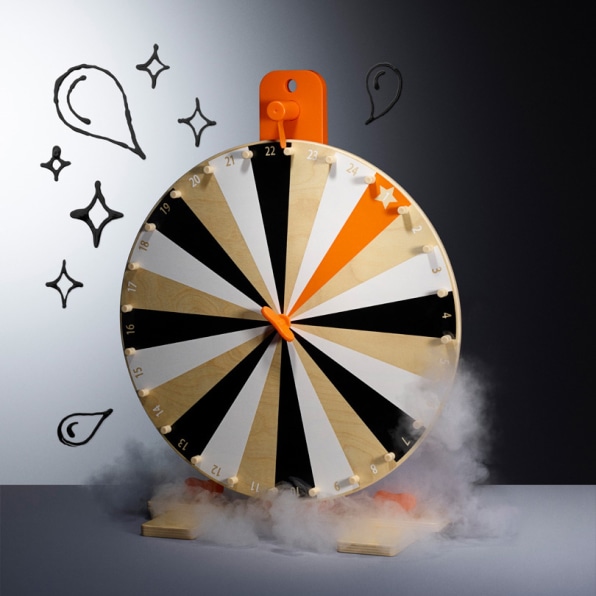 "Play is essential for creating happy families and happy homes," says Malloy. "It's also how they naturally learn. But you'd be surprised by how creating a playful environment can relieve adults' nerves, too."