Agile. Flexible. Softly cushioned. Available in an electric rainbow of colors, each so tantalizing it's hard to choose your favorite. A good sneaker from a company like Nike makes the average runner feel superheroic when they put it on. But I'm not talking about sneakers. I'm talking about the latest wireless surround sound gaming headphones from Logitech.
Technically speaking, it is the $130 Logitech G733 headset, part of a new line of colorful keyboards and mice from the company, available in unconventional options such as lilac. Each component also features a visual calling card that you can't miss: an LED strip that glows with a flashy color gradient. And yet, despite all the technology inside, the headset feels almost weightless on your body. As the dual-layer memory-foam cups covered in a breathable jersey knit sports mesh wrap snugly around my ears, I'm reminded of the fit of a perfect running shoe. The headset is on my head one minute, and just an extension of my ears the next.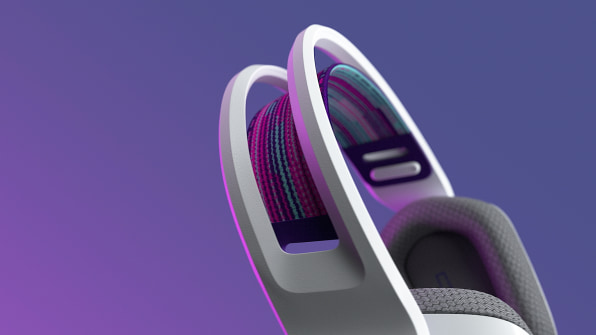 To consider a gaming headset as an ergonomics and performance product might sound absurd. But gamers spend an average of seven hours a week playing games—a stat that ballooned by 75% during the early days of the pandemic. You don't need to be an e-athlete in the $1 billion esports industry to put significant hours into the $159 billion video-game industry.
As ridiculous as the comparison between performance shoes and bulky gaming headsets might sound, it couldn't be more apt. The development of the Logitech G733 was led by Tiffany Beers. Years ago at Nike, Beers was an engineering director who worked to bring Tinker Hatfield's future concepts to life. She worked on Nike's auto-lacing technology, and led the development of its digitally connected Hyperadapt and its Back to the Future-inspired Nike Mag. (Nike Mags currently resell for a whopping $34,000.) At Tesla, she helped design the production intricacies within the first Gigafactory to build the Model 3.
Now at Logitech, she's technically head of gaming innovation and audio engineering on the company's gamer-focused Logitech G line and its Astro Gaming sub brand. To call her an "audio engineer" sells her contributions of leading her team short, when in fact she helps coordinate the entire design and engineering of these products.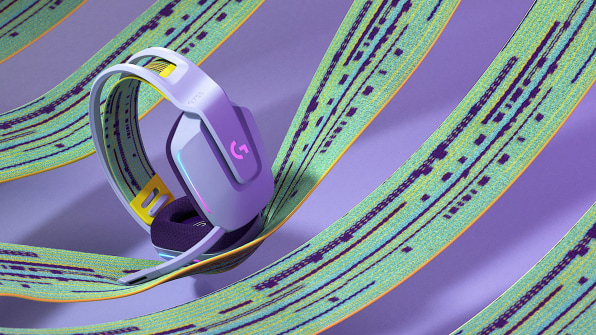 In her newest role, Beers seems to be prioritizing two ideas: rethinking traditional gaming aesthetics into something still wild but more inclusive, and rethinking gaming equipment as something less about heft and more about comfort and performance.
"Audio is so fascinating to me. From gaming—listening to gunshots and footsteps—all the way over to ASMR, where audio calms people," says Beers. "[Audio is just] vibrations. It's such a base thing that I think it will be so much more involved in the next five to 10 years. So gaming headsets need to be distraction-less. I think you have to forget you have them on, because you'll wear them more and more."
As Beers explains the importance of weight in this equation, she holds up two of Logitech's older headsets like they're dead cats. One weighs nearly a pound. The headband alone has, she counts in front of me, 12 different parts inside it. They are complicated to produce, emphasizing their intricate, often metal, components. Weight, too, is a traditional signifier of quality within electronics—Beats went as far as to add weights to its headphones, likely to help justify their sticker price.
But metal and weight "doesn't make it more durable than this," says Beers, now pointing to the G733 on her head—which weighs just shy of 10 ounces. Its band is made of just a couple injection molded pieces of plastic, reinforced by an inner elastic band that works as the suspension to support the headset's own the weight. "Plastic can give you the same durability [as metal]. It is the same in footwear. If you look at the Alphafly, it's such a light shoe, but it will withstand [marathons]."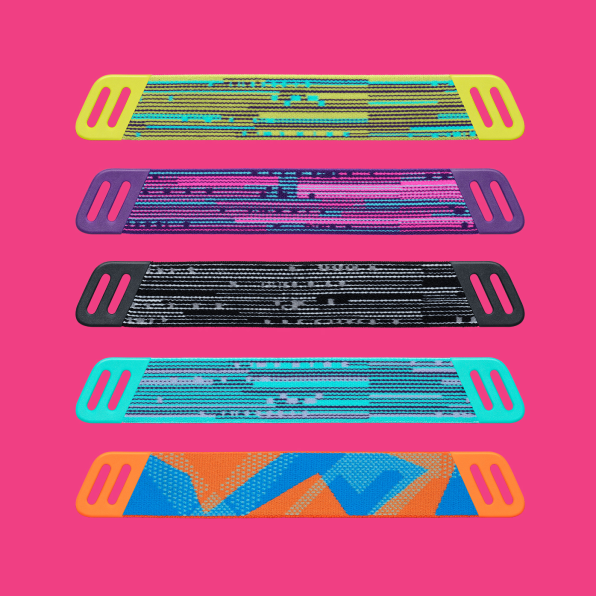 Make no mistake, however—Logitech isn't paring down every nonessential component in some ode to Dieter Rams. This design embraces maximalism—the same trend we've seen in the furniture industry—and those blindingly bright LED color gradients are proof of that point. Logitech is trying to expand how we think of the stereotypical gamer, and what those people want. About half of the global gaming market is now made up of women, and women over 50 actually play more games than teenage boys.
Logitech is trying to rethink the old gaming aesthetics for more than some cis-gendered male, without just pinkifying a product and calling it done. The headset the company created is almost polygonal, as if it came out of a video game like Overwatch. A design feature of particular note is that you can actually swap out components to customize the color combinations—right down to emoji-inspired mic covers ($10) that include zany sponges such as lips, a mustache, and a thumbs-up.
"We can start making everything more colorful, and allow your gear to be a reflection of who you are," says Patti Lee, senior marketing manager at Logitech. In the world of footwear, or even fashion at large, that's not a radical idea, of course. But keep in mind that even Apple still sells its Airpods in precisely one color: white.
If Logitech's new approach is a hit, it's easy to imagine what this means for the future of not just gaming gear but wearable electronics at large: They will continue to evolve into something that's less inspired by any single brand or customer archetype, and more reflective of who we are as individuals. Of course, even that would mean that the bulky metal headsets we've had for the past decade could one day be a fashion statement of their own.
"The bigger old-school gamer look is gone, or changing now," says Beers. "But it'll come back, just like retro shoes come back."