The average person subscribes to three streaming services. Keeping them straight is a mess. But a fix may be coming soon.
According to a convincing leak courtesy of the blog Chrome Story, Google has been working on a new platform called Kaleidoscope. It appears to be a website that combines all of your streaming services in one place—including Netflix, Amazon Prime, and Disney Plus, though conceivably Hulu, HBO Max, and others too.
The need for such a utility is obvious. Every subscription streaming service currently lives in its own app. That means it's not just hard to remember which service has that new show you want to watch. It's also almost impossible to know if any of your services already include a given movie you want to watch for free, or if you have to pony up the cash for a rental.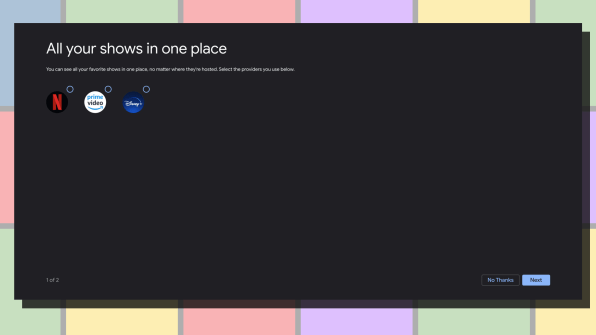 Obviously, it stinks to rent something on Amazon you're already paying for on Netflix. And in theory, Kaleidoscope could be infused with Google's powerful search tools to solve this problem, cross-referencing your own subscription footprint to know exactly what you can watch at any given moment.
While Google did not respond to a request for comment, it's easy to imagine what Kaleidoscope would feel like to use. Because seven years ago, another big tech company tackled this same problem and just about solved it better than anyone else—before it gave up and moved on. That company was Microsoft.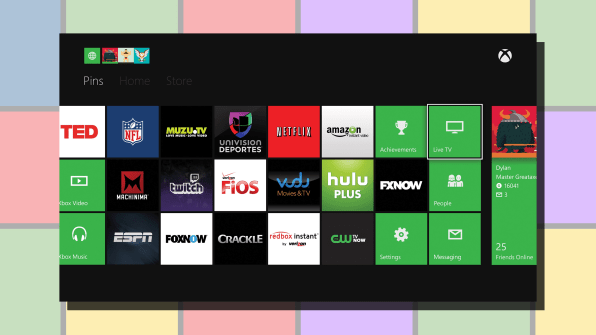 The year was 2013 when Microsoft released its Xbox One console. Under the vision of Microsoft's former chief production officer Marc Whitten, the Xbox One was poised to be not just another gaming system, but that mega-intelligent PC in the living room that technologists had imagined for decades. It's easy to forget today how radical the One was, with a Kinect depth-sensing camera that could recognize your face to log you in, and a functional voice control interface that launched a full year before Amazon's Echo.
Eventually, Microsoft imagined that your Xbox would control your whole home, activating smart devices via infrared blasts (the same proven technology inside your TV remote). But to launch the console, Microsoft set its sights a bit lower and aimed to fix the increasingly fragmented television watching experience.
The Xbox One did something unthinkable as the streaming era was gaining steam: It let you plug your Comcast/Xfinity cable box right into the console itself. That let the Xbox control your cable. It also learned all the channels you subscribed to as part of the process, complete with its own guide as to what you could watch next.
Then, as you installed digital apps such as Hulu and Netflix, these apps weren't just added to the console. Their contents were added to the Xbox's greater thumbprint of your subscriptions and the programs they contained. (Meanwhile, Roku was iterating a similar approach to content management, without the Xbox's other bells and whistles, which Roku offers to this day.)
What all of that ultimately added up to on Xbox was a pretty radical service, which blended artificial intelligence and an experimental user interface to make jumping between your cable channels and streaming services a seamless breeze. You could literally say, "Xbox, watch Back to the Future," and it would scan your subscriptions instantly. In some cases, I recall that it would just magically play the content. In others, it would display all of your subscription options to stream it, annotated by cost, from "free" to whatever dollar amount. And unlike any other service I've seen, you could jump from a video game to TV, to an app, and back to a video game, without a hiccup. There were no arbitrary lines drawn between any media you might consume.
In practice, the service didn't operate flawlessly every time. As I remember, it got about 80% of the way to getting it all just right. But it felt like one of those products that was just an update or two away from being perfect.
Unfortunately, Microsoft quietly ditched this feature in the years that followed, along with the Kinect. As Whitten left the company in early 2014, the team clearly reprioritized the experience of the Xbox. A vocal group across the internet had panned the Xbox One since its first announcement, claiming Microsoft didn't care about gaming, since features such as the Kinect and TV integration required a small amount of the system's resources to run at all times—resources they argued should be pooled entirely into games.
Technically their criticism was true—these features could slightly impact game performance. But in the vision of Whitten (who would hop to Sonos before landing at Amazon), this expensive, high-performance gaming hardware was really a supercomputer capable of gaming and so much more. The trade-offs in gaming would be barely perceptible, while that "more" could change the way you lived.
In any case, it all adds up to the fact that, seven years later, when Microsoft talks about Xboxes, the narrative is all about the games instead of TV channels and the Internet of Things. Roku has found its own foothold in the market honing in on features such as cross-app search, finding scale less by building its own box than by eventually forming partnerships with TV manufacturers to bake Roku right in.
And yet it's still news when Google shows up to fix the UX mess of streaming—the same problem we tried to snuff out a decade ago—because no one has completely solved it perfectly. As my colleague Aimee Rawlins wrote in Slack, "I would even pay for a service that smoothly synthesized all the streaming options. The irony, of course, is that it's basically cable redux."