So you've been working from home since March. You don't miss the commute, and you've found you're actually more productive. Now you're having serious reservations about going back to the office.
Why not let the good times roll and just work from home forever? Take it from me: It's the best.
Also take it from me: It's not always easy to find remote jobs, especially when it comes to traditional job-hunting sites. Here's where to track them down.
1. Established Remote Companies
The Established Remote Companies page on Github is a great first stop if you're looking for companies with a remote-first mindset that have been around for a bit.
The list isn't exhaustive, but it does showcase only companies that have at least 50 employees and that hire across multiple time zones. It's also geared toward engineers, with a column for necessary coding skills, but many of the companies listed here hire remotely for other positions, too: marketing, HR, legal, and the like.
Start here to get a feel for what's available and who's who among some of the more serious players in the remote-first space.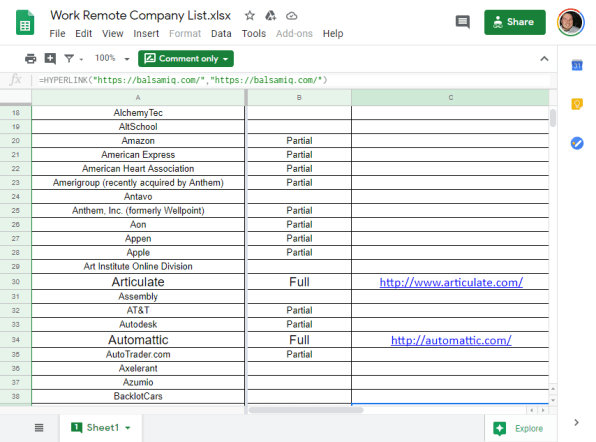 2. Work remote company list
If you'd rather drink from the firehose, there's a great shared Google Spreadsheet that contains a list of almost 300 fully and partially remote tech companies.
This one will require a little more work on your end, as most entries don't even contain links to available jobs to the respective sites, but as long as you're willing to do some cutting, pasting, and googling, there's plenty on offer here.
3. NODESK
Swing by NODESK.co for a whole bunch of great resources—articles, tools, and more—geared toward the remote work lifestyle, and then stay for its excellent remote jobs board, which pulls postings from more than 650 remote-friendly and remote-first companies.
The board is populated by tech jobs that can be searched by position type in nine categories. You can also  subscribe to the newsletter or Twitter feed if one of those options is more appealing to you.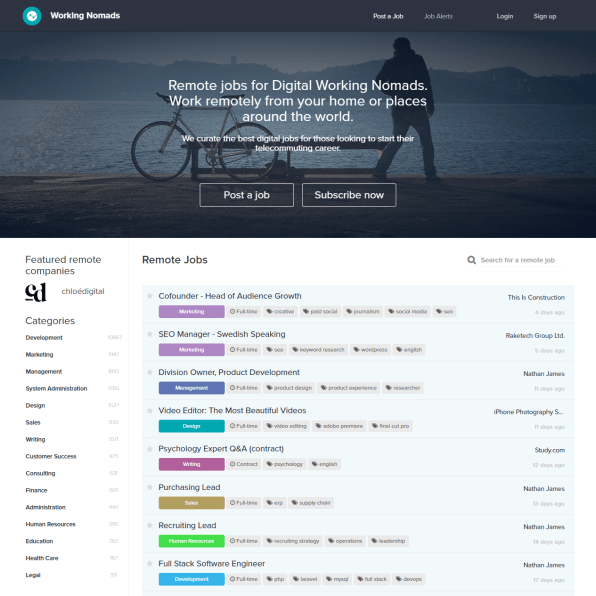 4. Working Nomads
Perhaps the broadest job aggregator on the list here, with 15 categories and helpful tags on each posting, Working Nomads is a great option that's got a little something for everyone: At last count, there were almost 25,000 remote jobs to choose from.
The site's newsletter is also hands-down helpful, letting you subscribe to only certain job categories and opt for daily or weekly updates.
5. Meerkad
Still haven't found what you're looking for? Try Meerkad. The site pulls in remote job listings from traditional job boards and company sites but also goes the extra mile by hand-curating jobs from Facebook groups, Twitter, Reddit, and several other sites.
The site is free, but to get the most out of it, you'll need to sign in with one of your social accounts and you'll be asked to answer a series of questions. Once you're a member of the community, you'll be able to post jobs, upload your résumé for others to find, and follow apply-now links to where the jobs are actually posted.