Director Eugene Kotlyarenko's latest project started off with a simple enough prompt: His cowriter Gene McHugh approached him with the idea of making a minimalist horror film about a ride-share driver killing his fares.
"The proposition built into the gig economy that we trust people based on five-star ratings is inherently scary," Kotlyarenko says. "So to exploit that, I thought, was a good idea. Then we had the bigger question of, 'What was making him kill?'"
That question tipped them into the Russian nesting doll of satire that is Spree.
Spree stars Joe Keery (Stranger Things) as Kurt Kunkle, a hapless ride-share driver whose desperate desire to become an influencer leads to a murderous rampage for likes and follows.
It's part cautionary tale of the world of app-based ride-hailing, part takedown of influencer culture, all wrapped up in a scathing indictment of white, male mass murderers.
"Those people are just looking for attention. And instead of analyzing their psychosis, we actually should make fun of them, so that anyone who would even consider using violence as a shortcut to fame realizes that they're pathetic losers," Kotlyarenko says. "That logic is really similar to the DNA of wanting to become an influencer and wanting to go viral. So it's approaching everything with satire, but also saying this is horrifying."
That said, movies like Spree can walk a thin line between satire and potential inspiration. It's something the film points to in a rather clever twist. But there was also a reality check of sorts during production when the Christchurch mosque shooter live-streamed his massacre on Facebook.
"We talked about that a lot with Joe and with the crew," Kotlyarenko says. "I think it's actually our responsibility to point out the dangers of everyone being complicit in this attention economy."
To that end, Kotlyarenko mentions the painstaking detail he went into in writing the more than 7,000 comments and user names for Kurt's live-streams as he's on his killing spree.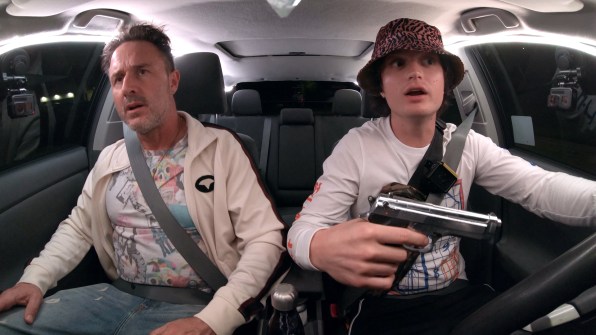 "That was really important to me, having this other narrative layer going on on top of the story that you're watching," Kotlyarenko says. "You can pause it at any time and see what a realistic response from our current sort of social media landscape would be to what Kurt's doing. A lot of people didn't even believe it was real. And a lot of people were egging him on toward violence. Showing that peanut gallery felt really important."
As for the perpetrator himself, Kotlyarenko wants to make clear that he's not glamorizing Kurt's actions. Rather, he wants a movie like Spree to shift the conversation around white male mass murderers.
"The character of Kurt Kunkle is not presented as someone who is cool or sexy or anything like that. He is really a loser," Kotlyarenko says. "You cringe at, like, how inept he is and how bad he is at this."
"Journalists, when they bring attention to these people, they are psychoanalyzing or socioeconomically analyzing them," he continues. "But I think it's the role of art and movies to find new ways to talk about these things. What I was trying to do was make fun of a person like this. I hope that's the message that gets out there."