Mailchimp, the service that's moved from being an email marketing provider to a multifaceted small-business toolkit, is launching a $1 million fund to attract developers to integrate its software with other services.
The idea is to incentivize programmers to create software that can pull in data from elsewhere to help Mailchimp customers track more information about their customers and use it to customize marketing campaigns, whether they rely on email, social media, snail mail, or other Mailchimp features. The company envisions connections between Mailchimp and apps such as web-tracking software that could help Mailchimp customers send marketing messages based on factors such as how their own customers use their websites, data from point-of-sale and payment systems that record business transactions, and entries in calendar systems that track when Mailchimp users provide services to their customers, says CTO Eric Muntz.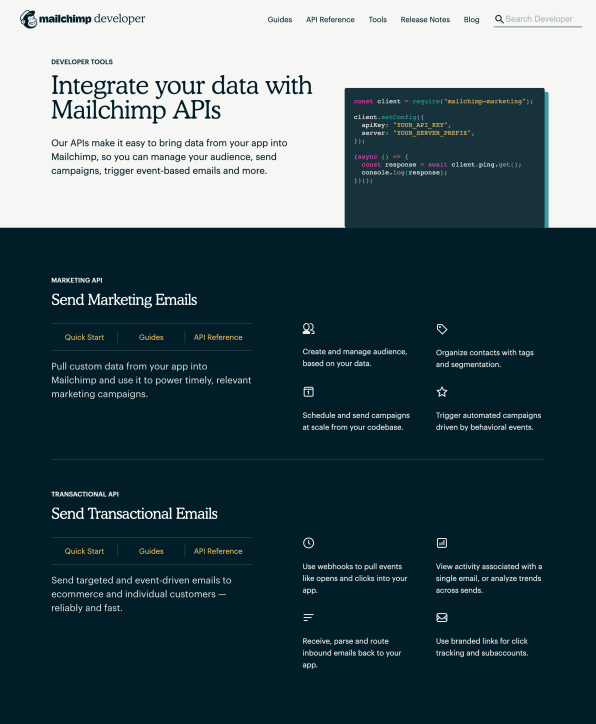 "Let's say you're a gym and you've got a calendaring system set up," says Muntz, providing an example of the sort of functionality Mailchimp envisions. "You can tag folks that come to sessions, and then you can trigger automations based on who comes to those sessions."
That's the kind of  precision marketing that some of the small businesses that are Mailchimp's core customers may already get from social media and search engine marketing. Companies such as Facebook and Google provide little snippets of code to marketers that monitor what users do on their websites and enable ad targeting based on who's visited the site and what products they've viewed. Getting developers to help customers pull new data into Mailchimp will make it easier for them to do the same kind of targeted messaging through email and the other platforms Mailchimp supports for marketing.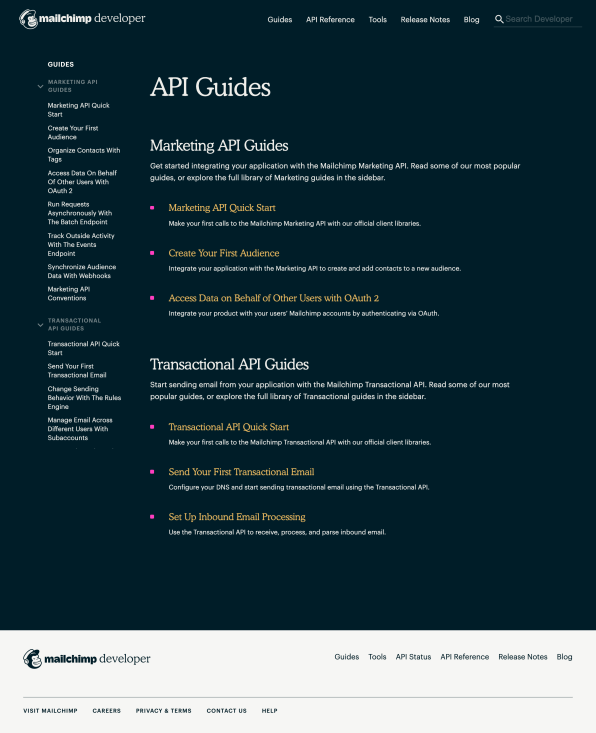 Mailchimp will still build its own integrations with services such as Facebook and Google, but incentivizing third-party developers to do some of the work for other platforms will likely get new connections built faster than if they all had to be created in-house.
One-stop marketing
Like other recent updates to Mailchimp's services, which have seen the company add support for social media marketing, physical postcards, hosted websites, and integrated e-commerce, the tools developers build on the platform will likely mean Mailchimp's customers can do more within Mailchimp's environment without needing to log in to separate services or manually track and upload their own customer data with tools such as spreadsheets.
"Really the goal is to get more data—more data from anything you connect with—into Mailchimp," says Muntz. "Then you've got all of Mailchimp's power and brains and magic behind it."
Already, Muntz says about half of the traffic to Mailchimp's web servers comes from its API, which lets developers upload data about business contacts to customize mailing lists, access data about who is opening and clicking various emails, and automate other interactions with the service. That volume is likely thanks to an earlier fund the company had disbursed around 2010 to motivate people to build on the service, back when it was a much simpler operation focused on email, Muntz says.
But much of the current traffic involves simply syncing lists of email addresses back and forth between Mailchimp and external servers. The company is looking to incentivize more sophisticated integrations with external services.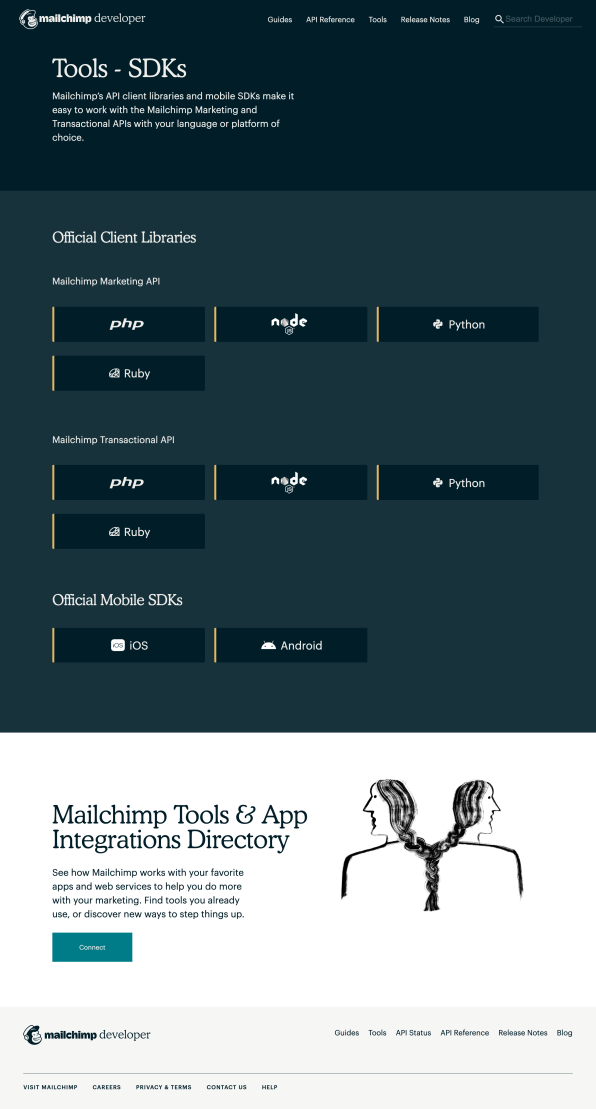 Developers will be able to apply and pitch Mailchimp on what they intend to build in order to receive money from the fund, with the company looking to subsidize reliable, well-maintained tools that are accessible to its customers, including those who won't be writing any code themselves. If the new apps take off, Mailchimp will likely become a data hub for many small businesses—but Muntz emphasizes that the system makes it easy to export data as well as import it, allowing developers to build workflows that involve routing Mailchimp data into other apps and services. "Data should flow in both directions," says Muntz.
At the same time, Mailchimp is revamping its developer documentation. For example, it's adding more examples of how to connect to the platform's various features in order to make it easier for coders new to the service to get started. It's also revamping another tool often used by developers: its so-called transactional email service, once known as Mandrill, which is often used for automated, one-off messages such as receipts and password-reset links.
The transactional service, which sends about 100 million messages for customers per day, had been essentially in maintenance mode for a few years. Now Mailchimp is investing in making it easier for new developers to use and discover, with plans for making signing up and creating a demo account easier. The integration fund may fund companies that integrate Mailchimp transactional email with other services—say, e-commerce platforms such as Shopify. Simplifying the tool will likely make it easier for new developers to pick it up—potentially along with other Mailchimp offerings.
"We really have this vision of a developer coming in [and] seeing transactional [mail]," says Muntz, "and in as few clicks as possible, an email gets sent and lands in their inbox so they can really see the power of the system."