The Umbrella Academy, which just started streaming its second season on Netflix on Friday, begins each episode with a tone-setting wink at the audience, a playful bit of textual hijinks.
At the end of the cold open, the title of the superhero show appears as though it were festooned across an actual umbrella.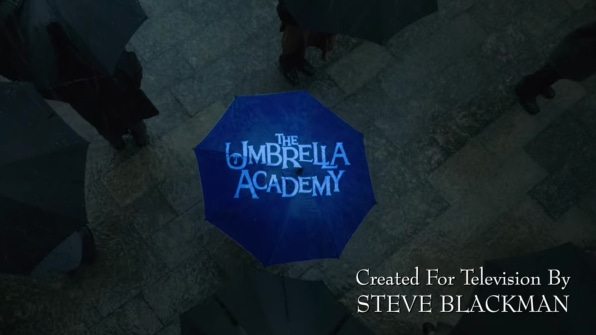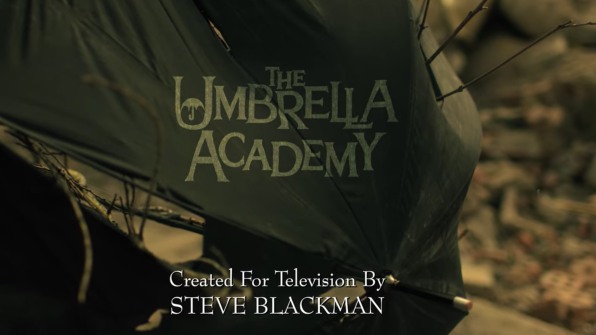 The question for hooked viewers bingeing through the series would inevitably become, "How are they going to work a new umbrella into this scene?"
Or at least, that's how things went in the first season.
For the second go-round, the title of the show appears more like this. (Feel free to skip to the 2:42 mark if you're not blessed with superhuman patience.)
That's right, this time the title—in a sleek new font—appears across objects that are shaped like umbrellas, opening a whole new world of possibilities to the makers of the show.
"I love the conceit of making things into an umbrella," series creator Steve Blackman said during his recent interview with Fast Company. "It was fun to give it a more physical quality this year, blood forms into the shape of an umbrella, a murmuration of birds do. It was fun to find new things to turn into an umbrella."
It all started, however, with the image in the season two premiere, as seen below.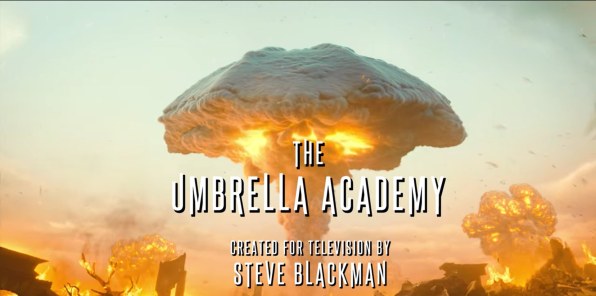 "When I first wrote that scene, I was like, 'How do I get the title in there in a way that's not the same as last year's model?'" Blackman recalls. "I thought about how the shape of a mushroom cloud is similar to an umbrella and it just clicked. And then when I saw the VFX team do the first pass, I was really excited with what they came up with, and they were excited, too."
Judging by the rest of the season's opening scenes, crackling with clever ideas, the excitement likely never stopped.
According to Blackman, it won't stop the next time either, if The Umbrella Academy is renewed for a third season.
"I think every year I'm going to try to change up the way we do it a little bit," he says. "We're going to try to be creative as much as we can."
Have a look at the remaining 12 title cards from season two below.