Makeup artist and stylist Jay Manuel has spent more than 20 years in the fashion industry, most famously serving as creative director and producer of the reality TV competition phenomenon America's Next Top Model.
For 18 seasons, Manuel became one of the show's most beloved cast members alongside photographer Nigel Barker and runway coach J. Alexander. After a less-than-smooth transition out of the show and past contestants speaking out against host Tyra Banks, you'd think Manuel's experiences on ANTM, let alone his overall career in fashion, would produce the kind of salacious tell-all memoir capable of igniting a massive wave of callouts and cancellations.
And you'd be right.
However, for his debut novel, Manuel sidestepped a memoir in favor of a fictional world inspired by his life and career.
The Wig, The Bitch & The Meltdown follows Pablo Michaels, the newly appointed creative director for supermodel Keisha Kash's reality TV modeling competition Model Muse. Things begin to unravel as he's juggling his new role and a volatile friendship with his vulnerable yet tyrannical boss, Keisha, who's dealing with her own issues of narcissism and being Black and "curvy" within the modeling industry.
It's a plot that practically begs for people to replace "Pablo" with Manuel and "Keisha" with Banks, then run with what's on the page as gospel.
Yet Manuel insists The Wig, The Bitch & The Meltdown is satire.
"Friends and other colleagues around me have said, 'Why didn't you just write the tell-all memoir?' If I wrote the real tell-all, I would have to go all the way there—and I just couldn't," Manuel says. "I felt like if I'm going to go all the way and really put it all out there, I'd have to move to Alaska. The world that I have spent the bulk of my career in, in front of the camera and behind the camera, what I've been able to witness and be a part of at times is just astonishing. And I think if I wrote that, I would just be setting myself up for some war that I don't want to be a part of."
Instead, what Manuel aimed to create is a digestible framework to unpack heavier themes throughout, including abuses of power, the psychological tolls of fame, and the burden of fashion industry standards.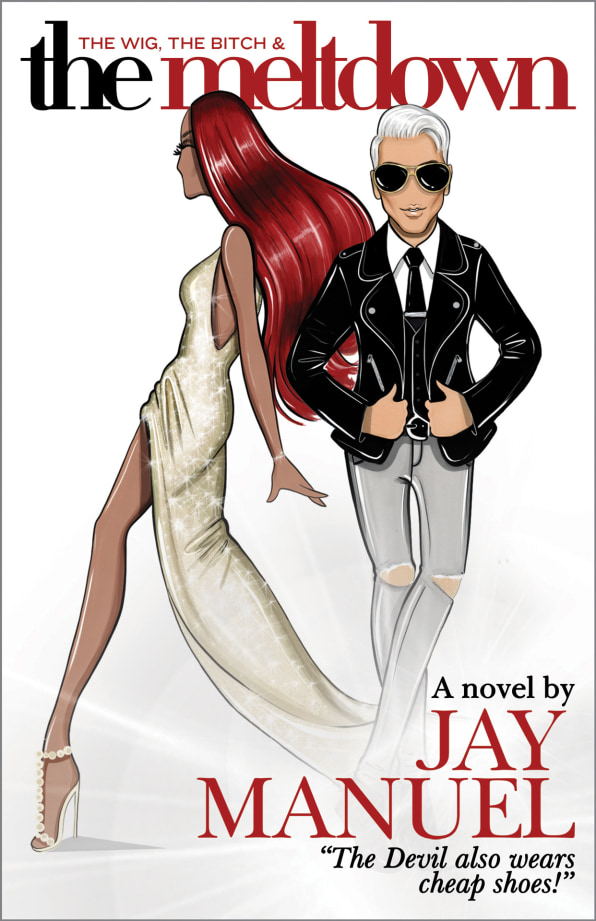 "I really wanted to craft this narrative that is a lot of fun, that is laugh out loud. But then beneath that, I wanted there to be a real gravitas to the piece," Manuel says. "In today's age, stories of substance always get overlooked for viral sensation. That's just where we are in 2020. And writing a book that we'll say is 'spilling the tea' in a fictional way from behind the scenes is going to pique people's interest."
Manuel also hopes to engage readers with his unusual structure for the book, which he doesn't want to spoil by describing too much in detail.
"I thought, I've got this idea, but it completely breaks literary conventions. Can I do this?" says Manuel, who started writing The Wig, The Bitch & The Meltdown in 2014. "I knew that in the last third of the book, I wanted to blur lines and break the fourth wall to kind of jolt the reader in their own world and take a look at the relationships around themselves."
Manuel also underscores the fact that he didn't use a ghostwriter.
"I felt it was really important for fans to read my writing. That's what kind of took so long," he says. "It was a very isolating, but probably one of the most rewarding, processes for me, because I got to know myself. I had not dug down deep and taken the time to really learn more about those vulnerabilities that were buried deep down. So for me, it turned out to be one of the most fulfilling works I've put out into the world."
Manuel is adamant that The Wig, The Bitch & The Meltdown shouldn't be viewed necessarily as a slam against Banks or ANTM. The familiar-sounding setup was a way for him to write about a world that's authentic to him while touching on bigger themes he wanted to address.
"My real hope is that people see that these are human stories that we can all relate to," Manuel says. "And hopefully we can shift the paradigm about how we think about power, authority, and relationships. That was key for me. That was my intention around the book."