Who: A stellar group of actors, including Michael K. Williams
What: About The People
Why We Care: About the People is an award-winning short film starring Michael K. Williams, Coffey (who also wrote the screenplay), Diggy Simmons, Dorian Missick, and more Black actors who each bring a unique philosophy and point of view from the African-American community. Williams plays The Senator, who leads the discussion on race and how to make positive changes in society.
The 30-minute short takes place in one room in which each character speaks their mind on police brutality, history, education, and economics, as The Senator implores them to help him enact a plan that can strengthen the community and stamp out systematic racism. The Militant (Coffey) is skeptical about the entire situation.
At one point, The Author tells the group that, "Black Lives Matter is a powerful movement, but without a call to action, it's just a cool hashtag for social media and t-shirts." Then we're off to the races.
Over the course of the film, the men get into heated debates, amid accusations of certain men being Uncle Toms to how athletes can follow the Colin Kaepernick model to sending a powerful message. It's like the streamlined version of any given discussion one may hear at a barbershop, on social media, or even at church. Then, just when viewers were probably wondering where the women or queer representation were, The Janitor (Ebony Obsidian) barges in. She's a Black woman and she says that all marginalized people should be included or at least considered in this discussion if they really want to end systematic oppression.
Coffey wrote About the People after his teenage son mentioned that he was afraid to be outside at night fearing that it could increase his chances of interacting with and being killed by police.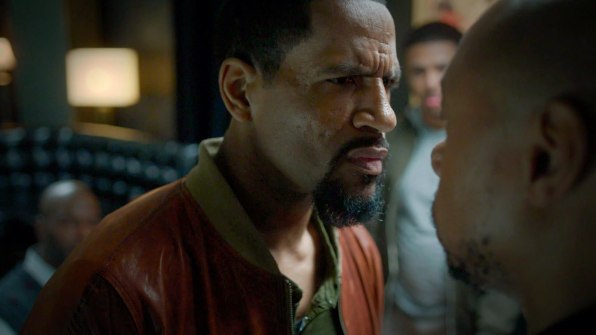 "When he mentioned that, as a Black man, I had no answer for him because as you see, the climate we're living in, I wasn't about to sugarcoat anything by saying it can't happen to him," Coffey told Deadline. "So as months went by it bothered me and while running at midnight, it dawned on me that I should write a short film to address not just him, but every person of color that's feeling the exact same way as my son because believe it or not, as a black man and people of color, we have to relive our lives every single day like we did the day before, if we made it home in one piece that day before. So this short film is the blueprint to what needs to happen in order for us to get back to where we once were, like how Black Wall Street was before my time. My references were the film 12 Angry Men and The Cleveland Summit in 1967 coordinated by Jim Brown."
About the People made the festival rounds last year and won Best Narrative Short at the 2019 Newark International Film Festival. Bohemian Rhapsody producer Denis O'Sullivan, as well as Jeff Kalligheri of Compelling Pictures, have optioned the short with the intention of turning it into a limited series. Coffey tells Fast Company that they are conversing with multiple networks and streaming services to find the right fit.