In November 2016, Michael Tubbs was elected mayor of Stockton, California, becoming not only the city's first Black mayor but one of the youngest in the country at just 26 years old.
Born to a teen mother and a father who's been incarcerated for the majority of Tubbs's life, Tubbs fought past the statistics to attend Stanford University, complete internships at Google and the White House under President Obama, win a seat as a council member in Stockton, and eventually be elected mayor.
It's the kind of sweeping tale of triumph that biopics are made of. But when Peabody and Emmy-winning filmmaker Marc Levin (Brick City, Slam) reached out about doing a documentary, Tubbs wasn't interested.
"I didn't want it to focus just on me," Tubbs says. "And it's hard to work to govern when you have a camera with you all the time."
Tubbs should know—there's already the 2014 doc True Son about his run for a seat on Stockton's city council.
But eventually Tubbs thought Levin's offer would be a chance to illustrate what he laid out the night of his election: "I'm tired of talking about where we've been. I'm more interested in talking about where we're going."
"True Son told a moment in time in Stockton's history focused on bankruptcy and violence. So much has changed since that moment in time," Tubbs says. "I thought it would be really powerful for Stockton to be showcased on a national scene, while also showcasing some of the amazing people I get to work with. So when it became clear that the movie was not just going to be about me, that's when I signed on."
Stockton on My Mind follows Tubbs during his first year as mayor, highlighting the people on his team helping him to effect change by instituting initiatives like scholarship programs and universal basic income—and the citizens who are benefitting from it.
While Stockton on My Mind has a resounding message of hope, it doesn't shy away from the trials of office and how well-meaning policy can be dragged into the mire of baseless political rhetoric made louder by the current administration.
Tubbs came into office at the same time Trump assumed the presidency. In addition to trying to serve his community's basic needs, Tubbs has also had to combat the misinformation and chaotic policies coming from the administration.
"It's been a trial by fire. In my first year, I did not think immigration would be an issue that I would spend a lot of time on," he says. "The first five months, there was a conversation in every meeting. There was a phone call at least every day. I met with the ICE director twice for our region. I talked to families who were scared, and I had to let people know that what was happening in the White House didn't mean it was happening here."
There's also been the issue of Trump inciting a new era of white supremacy.
"Donald Trump has emboldened a kind of white nationalist segment of our country—the amount of the emails or phone calls I get with threats or calling me the N word," Tubbs says. "But I would say I'm proud that, for the most part, our city has remained united. We've been very clear about diversity being our strength."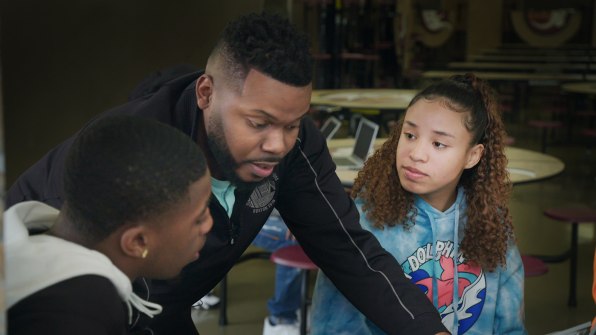 That's exactly why Tubbs agreed to do Stockton on My Mind and what he hopes audiences will see.
"We walked away from the doc even more inspired with how, even in unprecedented times, this idea of community being so powerful enough to persist during times of chaos," Tubbs says. "I hope people walk away with the understanding that there's no excuse not to exercise our agency, to create the change that we wanted to see. You don't have to be connected. You don't have to be powerful. You can build power through relationships to position yourself, to do things to better your community."
"I also hope," he continues, "that people see how the folks who are marginalized or pushed aside or called unimportant can be the key to our national recovery."