Seattle announced the name of its new National Hockey League expansion team today. It's the Kraken.
NHL fans may be wondering: What the hell is that? Here's an explainer to help you get crackin'.
What does it mean?
It's a "fabulous Scandinavian sea monster," according to Merriam-Webster. The word is Norwegian in origin. Many parts of the Seattle area are known for their strong Norwegian roots.
Oh, I thought Kraken was the name of one of those Rice Krispies cartoon mascots.
No, that's Crackle.
Why did the hockey team leadership pick that as the name?
Because "The Starbuckses" doesn't roll off the tongue.
Seriously, why?
Kraken was a name bandied about for a while. Locals seemed to like it too, according to team leadership. Fun fact: "Kraken" was the name of a sea monster from Pirates of the Caribbean, a series of movies produced by team co-owner Jerry Bruckheimer.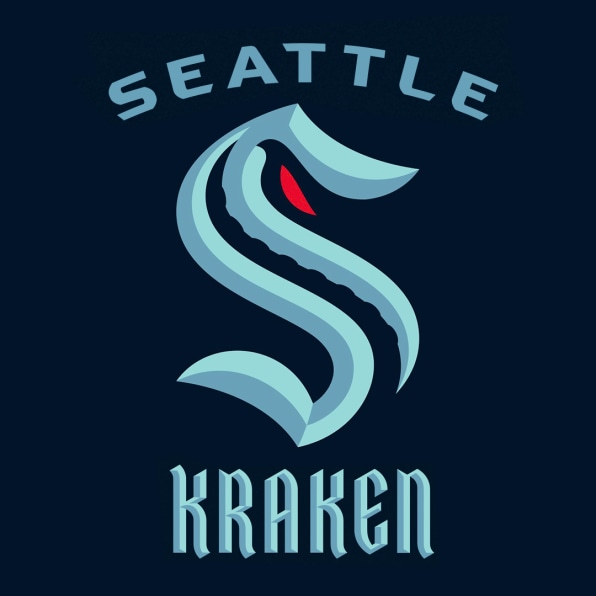 What's the symbolism of "kraken"?
This is what Heidi Dettmer, the Kraken's vice president of marketing, said during the big reveal: "Hockey has always been here. A sleeping giant ready to be awoken. This city deserves a hockey club as untamed as the sea herself, and when we heard the rallying cry of the fans and their undeniable passion for this name, we knew this was the one."
How do you pronounce the team name?
It's "Crock-in" or "Crack-in" (Merriam-Webster prefers krä-kən; pop culture references often sound like the latter), but not "Crake-in" or "Bay-zoes."
Where else do kraken appear in pop culture?
Here are two examples: The 1981 movie Clash of the Titans and the poem by Alfred Lord Tennyson. ("The Kraken sleepeth: faintest sunlights flee / About his shadowy sides; above him swell . . .")
What's the Seattle Kraken's logo? A flannel shirt?
It's a serpent-looking S with a red eye tucked in the first curve. And in case you're wondering, the rallying cry is "Release the Kraken."
What's the history behind the team?
Seattle got the NHL expansion franchise in December 2018. The 32nd franchise in the National Hockey League—and the first since the Vegas Golden Knights in 2017—will play in the Climate Pledge Arena, formerly the KeyArena. The team's inaugural season will be in 2021-2022.