While on maternity leave last summer, Chelsey Glasson made the difficult decision to leave Google. As Glasson exclusively told Fast Company in a detailed first-person account, it was the culmination of a year punctuated by alleged pregnancy discrimination and retaliatory behavior from multiple bosses. In September, Glasson filed a discrimination complaint with the Equal Employment Opportunity Commission (EEOC)—usually the first step toward taking legal action—and earlier this year, the agency opened an investigation into her claims.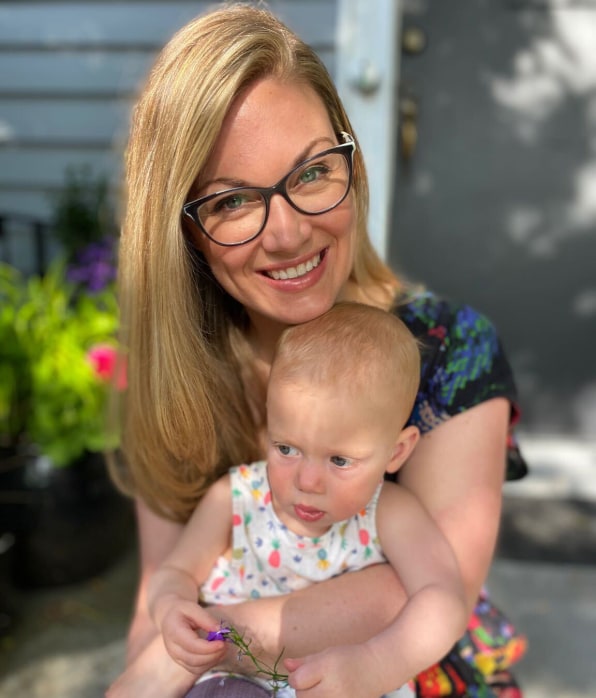 This morning, Glasson officially filed a state lawsuit against Google. "Google has chosen to ignore the warning signs of a discriminatory culture," the complaint reads. "As a result, the discriminatory culture and disdain for motherhood has been allowed to fester and expand, directly causing and allowing the unlawful discrimination against Plaintiff."
A Google spokesperson declined to comment on the specific claims but offered the following statement: "Reporting misconduct takes courage and we want to provide care and support to people who raise concerns. All instances of inappropriate conduct reported to us are investigated rigorously, and over the past year we have simplified how employees can raise concerns and provided more transparency into the investigations process at Google. We work to be extremely transparent about how we handle complaints and the action we take."
The lawsuit comes after attempting to work with Google toward a resolution, according to Glasson. "It was not a decision that was easy to make," she says of the decision to move forward with the suit. "From the beginning I knew it could end up there, and I've spent—with my family and others—a lot of time exploring it as an option and really thinking through: 'Is this the right course of action?'"
When the EEOC launched its investigation in February, Glasson broached Google with a settlement offer. (Google had already responded to the initial complaint, in which the company argued it had "accommodated each of Ms. Glasson's pregnancy-related requests," and that there was "no support for Ms. Glasson's contention that she suffered discrimination or retaliation as a result.") She proposed that the tech giant partner with the Center for Parental Leave Leadership introduce training for managers and coaching to better support pregnant employees and new parents; she also requested emotional damages and reimbursement for her legal expenses. Google declined to settle.
For Glasson—who has now spent more than two years navigating the alleged discrimination and fallout from it—filing a lawsuit felt like the only way to command Google's attention. The EEOC investigation will continue alongside the lawsuit, but Glasson's team expects that it won't come to a conclusion for many months or even a year.
"I needed my story to have some positive impact," Glasson says. "There needed to be a reason for what happened to me. And second to that, I needed some recognition from Google that what happened wasn't right—some acknowledgement in some form, whether it be a jury ruling in my favor in a lawsuit or the EEOC coming out with a finding. Without that, I will never feel like I fully recovered from the situation."
Glasson's allegations against Google first came to light in an anonymous memo that circulated last summer. During her initial four years at Google, Glasson had been promoted multiple times and consistently received high scores on her performance reviews, including two "superb" ratings, which she says only 3-5% of employees receive. In April 2018, Glasson reported her boss at the time (who is also named in Glasson's lawsuit) to HR for making inappropriate comments about a team member's pregnancy. When her boss's behavior toward her changed significantly in response, Glasson—who became pregnant herself during that time—interviewed for and accepted a position on another team at Google. The new role was a management position with fewer responsibilities, and Glasson was told she wouldn't be allowed to manage anyone until after she returned from maternity leave.
In the meantime, Glasson was diagnosed with a complete placenta previa, a serious and unpredictable condition in which the placenta covers the cervix. When she shared the news with her boss, Glasson claims her boss was dismissive and said that she had worked up until the day before she delivered her son via C-section. Glasson then hired an attorney to draft a demand letter to Google, in which she requested a transfer to another team and called for an investigation of her previous boss's retaliation against her; Google countered with a walk-away agreement and payment of $30,000, which Glasson turned down. She ended up starting her maternity leave early and was hospitalized soon after, due to complications stemming from her diagnosis. While on leave, Glasson was given a "needs improvement" score in her performance review, which typically requires employees to get on a performance improvement plan. In August, she left Google for a role at Facebook.
In recent years, Google has become a hotbed for employee discontent and activism, particularly since the Google Walkout in 2018, which was sparked by the revelation that Google had paid millions of dollars to quietly dismiss male executives accused of sexual misconduct. A shareholder lawsuit brought against parent company Alphabet alleged that Google's board of directors had an "active and direct role" in authorizing those payouts. (Glasson herself shared allegations of sexual harassment in a Medium post earlier this year. Google did not specifically comment on these allegations.)
Google is currently under investigation by the National Labor Relations Board over the firings of four employees last fall, all of whom had been agitating against a potential contract with U.S. Customs and Border Protection and Google's alleged mistreatment of employees. The company is also still mired in a pay discrimination lawsuit brought by former female employees who claimed to have been paid less than their male counterparts; the plaintiffs are now seeking class-action status for the lawsuit.
Since going public with her allegations, Glasson has already won a small victory: The state of Washington recently passed legislation that extended the statute of limitations for reporting pregnancy discrimination to the Washington State Human Rights Commission. Glasson testified in support of the bill, which was sponsored by state senator Karen Keiser. With this next step, she hopes to demand action from Google and underscore how difficult it is for workers to hold their employers accountable for mistreatment.
"I think it's important for people to understand just how incredibly hard it is to fight workplace harassment, discrimination, and retaliation, as the person who has experienced it," she says. "A lot of these bigger law firms want to represent corporations—there's a guaranteed paycheck there. A company like Google can spend hundreds of thousands of dollars on a lawsuit without blinking an eye."
As a tech worker, Glasson knows she is privileged, both in terms of her financial resources and and her ability to speak out about her experience and former employer. "If this is hard for me—I have more job stability, given the nature of the work that I do," she says. "In some professions, if you were to be as vocal as I've been, your career would stop."
This story has been updated to include a comment from Google.