Over the last decade, Fanatics has become the dominant player in sports apparel retail, thanks to its on-demand manufacturing and agile supply chain that has seen it close e-commerce and manufacturing deals with the NFL and Nike, MLB, NBA, NHL, MLS, European soccer clubs, and the Overwatch League.
Today the company announced its first deal with an individual player.
In an exclusive, multi-year partnership, Fanatics will operate all online and mobile shopping for NFL star Marshawn Lynch's Beast Mode apparel company. The 34-year-old Lynch is currently an NFL free agent, with speculation that he may return to the Seattle Seahawks next season. He launched Beast Mode during the 2014-2015 NFL season, perfectly timed for the Seahawks' Super Bowl XLIX appearance. Lynch retired after that season, but he returned in 2017 to join his hometown Oakland Raiders. He planned to retire again in 2019, but made a surprise late-season return to the Seahawks.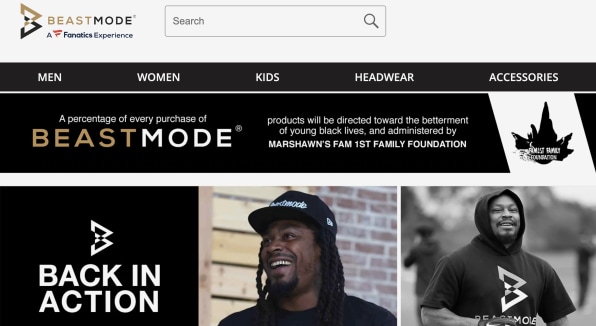 He sees Beast Mode as both a lifestyle and a mentality, with potential to extend beyond his fans and football. "But to get us there I was going to need more hands on deck and more particular expertise," Lynch tells Fast Company. "After we met with the Fanatics leadership squad, I realized that the global platform they've created would allow us to go worldwide, connecting us with fans and customers that, honestly, probably didn't know we existed! In the end, I've always intended Beast Mode to be a family business, born and bred in Oakland, that should be accessible all over the globe. With Fanatics, our vision and dream are coming to life."
Jack Boyle, Fanatics global co-president of direct-to-consumer, says this new deal marks a broader opportunity for the company to expand more into working with individual athletes, celebrities, or influencers on e-commerce for their personal brands.
"We could not think of a better fit than Marshawn to enter into this new category and do see opportunities to build out this vertical in the near future," says Boyle.
The move comes as the culture of sports fandom evolves from team exclusivity to fans also following individual players. Witness the number of people with Cleveland, Miami, and Los Angeles LeBron jerseys hanging in their closets. Or the newly minted Buccaneer fans (for now) with Tom Brady moving to Tampa Bay. On social media, some athletes have forged strong bonds with fans, sidestepping traditional media to become their own specialty outlet.
These two trends point to the potential of athletes branching out to establish product lines of their own.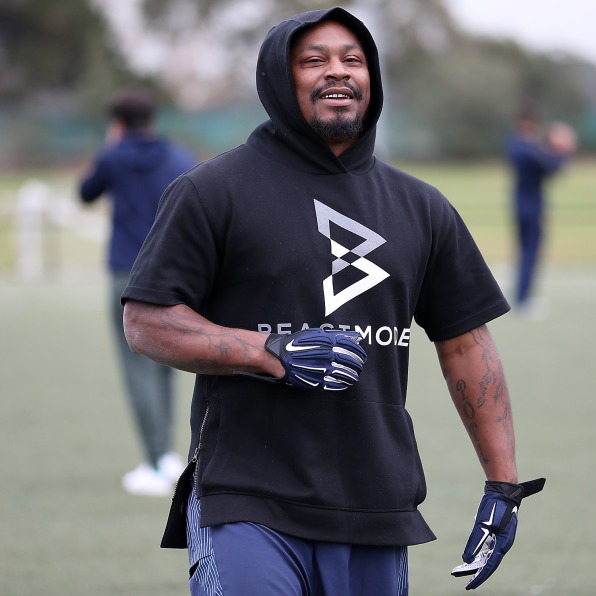 Boyle says that's part of why Fanatics established its Jersey Assurance program, which guarantees a free replacement jersey if you buy a player's jersey and they change teams within 90 days.
Lynch says that part of the Beast Mode strategy is to help encourage more players to create their own brands. "I get hit up every now and then by teammates, friends of friends, and rookies just entering the league wanting to create something like their version of Beast Mode," says Lynch. "Don't get me wrong, creating your own business and running it ain't easy, but it's hella satisfying given you have full control over everything and you get to watch those seeds you plant grow. I want Beast Mode + Fanatics to be a platform where other players can leverage their influence, by collaborating with me, and those plans are already in the works. I hope we can get others to tap in and go build their own brands and empires."