When COVID-19 sent the world into lockdown in March, AI travel agent Snaptravel saw its business drop by 80% overnight.
According to the company, the Toronto-based series A startup had been growing 300% year over year with $1 billion in sales projected by 2021. Snaptravel books hotels over messaging services WhatsApp, Messenger, and SMS, and works with Amazon Alexa and Google Home. It had raised $22.4 million since its founding in 2016 with funding from an impressive lineup of investors including Inovia Capital, Australian telecom giant Telstra, Expedia's vice chair and CEO Peter Kern, and NBA All-Star Steph Curry.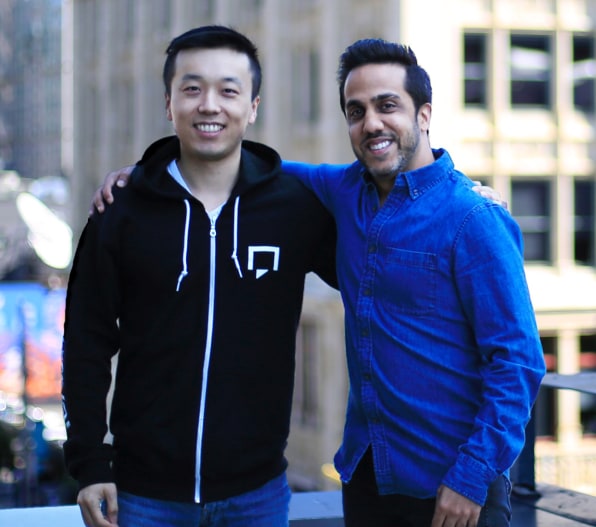 Business had been booming at the start of 2020, but when bookings spiked in February, Snaptravel's founders, Hussein Fazal and Henry Shi, knew something was wrong. The increase in demand was being driven by steep discounting as hotels tried to mitigate rising pandemic concerns.
Weeks later, when coronavirus cases began to soar and quarantines went into effect, the travel industry fell off a cliff. Hotels were shuttering around the world and major chains like Hilton were issuing warnings of occupancy rates falling to 10% globally. AllTheRooms Analytics reported Airbnb rates as low as 3% in parts of the U.S. Snaptravel found themselves drowning in a flood of refund requests for non-cancellable reservations. Watching their runway quickly erode, Fazal and Shi knew they needed to act fast.
Amid the travel industry's collapse, Snaptravel's founders were able to turn around the company and reach profitability within just 60 days. For other companies that have been hit hard by the coronavirus pandemic, Snaptravel's astonishing recovery holds lessons on how to move quickly and reinvent yourself in a time of crisis.
2020 is canceled, now what?
By the end of March, the global economy was at a standstill and massive layoffs were sweeping the travel sector. Norwegian Airlines and SAS laid off 90% of staff. Marriott International furloughed tens of thousands of employees.
Inovia partner Patrick Pichette became concerned for the firm's portfolio companies. The soon-to-be Twitter chairman had extensive experience navigating crises as Google's CFO during the 2008 global economic meltdown. He knew that in order to survive, the VC's startups would need to take swift decisive action.
On April 1 and again on May 13, Pichette convened huddles with Inovia's CEOs and CFOs.
"We told them that they needed to shore up enough cash to make payroll through December 2021," says Chris Arsenault, Inovia partner and Snaptravel board member. "Planning is useless in times of uncertainty. The only thing you can do is figure out the next 90 days in 30-day cycles, and manage cash weekly."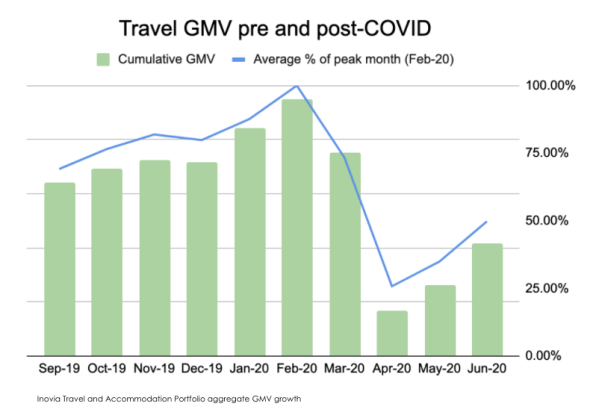 The uncertain path to profitability
Heeding Inovia's advice, Fazal and Shi charted a course to become profitable as fast as possible. This was a significant change from how they had previously managed their business. Until that point, Snaptravel had solely been focused on aggressive growth, racking up losses in pursuit of gaining users and growing its footprint worldwide—like most venture-backed startups.
Fazal and Shi have now chronicled their odyssey in a 10-step playbook to profitability, of which Fast Company was given an exclusive preview. First, they put out the fires that were consuming their resources and reached out to their hotel partners to negotiate customer refunds. Then, they shifted their attention to a line-by-line cost analysis and eliminated any projects that didn't contribute directly to earnings. This cut their workload in half and helped them set a clear direction for the company.
The founders then laid off staff during the worst unemployment since the Great Depression. Although Snaptravel wouldn't disclose the size of the layoffs, Fazal and Shi did share that they doubled severance, extended benefits, and vested options for those affected. Pay cuts were avoided for remaining employees with the help of CEWS, the Canadian equivalent of the U.S. payroll protection program (PPP), and their equity was boosted by 10%.
Fazal and Shi also needed new sources of revenue to replace the type of trips that dominated their business before coronavirus. They looked to their existing customers to see how they could increase spending.
By tapping into their predictive AI capabilities, Snaptravel stepped up texting hotel deals that matched user preferences and saw a 25% increase in bookings from conversations they initiated. They found that personalized, conversational, relevant, and well-timed messages made customers feel like Snaptravel understood their needs and created demand that didn't previously exist.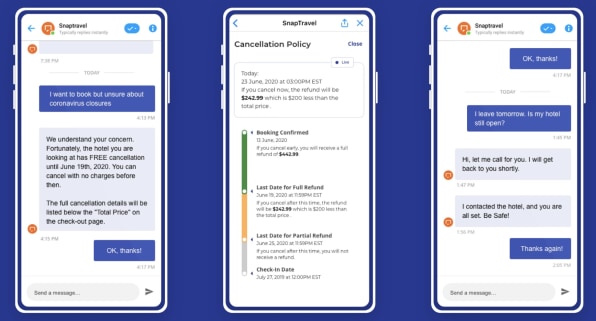 Fazal and Shi also discovered that customers were willing to pay for VIP status with a human concierge to handle complex bookings and special perks, and were happy to leave tips to show appreciation for trip savings.
"We were not profitable before coronavirus, but we are now," Fazal says. "We reported our first profits in May and have been growing since July 1 when weekly bookings matched pre-pandemic levels."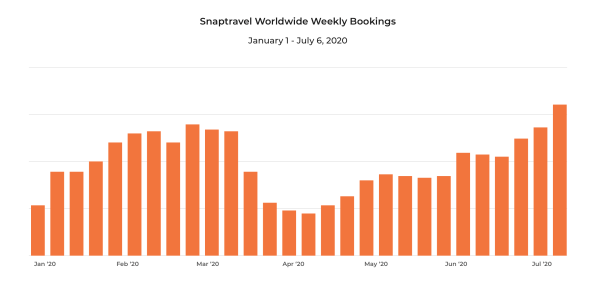 The hotel industry has seen a steady recovery as well. Gone are advanced reservations for bucket list adventures and international business travel, but last-minute escapes and extended stays that are close to home are topping destination lists. New types of travelers are emerging, including people seeking avoid-the-crowd getaways they can drive to, families social distancing during visits with sick relatives, and essential workers with long commutes needing a place to sleep.
Turning the worst of times into the best of times
Despite the dark days of the pandemic, Snaptravel's restructuring has made the company more resilient and better positioned to pursue its ambitions. During Inovia's huddles with its startups back in April, Arsenault asked the Snaptravel founders: "You'll never have another chance to make such sweeping changes again. What do you want to build?"
Fazal answered: "We want to be the Lemonade of travel, an AI-powered e-commerce platform that's disrupting a legacy industry."
Now, Snaptravel is on a hiring spree, though they're not rehiring staff that were laid off. Instead, they're doubling down on their investment in machine learning and data analytics by recruiting engineers to make Snaptravel more conversational and intuitive.
Arsenault has been so impressed by the company's coronavirus pivot that he's ready to put more money down.
"Yes, I would invest more if they were interested," he says, "And I'd lead the round."