Forever is too long to be with someone.
It's too long to be alone either. Too long, period. But the idea of spending eternity with someone else mostly just seems like a recipe for two people to hate each other more than any two people have ever hated each other before. This is why I've always found artistic expressions about infinite love terrifying.
Take the much-adored "San Junipero" episode of Black Mirror, for instance. Spoiler alert for a four-year old piece of television, but "San Junipero" ends with two women in a convertible riding off into the desert sunset of a digital afterlife, laughing about nothing. It's a happy ending that stops being happy once you consider the absence of an ending for them. How long can these two possibly ride around laughing? An hour? Two hours? How many days of joyriding can they possibly endure until the concept is utterly exhausted? Think about that ending for too long, and it raises the horrible prospect of an afterlife that's ultimately as boring as beforelife, only it lasts forever.
Palm Springs, Andy Samberg's new film, takes a stab at addressing what it truly means to be with someone forever—or for what just feels like forever—and does so in a way that's as cerebral and heartbreaking as it is hilarious.
Hmm, how to describe the plot. I'll leave that to Samberg's character, Nyles. "It's one of those infinite time-loop situations you may have heard about," he explains to his new companion in infinity, Sarah (Cristin Milioti).
That's as close as the movie, which Samberg coproduced with his partners in The Lonely Island, comes to winking at Groundhog Day, the granddaddy of repeating-day movies. At this point, they're practically a genre unto themselves. We've seen so many in the past decade, in fact, one suspects that they may be the result of a studio exec green-lighting them from within a recursive loop of his or her own. There's the action-packed Edge of Tomorrow, the dramatic Before I Fall, and the comedic-horror of both Happy Death Day and Happy Death Day 2U. 
But Palm Springs breathes life into the genre, ushering it into a brand-new day.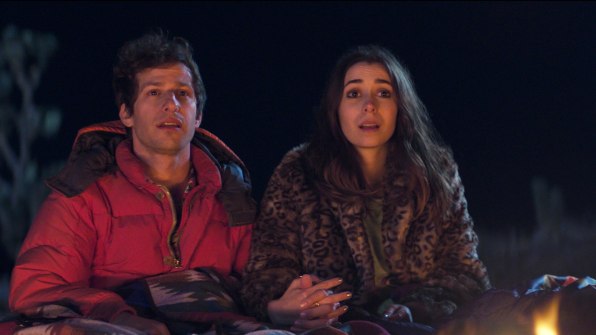 For the first 12 minutes, it's unclear whether Nyles is already in the time loop, or if he's just kind of a nihilist. His day consists of awkward morning sex with the girlfriend he loathes (Meredith Hagner), several pool beers at a hotel in Palm Springs, and then the main event, a wedding where everyone knows him as "Misty's boyfriend," if at all. Layered throughout the opening are many hints that infinity has already begun for Nyles, none more dazzling than when he uses all the other partiers' gyrations and missteps as props for a wizardly mating dance aimed at Sarah (the bride's sister). Pretty soon, Nyles has accidentally roped Sarah into his predicament with him, as though by dance floor lasso, and the movie can begin properly.
Palm Springs, which premieres on Hulu on July 10, broke a Sundance Film Festival record earlier this year for biggest sale ever, at $17.5 million (and .69 cents, wocka wocka.) Neon, a studio hot off the success of Parasite, splashed out on it with the idea of putting Palm Springs in theaters. Whether it would have been a hit or not, we will never know. What is clear, though, is that this is not a movie designed for solo viewing during a quarantine situation. As darkly funny and sweet as Palm Springs is, watching it alone at home right now is ill-advised.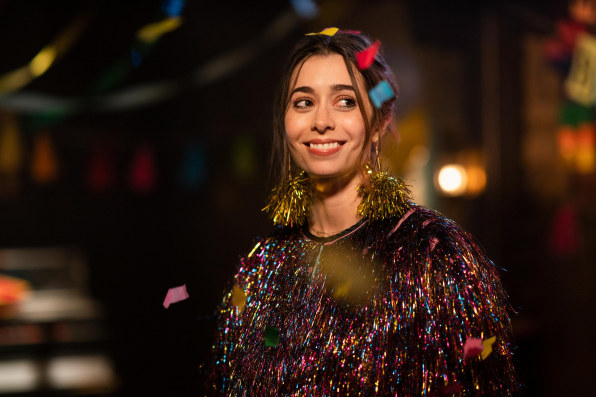 Mutual endurance of an inescapable situation is what the movie is all about. The very fact that Nyles and Sarah are stuck in the time loop together is its slick innovation on those other post-Groundhog Day films. (The time loop in Happy Death Day 2U also affects several people's lives, but it's an entirely different thing.) Facing the mundanity of eternal existence as a unit is how Palm Springs brings the time-loop genre into the realm of infinite love.
Before Sarah inadvertently joins Nyles in his plight, the repeating day functions as a metaphor for a typical unsatisfying life. Nyles has long ago given up hope of changing anything about his situation, so he opts instead just to "suffer existence." His life follows a script: awkward morning sex, pool beers, partying with semi-strangers who are known to him only too well. Rinse. Repeat.
Sex with someone else, for variety, is certainly a possibility, however, as Nyles says, "It takes a lot of work, and I try to live my life with as little effort as possible." Love appears to be completely off the table. At least until Sarah comes to share his both limited and infinite world.
Beneath the high-concept veneer, Palm Springs is about what love truly is: having a partner in crime to kill time with.
Once the pair embraces their enforced clique, they go off-script and try out new, increasingly outlandish ways not to be bored each day. In other words, they do pretty much what non-time loop couples do to keep their love alive. After a while—it's anybody's guess how long, really—suffering existence becomes far less insufferable.
Anyone living through quarantine this year has now had a flavor of what life in a time loop must feel like—an amorphous cluster of days that follow the same script, time flowing neither forward nor backward but somehow right in place. Palm Springs presents coupledom as the antidote for an oppressively repetitive existence. Nyles and Sarah find meaning in a world where nothing matters by inventing differences between days in any way they can. For a lot of people out there right now—or "in there," more accurately—that's the best case scenario.
Palm Springs is an accidentally timely movie that calls bullshit on the premise of a "San Junipero"-like heaven. But it makes purgatory with the right person seem like a blast.