Almost from the start of Apple's Worldwide Developers conference, Apple gave Android fans plenty to sneer about.
When iOS 14 launches this fall, it'll include several features that Android has offered in some form for years:
The home screen will support widgets, so that users can glance at the weather, calendar appointments, and other bits of information.
The "App Library" will serve as a secondary menu for apps that aren't worthy of home screen space, similar to the app drawer on Android.
"App Clips" will let users access an app without permanently installing it, reminiscent of Android's Instant Apps system.
Siri will launch in a compact view that doesn't block the entire screen, kind of like how Google Assistant works on Android today.
Finally, users will be able to set third-party browsers and email apps as the default, replacing Apple's Safari and Mail apps.
As Apple was announcing these things, you could almost see the Android bloggers writing their feature theft headlines in response. (They came through, of course.) But as is often the case with this cliché, Apple isn't merely copying Android with these features. Instead, it's refining Android's ideas into something that might work a little better.
Solving app overload
Most of these Android inspirations serve a similar purpose, which is to reduce the amount of time we spend managing and sorting through apps. From what we've seen in iOS 14, Apple might do an even better job than Google has.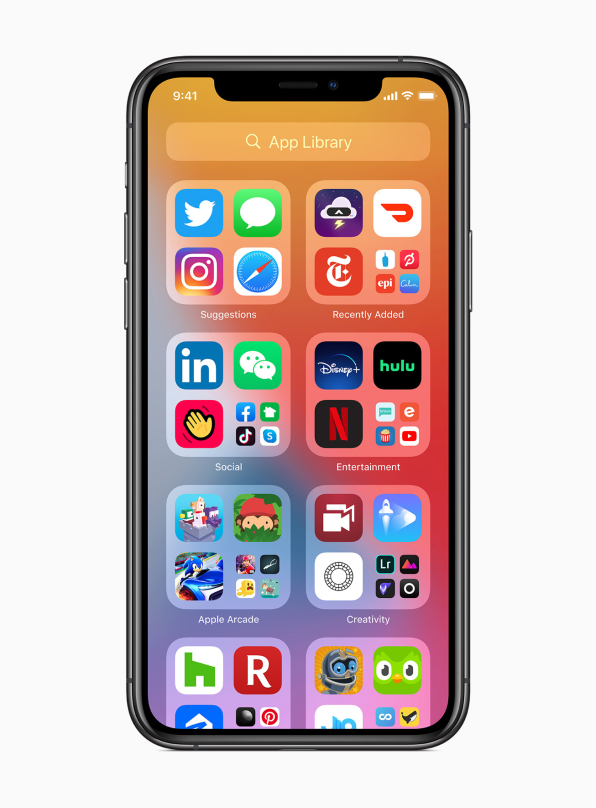 Widgets are the perfect example. On Android, running miniature apps on your home screen was once a defining feature, but it's been years since Google did anything to improve the concept. Users get a mish-mash of conflicting visual styles and sizes, and some developers say that as Google has placed more restrictions on what apps can do in the background, creating reliable widgets has become a challenge. Google now seems more interested in a similar idea called Slices—bits of activity that users can surface through Google Assistant or Search—but those don't integrate with the home screen at all.
Apple is leapfrogging Google's approach with a consistent look for all of its home screen widgets. The 2×2 and 4×2 sizing options should fit neatly onto users' home screens, and they have the same rounded edges as iOS's existing app icons. (As former Microsoft exec Steven Sinofsky pointed out, the approach also resembles Windows's oft-neglected Live Tiles.) iOS 14 will also support a dynamic widget that changes based on the time of day and most-used apps. These are welcome iterations for a concept that's been around for over a decade on smartphones.
Apple's also found a smarter use for temporary apps, which it calls "App Clips." Instead of installing an entire app just to rent an electric scooter or buy something online, for instance, you'll be able to launch just the necessary payment page to complete the transaction.
Google has been pushing a similar feature since 2016 with Instant Apps, which can load parts of an Android app instead of downloading the whole thing, but has positioned it more as a streamlined app trial tool rather than as a quicker way to get things done. The company's also been largely silent on the entire initiative for the past couple of years.
Apple may have a better chance at success with App Clips by defining a clearer use case around it. It's encouraging businesses to use NFC tags and QR codes so users can interact with App Clips in the real world, and Apple's aggressive promotion of both Sign In with Apple and Apple Pay could streamline the checkout process.
Even the old Android concept of an app drawer is getting a little smarter in iOS 14. The "App Library" feature will automatically sort apps into folders, such as "Recently Added," "Social," and "Apple Arcade." This should reduce the need to manually categorize everything on the home screen.
By comparison, the app drawer on Android phones can get unwieldy, and the way apps are arranged can vary from one phone maker to the next. Google's Pixel phones, for instance, sort all apps alphabetically with no folder options. Samsung lets users rearrange the drawer at will, effectively turning it into another home screen. Apple's taking the same idea and trying to make it a little easier to use.
Where Android still stands out
When Apple borrows ideas from Android, it doesn't always translate to improvement. Android still does a better job with notifications and quick controls, for instance, displaying them all in a single pull-down menu instead of splitting them off into confusing subsections.
Likewise, some iOS 14 ideas could still come up short of Android's implementations. While Apple is planning to support third-party browsers and email apps as defaults, it hasn't announced similar privileges for maps or music. That means you'll still have to say "on Spotify" or "in Google Maps" when asking Siri for music or directions. And while Apple is trying to make Siri slicker with a compact view in iOS 14, Google's still far ahead on integrating third-party services with Google Assistant. It built on that lead last week, announcing more tools for developers that want to work with voice controls.
Android will continue to play leapfrog with iOS as well. The upcoming Android 11, for instance, will let users grant apps location access on a one-time basis—just like iOS offers now—but will also extend those one-time controls to the microphone and camera. It will also automatically revoke privacy permissions from apps that haven't been used in a few months, which iOS doesn't do today.
With iOS 14, Apple isn't so much copying as it is perpetuating a never-ending cycle of back-and-forth refinements. But it wouldn't be any fun if Android fans didn't at least get a little riled up over it.