I have a problem: I can't engage in even the most minute amount of busywork without listening to music. However, said music can not, under any circumstances, be anything but instrumental. No lyrics for me, thank you very much.
I suspect I'm not alone, given the seemingly bajillions of lyric-free instrumental playlists available on Spotify. And though I confess I have not personally listened to every single one, I have listened to many as I grapple with busywork. Here are some of my favorites based on various work-related activities.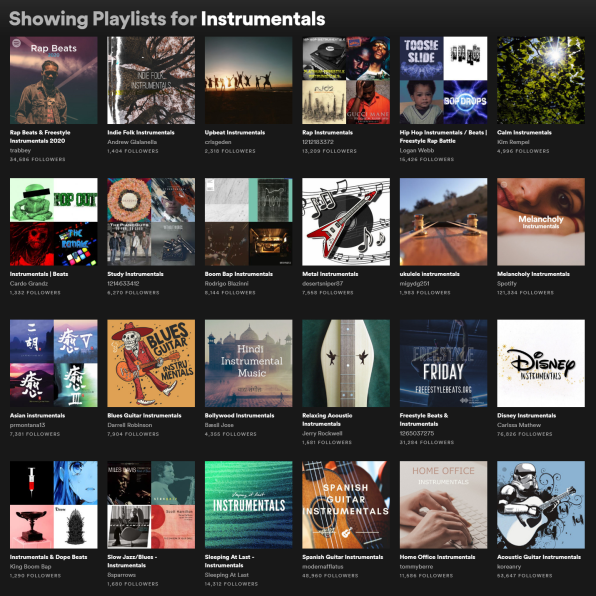 Get up, get going
I put Upbeat Instrumentals on when I need to mainline some coffee, blast through email, and read a little industry news. It's chock full of catchy, familiar, pop tunes but all stripped of those pesky, cheesy lyrics. If you're looking for something mainstream, accessible, and sure to get your juices flowing, this one's it. It's not too long, either, at just shy of two hours. Put it on, get revved up, and then start some real work when you're ready.
Write with all your might
Settling in to write a long work document sometimes takes more energy than actually writing the thing—or is that just me? When I need to buckle down and pound out a video script or a whitepaper, I'll fire up this Instrumental Hip Hop / Chill Hip Hop / Jazzy playlist.
It's got a great, long (21+ hours) collection of low-key, rhythmic beats that keep my fingers typing but otherwise don't get in the way of the actual writing process. It also features multiple songs by a relatively small selection of artists, so if you find something you really like, there's plenty more to listen to.
Fill your whiteboard with new ideas
There's not enough time built into work schedules anymore to just think about stuff, but if ever you're tasked with coming up with new ideas, I highly recommend the Creative Work Day – Instrumental playlist.
Picture scratching your chin and bobbing your head in unison as you think your way through a problem, and you've pretty much gotten the idea. Should you be so lucky as to be able to devote meaningful time to new ideas, it's perfect for a full day of brainstorming at right around seven hours.
Research, read, review
I sometimes find myself looking down the barrel of a long day of research, copy editing, report reading, and other corporate housekeeping activities. For days like these, I turn to the five-and-a-half hour Peaceful and Calming Jazz for Reading and Work, which is perfectly named since I'm reading . . . for work.
It's comprised of songs that without overtly saying it basically tell you to keep going, albeit in a calm and reassuring manner. "Keep reading, buddy. You're doing great." Maybe I'm just hearing things but whatever it is, it's working.
Wind it down and wrap it up
Once the shadows start growing longer and the work day draws to a close, I'll usually spend a few minutes re-centering and refocusing before switching from work mode to family mode. As I've mentioned before, it's important.
I'll often throw on the Indie Folk Instrumentals playlist while I tidy up my home office or pay bills at the end of the day. Heavy on the acoustic guitar and piano, it's six and a half hours of calm—although with any luck, you don't need that much before calling it a day.
Why choose?
If you've got a spare computer, a set of decent speakers, and a desire to be ensconced in relaxing instrumentals all the live-long day, then put the Instrumental, Relaxing & Nostalgic playlist on repeat and see how long it takes you to hear the same song twice.
This one weighs in at a whopping 125 hours of mostly piano pieces that just kind of blend into the background of any home office. Imagine walking into your workspace each day and being welcomed by relaxing, chill piano wafting through the air.