Juneteenth, the day that celebrates the emancipation of African Americans from slavery, is in the spotlight this year like never before.
The first part of 2020 saw high-profile killings of several unarmed Black people—George Floyd, Ahmaud Arbery, Breonna Taylor, Rayshard Brooks—at the hands of police, sparking protests around the country to demand racial justice and equality. That has inspired businesses to take stock of how well they deal with diversity and inclusion; the results have ranged from pledges to improve their staffs to donations of millions of dollars to firings.
Companies are also making Juneteenth, a portmanteau of the sixth month of the year and "19th," a paid day off; it falls on Friday this year. Among the corporate giants that have declared the day a work holiday are Twitter, Nike, Levi Strauss & Co., and the NFL, to name a few. Smaller businesses from software company Futuri Media in suburban Cleveland to the Foley Hoag law firm to San Diego-based Beauty Bakerie are also marking the day. And Hulu changed the premiere dates of Love, Victor and Taste the Nation, which were originally scheduled for Friday.
But there's still one entity that doesn't formally recognize Juneteenth as a holiday: the federal government of the United States. Many activists would like to finally change that.
"We really want Juneteenth to be recognized as a national holiday," says Miles Dotson, cofounder of the Bay Area-area collective Hella Creative, which sees the business world as a way to make that happen. "This is about broadening the conversation first."
The organization set up a website with resources, including a template of a letter to send to employers, asking for Juneteenth to become a company holiday; and suggestions of other ways to honor the day, such as supporting Black-owned restaurants.
Juneteenth dates back to June 19, 1865, when Maj. Gen. Gordon Granger arrived in Texas with his troops to enforce the freedom of former slaves, as granted by the Emancipation Proclamation two and half years earlier. "1865 is the true date that started the liberty and justice for all," Dotson says. "This is a moment for everyone, all companies that employ people, especially people of color . . . It's important companies stand in solidarity with their employee base."
Over the years, members of both houses of Congress have introduced bills to recognize the significance of Juneteenth, but those efforts have so far not panned out. Despite the historical lack of progress on the issue, Kelly Navies, a specialist in oral history at the Smithsonian National Museum of African American History and Culture, said it's "highly possible" that Juneteenth will one day become a federal holiday, especially given the cultural moment America is experiencing.
"It's gaining momentum," she says. "Now with what's going on recently, people are more and more willing to learn about the history of slavery and its impact on the lives of all Americans. Juneteenth gives people a space to do that, a space to come together to reflect on the past and think about what we can do to (work on) the future."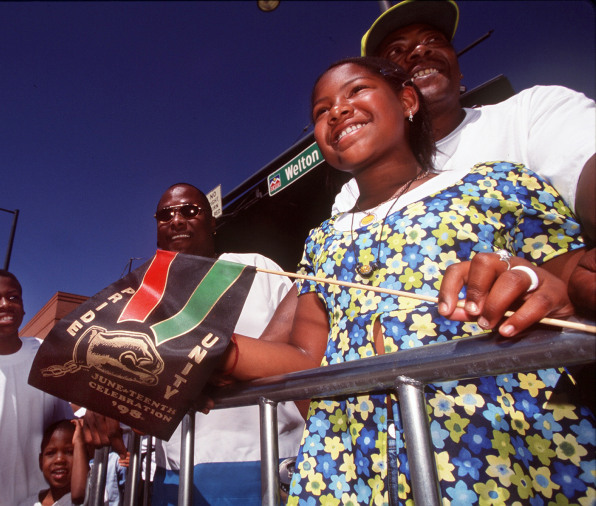 A long and bumpy process
NAACP president Derrick Johnson questioned whether a federal Juneteenth holiday would happen soon, pointing to how long it took for Congress to make Martin Luther King Jr. Day a holiday and then for states to adopt it. U.S. Representative John Conyers, a Democrat from Michigan, first suggested making it a federal holiday in 1968, right after the civil rights leader was assassinated. It was passed in 1983 and took effect in 1986. But it would be another 13 years before all 50 states formally embraced it—New Hampshire was the last in 1999.
1865 is the true date that started the liberty and justice for all."
Miles Dotson, cofounder, Hella Creative
Johnson also wondered if companies will continue to observe Juneteenth in years to come. "We are in a heightened state of awareness around racism in this country," he says. "You have a lot of [companies] who are teleworking, so it remains to be seen after we get out of this state, and our workforce in large numbers goes back to their physical location, whether or not they'll continue to recognize Juneteenth as a holiday to take off work."
At the same time, he applauded "the new and refreshing recognition by corporate America that structural racism actually exists. For so many years and decades, there was no acknowledgement. In the African American community, we knew, we felt it, we realized it."
For now, Juneteenth remains a holiday that each state in the country can decide whether to formally recognize. To date, 47 of them, plus the District of Columbia, have done so; the three outliers are Hawaii, North Dakota, and South Dakota. On Tuesday, Virginia Governor Ralph Northam announced that he wanted to make Juneteenth a state holiday.
The road from there to here
Celebrated for the first time in 1866, Juneteenth observances spread as African American Texans began to migrate to other states, according to Navies. Juneteenth gained national attention in 1968, when the Poor People's March held its solidarity day in Washington, D.C., then. The holiday was formally recognized in 1979, when Texas became the first state to do so.
Ways to mark the day include singing the Black National Anthem, "Lift Every Voice and Sing"; barbecuing; and embracing the color red to symbolize sacrifices, Navies explained. People wear red and eat foods such as red beans and rice, and red velvet cake.
This year, Hella Creative has created a new tradition by asking people to post the following message on social media:
"We're reclaiming our time. For years, the enslaved people gave countless hours of free labor to their owners. Since emancipation, we have been making up for that lost time. So in true solidarity with our ancestors, it's only right that we declare this to be a day free of labor."
In the meantime, there a few new signs of legislative progress on the issue. On Monday, Republican Senator John Cornyn of Texas introduced a resolution designating Friday "Juneteenth Independence Day" and Democratic Representative Sheila Jackson Lee, also from Texas, introduced a resolution "recognizing June 19, 2020, as this year's observance of the historical significance of Juneteenth Independence Day."
The former, with 57 co-sponsors, passed, and the latter, with 202 co-sponsors, was referred to the House Committee on Oversight and Reform.