As the coronavirus began to sweep through the United States, cities have scrambled to quickly roll out digital tools to help residents in need, a task made harder by ancient government software systems.
But within 72 hours in March, New York City officials were able to set up a coronavirus information portal. In April, it took Washington, D.C., city officials just a few days to build a system where families affected by the virus could reach out for assistance via phone or email.
The two cities were able to pull these tools together so quickly in part because they worked with a company called Unqork, which builds software that enables customers to build websites and complex digital systems without writing a line of code.
Once the Unqork system was up and running, getting people the right information and services became rapidly streamlined, says Chris Geldart, the director of the D.C. Department of Public Works who was tapped by Mayor Muriel Bowser to lead local operations in response to the virus. "The ability for us to use this tool early on helped with that—made it much less labor intensive," he says.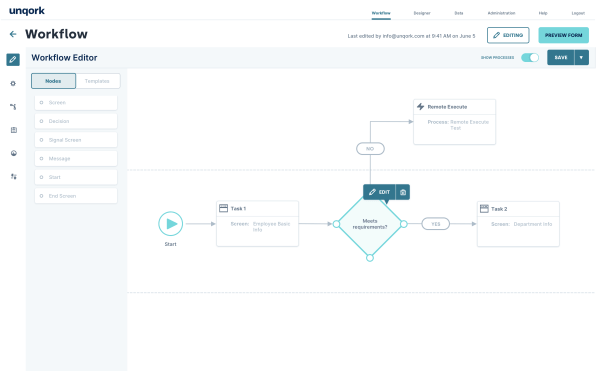 In addition to the information portal, New York officials designed a website where people could report how they were affected by the virus and created a system to manage donations of medical and protective equipment. Both cities also rolled out systems to distribute food using Unqork. New York officials designed a program where out-of-work ride-share drivers could get paid to bring food to those in need, with tens of millions of meals delivered since mid-March. D.C. built a tool to let people request food and other aid to be delivered by city workers.
"This was one of those times where in an emergency we found a system that really just came in and made the responders' jobs easier and made the lives of the recipients of those services easier," says Geldart.
The benefits of no-code for government
Instead of relying on code, the platform for New York-based Unqork provides a drag-and-drop, flowchart-style interface to specify how forms should collect data and how back-end logic, like determining who is eligible for what kind of programs, should function. That means that people who are familiar with the ins and outs of government and corporate operations can often quickly build working digital tools themselves even if they don't have coding expertise.
That's important at a time when government computing systems are often seen as difficult to use, slow, and outdated, both by members of the public and employees who have to work with them. States around the country saw aging unemployment claims systems, often built with increasingly obscure older coding languages like COBOL, struggle under the onslaught of virus-related claims. And recent years have seen no shortage of critical government sites that have needed emergency repairs, like New York's unemployment site or the Obamacare sign-up site healthcare.gov (which The Atlantic dubbed "the worst website in America").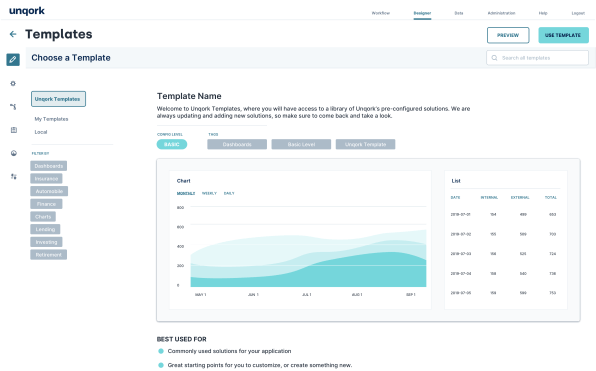 And that's on top of government tech projects that effectively failed after being built with little input from the officials actually tasked with using them and the data they provide. That's something that Cas Holloway, the head of public enterprise at Unqork who previously served as New York City's deputy mayor for operations, says is partly remedied by Unqork's tools.
"The person who is delivering the service can play a more integral role in building the software than ever before," Holloway says.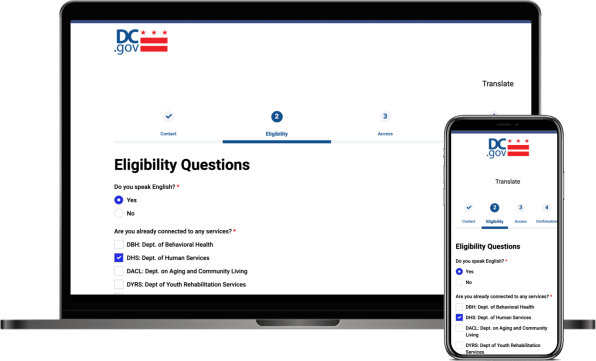 While D.C. has provided so-called family assistance centers at physical locations during emergencies in the past, having a virtual assistance center with operators taking calls remotely is a first, Geldart says.
By comparison, Holloway says that after Hurricane Sandy struck New York during his tenure in city government in 2012, it took significantly longer to get systems ready to route aid to the right people and track what was delivered.
"It literally took three, four months to stand up the software needed to do that and I found that extremely frustrating," he says. That experience partly motivated his decision to join Unqork, he says.
Bringing a modern interface to older systems
Holloway says Unqork, which also counts Goldman Sachs and Liberty Mutual as clients, can also integrate with other systems, whether they're internal databases needed to process incoming data or external interfaces to various cloud tools. In New York City, for example, the food delivery app connects to geographical data providers ESRI and Google, as well as to a Taxi and Limousine Commission system that's used to validate driver credentials. In D.C., it integrates with a list of city workers who are involved in delivering meals.
That's useful not only in connecting to modern systems like Google's but to legacy client systems and databases, perhaps even some built with COBOL, that need to be integrated with new applications to make them work. In one case, Holloway says, Unqork worked with a client to pull data from an existing system for a tool that could process license applications. The key, it turned out, was parsing data from automated emails dispatched by that older tool.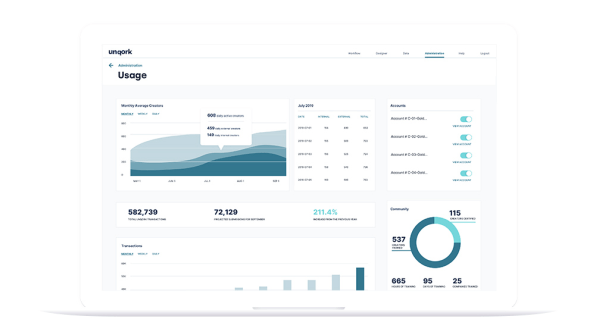 For APIs using standard data formats, integration often only takes a small amount of work. For more complex tasks, the company has teams of what it calls "configurators," including engineers and subject experts, who can help string together Unqork systems and existing ones.
Of course, while working software is nowadays often critical to making government efficient, it's only part of the job. The aid programs in New York and D.C. wouldn't work without the public and private sector workers actually answering phones, processing requests, and dropping off meals. And government operations hamstrung by limited funding or Byzantine rules won't necessarily get more efficient if those policies and limitations are encoded into a digital flowchart.
Still, Holloway says Unqork has proven valuable to government agencies and companies in a variety of fields. In the public sector, that includes building hospital patient registration systems and processing permitting and licensing applications. In the private realm, the software is aiding industries like banking in processing customer input in compliance with potentially complex internal rules and legal requirements.
Some not-for-profit lenders are using the system to process new loans and, amid the coronavirus pandemic, handle requests for loan forbearance, Holloway says.
For companies and government agencies that want to transition to modern interfaces, Unqork's no-code tool could help them avoid the huge costs and risks of replacing existing systems.
"You can still do digital transformation, and you can still take advantage of your legacy assets," Holloway says.