Anifa Mvuemba, founder of fashion label Hanifa, was looking forward to holding her first runway show at New York Fashion Week this year. But when the coronavirus torpedoed those plans, she came up with a new way to unveil her latest designs to the world.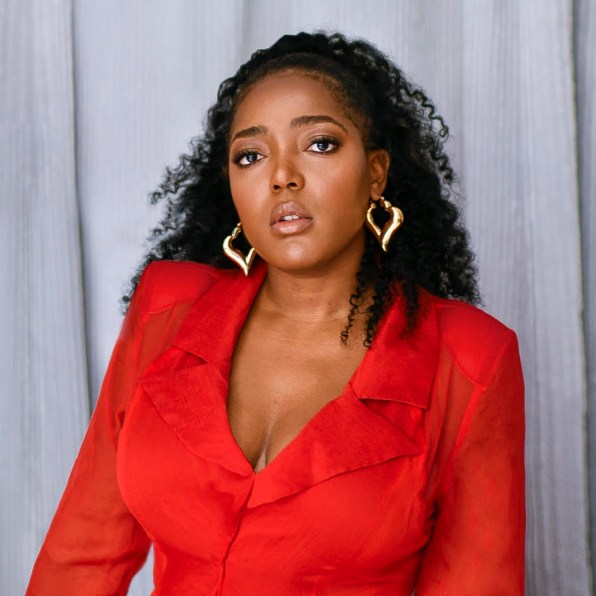 In May, she held a virtual fashion show, streamed over Instagram Live, in which each garment appeared in 3D against a black backdrop, as if worn by invisible models strutting across a catwalk, the garment hugging every curve. Tens of thousands of Hanifa's quarter of a million followers tuned in.
The high-tech show was just the most recent manifestation of Mvuemba's push to chart her own path in the fashion industry. She didn't attend fashion school or apprentice for an established label, and she doesn't spend much of her time networking with industry insiders. Instead, she's leveraged technology and social media to build a thriving direct-to-consumer business that generated $1 million in revenue last year and has won over the likes of Lizzo, Kelly Rowland, and Kylie Jenner.
The 29-year-old Mvuemba, whose family immigrated to the United States from the Democratic Republic of Congo when she was a toddler, was inspired by her homeland when she designed her current line, called Pink Label Congo. One backless mini dress is done in blue, yellow, and red—the colors of the Congo flag. A denim jumpsuit contains ruching and ruffling details that are commonly used by Congolese seamstresses. And the show's stunning finale is a floor-length, asymmetrical silk dress that portrays the Congo River, blue skies, and rolling hills covered in grass. Like all of Mvuemba's designs, these come in size 0 to 20, and are priced between $50 and $499. "I have black women in mind when I design," she explains. "I create silhouettes that work for our bodies and complexions."
The Instagram show was striking and also slightly eerie, since the garments looked like they were being worn by a parade of ghosts. But without the distraction of a backdrop or of live humans wearing the outfits, it was easier to take in every detail of the clothing. And at a time when social distancing has made the traditional fashion show impossible, Mvuemba's high-tech approach allowed her to create buzz around her new collection and gather preorders. Thanks to the show, she says she's likely to grow her business this year despite the recession.
A high-tech fashion brand
Mvuemba had been tinkering with the idea for a 3D fashion show months before the pandemic arrived. She was intrigued by the realistic 3D animation that began appearing in movies and was curious about how she could apply this to fashion. Three years ago, she hired a developer who works with CAD and animation software to help her with her design work. During the pandemic, she found she had more time to play with the technology herself, especially since she had to do photoshoots remotely. This gave her the idea of creating an entire 3D fashion show.
It was easier said than done. She had to take each of the garments she had designed for her Pink Label Congo collection and transform them into a 3D image, which then had to be fitted onto the body of an avatar. And it turns out, you have to be just as precise about the fit of the garments when an avatar is wearing them as you are with a real model. Mvuemba says that if the garment wasn't perfectly tailored to the avatar, it would slide off while in motion. "It was incredibly painstaking," she says.
Technology has been a key part of Mvuemba's process since she launched Hanifa in 2012—and much of her fascination with it comes from necessity. Mvuemba's parents immigrated to the Washington, D.C., area when she was three and wanted her to pursue a stable, lucrative career, such as law or medicine. They didn't approve of her decision to become a designer, so instead of going to fashion school, she went to Morgan State University in Baltimore, where she took some fashion classes. (She told her parents she was getting a business degree.) In college, she learned how to sew from an aunt, using cloth purchased from craft stores like Jo-Ann Fabrics. Once, when she didn't have money for a party dress, she designed and sewed one from scratch. Her friends thought it was so beautiful that they asked whether they could pay her to make one in their size. And Hanifa was born.
Headquartered in Maryland, far from the fashion hub of New York, Mvuemba had to figure out how to grow her business on her own. Instagram had just launched, and she saw the platform's potential to help build an audience. "I realized that every image I made had to look good on Instagram," she says. "If I could get a person to like the image, it would get shared with all of their friends."
The gatekeepers of fashion
Over the last eight years, Mvuemba has grown her direct-to-consumer brand entirely through social media and without a brick-and-mortar presence. (She was about to open her first-ever store in Baltimore this year, but those plans have been put on hold due to the pandemic.) And she's never had a real runway show. "I think it's hard for many black designers to make it in the system," she says. "To make it, you have to know the right people and be in the right places. I decided to just do things my own way."
But even though Mvuemba hasn't followed the standard playbook, by keeping her overhead low, she required far less capital to grow. Through social media, she got the attention of celebrities who have worn her outfits on the red carpet, helping her reach a wider audience. And last year, she was selected by Teen Vogue for a mentorship program called Generation Next that helps young designers network with industry insiders. The program was going to help Mvuemba launch her first fashion week show in February, but due to the pandemic, New York Fashion Week was cancelled altogether. Mvuemba's 3D fashion show allowed her to quickly turn the situation around. It made a splash in the media. "I wanted it to happen in real time, so that viewers could experience it the way they would at a real fashion show," Mvuemba says. "If you were there, you were there."
When it came to her fans, many thought the show was groundbreaking and thrilling to watch, but some had hesitations. Some pointed out that Mvuemba is among a small group of designers that almost exclusively use black models. Transitioning to 3D shows might make her less inclined to tap these models in the future. While she notes it's a "valid concern," she says she'll never "exclusively use technology to replace people. I like working with real models too much."