According to the 2019 Design Census, which tracks the demographics and specializations of designers, only 3% of surveyed designers are black. That extends to the home furnishings and interior design industry. A young organization called the Black Artists + Designers Guild (BADG) seeks to highlight the work of lesser-known artists, makers, and designers in this industry.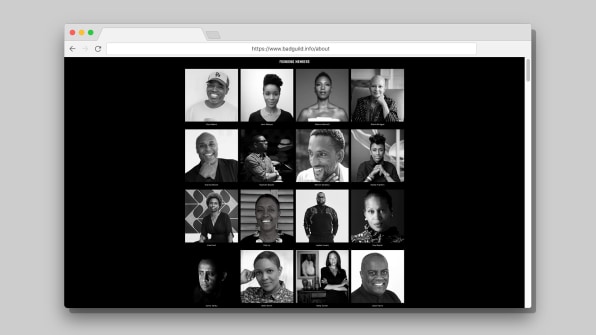 The Guild offers a comprehensive directory for those looking to hire or commission one of their members for a project. If you're in the market for an interior designer or artist, this list is a great place to start looking for creatives at the top of their field. (If you're just looking to support the artistic community during a period when many artists and designers aren't getting much work, you can donate directly to the BADG to help with the work of cultivating the next generation of black creatives.) Here are seven Guild members, whose work you should know.
This New Orleans-based designer is known for creating warm, cozy spaces that mix southern charm with striking colors and patterns. There are often African-inspired details in the mix.
This Queens-based interior designer is known for creating spaces that are relaxing but full of personality. She designed this room for a sneakerhead, creating brackets on the wall for a rotating array of colorful kicks.
This Brooklyn-based firm is founded by General Judd, who began his career as part of the Blue Man group. His interior design studio is based on storytelling: He likes to incorporate aspects of the neighborhood with the homeowner's lifestyle to create a complete narrative.
New Jersey-based designer Alicia Bailey is known for her bold, maximalist interiors. She favors layering textures and colors to create fantastic wonderlands.
This New York-based interior decorator and product designer is proficient in the art of feng shui. Her furniture often uses lush materials, like velvet and silks, while her porcelain ceramics give the illusion that they are made from clouds or cotton wool.
This California-based design firm made up of three black designers, including founder Nikki Klugh, has a philosophy of turning homes into sacred spaces that promote healing, restoration, and calm. Part of how the team achieves this mission is by designing with all five senses in mind. They also don't shy away from using bold colors and patterns, including topaz-colored sofas in this sorority room.
Headquartered in Savanna-la-mar, Jamaica, BAUGHaus Design Studio creates handmade ceramics, lighting, furniture, and soft goods. Many of the pieces are inspired by Caribbean culture.