Create a buzzy show and you can guarantee social media will be awash with memes and pithy hot takes during each episode. However, some shows warrant a more structured arena to unpack topics with guided conversations.
Case in point: Michaela Coel's HBO dark comedy I May Destroy You.
Written, produced, and starring Coel, I May Destroy You follows Arabella (Coel), an aspiring writer who's drugged and sexually assaulted during a night out. As she slowly puts the pieces together of what exactly happened, Arabella also begins the trying process of reclaiming her identity. Through Arabella and her best friends Terry (Weruche Opia) and Kwame (Paapa Essiedu), I May Destroy You presents a nuanced meditation on dating, consent, and trauma, particularly from the vantage point of black and LGBTQ+ communities.
While the show gives audiences plenty to unpack on social media, HBO teamed up with the creative consultancy Verb to figure out how to advance those conversations in a safe space. Before COVID-19, there were talks of public art installations and intimate in-person events.
However, under self-isolation and quarantine, the plan shifted toward the digital content series "Gathering the Pieces."
"We were trying to find the balance in the light and dark themes of the show—even Michaela talks about how it's a dark comedy," says Shannon Simpson-Jones, cofounder of Verb. "So it's not your typical influencer brunch and screening events. We wanted to have a more meaningful experience given the depth of this show."
"Gathering the Pieces," which was actually a potential title for the show before Coel chose I May Destroy You, features a series of guided discussions and workshops around various topics related to the show including "Understanding Cannabis and the Brain," "Reclaiming Your Body," "Triggers, Trauma, and Breaking Through," and more.
"As we were putting together all of these different conversations, it felt like we were gathering the pieces for the audiences as well. We wanted to make sure it felt cohesive and not just a bunch of like disparate social posts," Simpson-Jones says. "Once we identified the topics, we started looking for thought leaders and practitioners that already had an authentic voice in these spaces."
The "host committee" for "Gathering the Pieces" is comprised of 17 experts in relationships, healing, wellness, and trauma, including Crissle West, cohost of The Read podcast; Angela Yee, cohost of The Breakfast Club; psychologist Dr. Joy Harden Bradford; author and speaker Joel Leon; and more.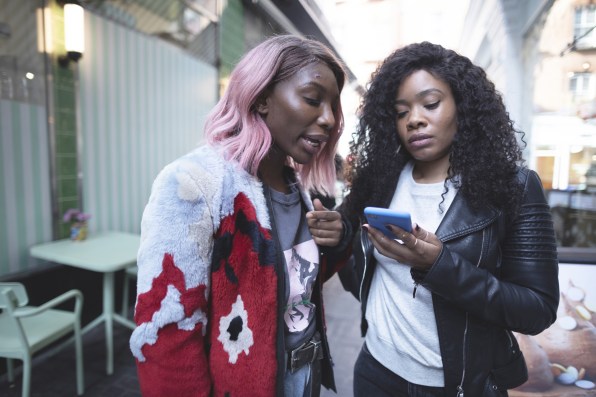 "We didn't want to just go with whoever has five million followers to do a paid post," Simpson-Jones says. "It was really important for us to make sure that we were aligning with influencers and thought leaders and practitioners that had a really authentic connection to the conversations that we wanted them to lead."
Of course, audiences are allowed to engage with I May Destroy You however they see fit. But Simpson-Jones hopes something like "Gather the Pieces" can be an effective resource and platform for people to form connections outside of their followers.
"This series of programming is really about creating intentional space for these conversations and making sure that the topics are elevated and people feel comfortable expressing themselves," she says. "There are definitely people online talking about sexuality, pleasure, intimacy, but we haven't necessarily been given a safe space and a dedicated space to have that conversation—and certainly not within the context of a series like this."
See the full lineup of "Gathering the Pieces" here.