Much of Ava DuVernay's career can be defined by her skillful and varied portraits of the black experience.
From her retelling of Martin Luther King, Jr.'s march to Montgomery, Alabama, in Selma, to unpacking the prison industrial complex in 13th, to her searing biopic of the Exonerated Five in When They See Us, DuVernay's socially conscious work has created a good problem to have.
"I can't tell you the thousands of questions I get after every project with people asking, 'What do I do next? What's the next step?'" DuVernay says.
DuVernay searched for an organization that combined entertainment and socially conscious education with whom she could partner.
Unable to find exactly what she was looking for, she decided to create her own initiative.
Through her media company and arts collective Array, DuVernay is launching Array 101, an online education platform of supplemental learning guides to Array's films and TV series.
"We're going back into the catalog, creating very deep learning companions to help people elevate their understanding of what they've watched and go further to use the work as a springboard into deeper understanding," DuVernay says. "As opposed to something you watched and felt bad about and just kept going."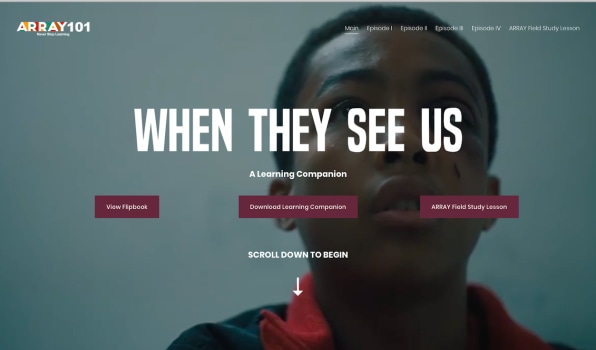 In partnership with Participant, Array 101's first learning companion will focus on When They See Us.
Since premiering on Netflix a year ago this month, When They See Us has not only reignited the conversation around the Exonerated Five, but the limited series has served as an essential piece of storytelling around the larger and ever necessary conversation of police brutality and racial injustice in America.
"It's such a tender time right now nationally with so much going on. People, and myself, are feeling enraged," DuVernay says. "I feel strongly that history and knowledge of what we're in the midst of gives context to our feelings and allows us to move into a place of action instead of just dread and sadness."
Array 101's learning guide for When They See Us is meant for grades nine and up (including adults) and has eight project-based lessons, such as creating news stories around the Exonerated Five and using real police data to analyze and question disproportionate arrest rates in a city.
"We wanted to try to dismantle what a guide meant," DuVernay says. "We wanted to go deeper, instead of the teacher with the lesson plan that asks the questions to regurgitate what you just saw and it's basically a memory test."
To that end, DuVernay had no intention to develop Array 101 through a school system. While her hope is that educators and parents will use Array 101 as a resource, she didn't want limitations on where this initiative could go.
"The reason we're able to be so innovative in some of the lessons is because we did not go through the school districts. You get these kind of dry guides, because they have to jump through so many hoops. It gets watered down into being this piece that would be politically correct for every school, and so we bypassed that," DuVernay says. "No disrespect to that process, but it was not our vision. Our vision was to have something with a little more oomph to it."
Learn more about Array 101 and check out its first lesson here.